Last May, Florida passed a new law that requires third-party voter registration groups, like Rock the Vote and the League of Women Voters, to be registered with the state, and to turn in all new registration applications within 48 hours. Violators may be subject to large fines. Under the old rules, registration was optional, and organizations had 10 days to turn in applications. Citing the onerous new rules, many groups, including the League of Women Voters, have stopped registering voters in the state. People have already been found in violation, including several high school teachers, who register their students. Dawn Quarles (pictured) is one of them.
I teach at Pace High School in little suburb of Pensacola. I teach government and politics, and it's through those classes that I currently register kids to vote.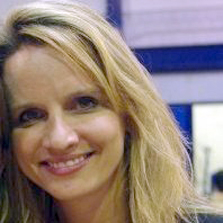 When you teach a unit on voter registration, it just makes sense. You have kids who feel empowered. They text me, they say, "I got my voter card in the mail today!" I got a whole crop of kids who voted in the primaries, and they're so excited. How many kids get excited about Election Day? Not many!
If politics isn't on your radar, voting is pointless, I guess. If you don't have parents teaching you, or you're not learning it in school, you'll never be a voter. If you get it young, though, you'll vote your whole life.
I started registering kids back in 2008 when I was the sponsor of two student clubs. We did school-wide voter registration drives during lunch, and we registered hundreds of kids.
When school started this year, in September, I registered my students to vote. On Halloween, I was notified by a reporter for the Associated Press that he was in possession of a letter from [Florida] Secretary of State Kurt Browning to [Florida Attorney General] Pam Bondi, asking her to cite me for being in violation of the law.
I never heard anything, never even received a citation. To this day, I have not been officially cited, I have not received a letter, a subpoena. The only conversation I've had with the state was, maybe a month ago, I received a call from assistant Attorney General, asking if I would be willing to settle out of court. I said I didn't know we were going to court.
For me, as a teacher, this is huge. I have an obligation to show my kids that you can be bullied by your government, if you let them. This law is completely unconstitutional.
[Editor's Note: Since the law was passed, the state has introduced a new program, 'Voter Promoter,' which allows school districts to register as third-party voter registration organizations. It's designed to let teachers and students register voters, without being personally on the hook for the fines. But it still holds the school districts to the same stringent requirements as any other registering organization.]
Learn more about voter suppression: Sign up for breaking news alerts, follow us on Twitter, and like us on Facebook.
Learn More About the Issues on This Page