Regular readers of this blog will know that we at the Blog of Rights are all about empowering voters and getting out the vote (or "GOTV" for you wonky types). We've just posted printer-friendly versions of our voter empowerment cards. Covering 32 states from Alaska to Wyoming, these cards inform voters of their rights on Election Day and offer tips for avoiding problems when going to the polls.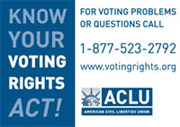 And if you haven't voted already (would that we all could vote early), Steven Rosenfeld of Alternet has a great guide, filled with tons of handy links, that will ensure that things go smoothly tomorrow.
(I learned from one of these links, VerifiedVoting.org, that New York is still using the really old mechanical lever voting machines tomorrow. They make a very satisfying "ka-chunk!" noise when you cast your ballot.)
And if there's one phone number to have on-hand when you head for your polling place, it's the ACLU's voting rights complaint hotline: (877) 523-2792. Give that number a call to report any problems or any suspicious shenanigans going down at the polls.
We'll see you at the polls!
Learn More About the Issues on This Page