Back to

News & Commentary
Out in the Cold at Age 84: Wisconsin's Ruthelle Frank Fights for Her Right to Vote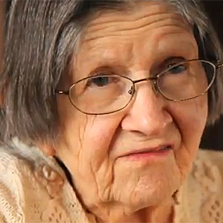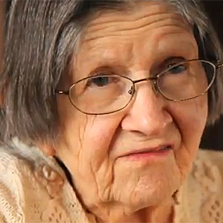 Ruthelle Frank, a resident of Brokaw, Wisconsin since her birth in 1927, has none of the accepted forms of photo ID under Wisconsin's photo ID law which goes into effect at the February primary election. In order to get a state ID card, she needs to prove citizenship, but since she was born at home, she has never had a birth certificate. The state Register of Deeds, however, does have a record of her birth and can produce a birth certificate at a $20 cost. There's one problem though — her maiden name (Wedepohl) is misspelled in the record. That record can only be amended by legal proceeding, and the combined fees will run Ruthelle potentially upwards of $200. The state will not waive any of these fees, and under the new law, if she cannot obtain a state ID card, Ruthelle will be sent away from the polls.
%3Ciframe%20allowfullscreen%3D%22%22%20frameborder%3D%220%22%20height%3D%22281%22%20src%3D%22%2F%2Fwww.youtube.com%2Fembed%2FHbiby7_hNA0%3Fautoplay%3D1%26version%3D3%22%20width%3D%22500%22%3E%3C%2Fiframe%3E

Privacy statement. This embed will serve content from youtube.com.
If you lost all your IDs and personal documents in a fire today, could you prove who you are? What if there was an election coming up and your state required you to present photo ID in order to vote? Could you figure it out in time? Do you know where to go? What forms and documents you need? Do you have the time and money to get it all done?
In Wisconsin, it takes at least 3 types of proof to get a state ID card that can be used to vote. For most people, the combination of required documents is a certified copy of a birth certificate, a Social Security Card, and some proof of residency like a utility bill or government mail. But it takes ID to get ID. And, in some cases, it takes (A) ID and/or money to (B) get the ID required to (C) get the ID you actually need to vote. This obstacle course is leaving eligible voters discouraged and disenfranchised.
Some photo ID proponents have repeatedly argued that the only people who lack photo ID are those who don't vote anyway. False. Ruthelle, a sitting member of her village board, has voted in every election since 1948, the year in which Truman signed the Marshall Plan and NYC subway fares jumped from 5 to 10 cents. She is a longstanding participant in this democracy. And sadly, her story is in no way unique — every day, eligible voters are finding out that, under current law, they will not be able to vote in 2012 or will face numerous and significant hurdles on the road to making their voice heard. At age 84, Ruthelle is now serving as the lead plaintiff in the ACLU's constitutional challenge to Wisconsin's photo ID law. She's fighting back because she believes no person should have to pay a cent or pass a bureaucracy-navigation test in order to vote. The U.S. Constitution agrees with her.
Ruthelle's disfranchisement is horrifically unjust, but she's actually better prepared to deal with this than many voters without accepted photo ID, who are disproportionately low-income, elderly, and/or minority, and disproportionately marginalized. Despite Ruthelle's physical disability (she is paralyzed on the left side of her body), she has family that can assist her, savings, education, and familiarity with both the electoral process and local government. Consider the eligible Wisconsin voter with few contacts, low or no income or savings, and much less education. Is that person any less a citizen of this country? That voter is at risk of losing his/her voice in Wisconsin and everywhere in the U.S. that photo ID laws have been enacted. But maybe you'd reply that most people have photo ID in America. Well, the Ruthelle Franks of the world want you to know that "most people" isn't a democracy.
Read more on the fight against voter suppression.
Learn more about voter suppression: Sign up for breaking news alerts, follow us on Twitter, and like us on Facebook.