Back to

News & Commentary
Racial Justice Demands That Every Vote Is Counted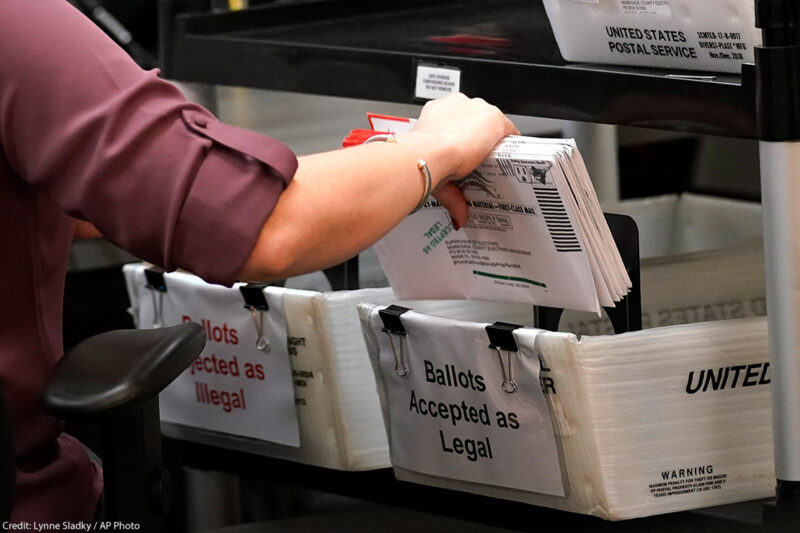 New ACLU analysis finds discounting mail-in ballots would disenfranchise communities of color and distort election outcomes in key counties.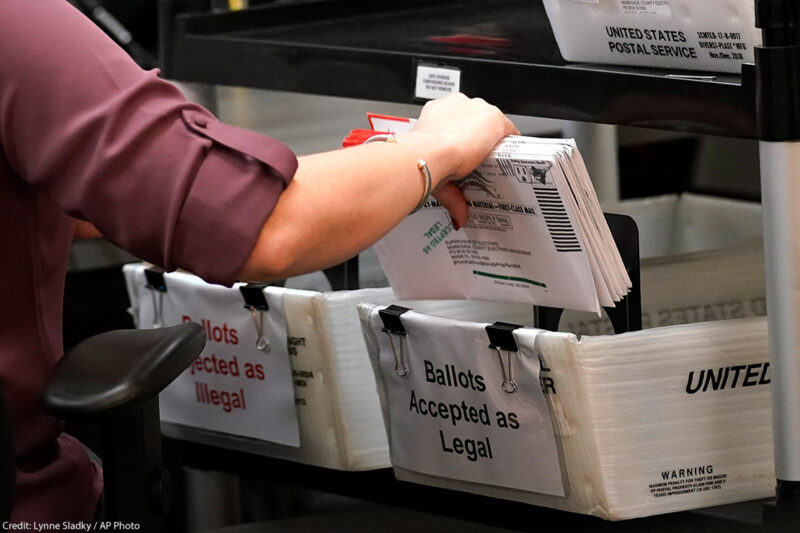 This year, ensuring every mail-in ballot is counted is more important than ever. While the share of voters casting ballots by mail has grown steadily in recent years, the spread of the COVID-19 pandemic triggered a surge in mail-in voting during primaries that has continued in the lead-up to Election Day. Already, 90.7 million absentee ballots have been requested or sent to voters in 50 states and the District of Columbia. Critically, a growing number of people of color plan to vote by mail rather than in-person in this election.
Anticipating this unprecedented surge in absentee ballots, the ACLU Analytics team generated estimates of absentee voting volume by race and candidate support by vote method in every county in the battleground states of Michigan, Wisconsin, Pennsylvania, and Georgia. The team combined data gathered by a nationwide representative tracking survey conducted by YouGov with turnout modeling based on updated in-cycle ballot data to construct estimates through statistical modeling. Our findings identify which counties potentially face the largest racial representation gap — that is, if the absentee ballot count is not completed, they will cause the biggest disenfranchisement of voters of color. What happens in these counties may well change the course and outcome of the election.
Across all four states, we found that the key geographies to watch will be the greater metro areas with large populations of people of color, such as Detroit, Milwaukee, Madison, Philadelphia, Pittsburgh, and Atlanta. Failing to fully count the absentee votes in the counties that are home to these metro areas would mean disregarding between 32.9 percent (in Gwinnett County, Georgia) and 61.4 percent (in Washtenaw County, Michigan) of the votes of people of color.
While any call about the outcome of the election before many ballots are counted is improper, the fact that Michigan, Wisconsin, and Pennsylvania don't begin processing ballots until Election Day or the day before increases the odds of confusing, unfounded, and premature victory calls before all ballots have been counted. Further, Georgia has the largest gap in vote-by-mail usage by race. While ballot processing can happen earlier, a time crunch and election staff shortages mean a quick count is not assured.
Attempts to suppress the by-mail vote and the voices of voters of color — whether through delays, ballot rejections, or outright interference with the full count — can absolutely change the outcomes of the election this year. We must keep an eagle eye on the counties identified in our report and make sure the mail-in vote is counted completely and accurately. Mishandling or miscounting ballots in these counties could perpetuate the historical disenfranchisement of voters of color with which we are all too familiar.
In spite of past elections that may have primed voters to expect a winner to be declared the night of the election, it's vital for us all to remember that the official winner is never truly known on election night. In every election, the results called on election night are based on projections of unofficial tallies. Sufficient results to even make those projections may take days if not weeks, and for the sake of accuracy, that's a good thing. This year, discounting the mail-in vote would disenfranchise voters of color and distort the election outcome. Ensuring that every vote — whether cast by mail, early, or in-person on Election Day — is counted must be the responsibility and priority of election officials everywhere. Pundits and politicians don't decide the outcome of the election — voters do.