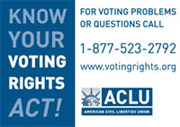 Late Wednesday, the 6th Circuit Court of Appeals found in favor of voters' rights in a lawsuit brought by the ACLU and the Advancement Project. In question was a Michigan state law requiring local clerks to nullify the registrations of newly-registered voters whenever their original voter identification cards are returned by the post office as undeliverable. A lower court found this law violated the Voter Registration Act of 1993. Wednesday, the appeals court upheld this ruling.
We'll have more later.
UPDATE: Here's the court's decision.