Back to

News & Commentary
Congress Needs to Take Responsibility for Fixing Harassment in Its Own Halls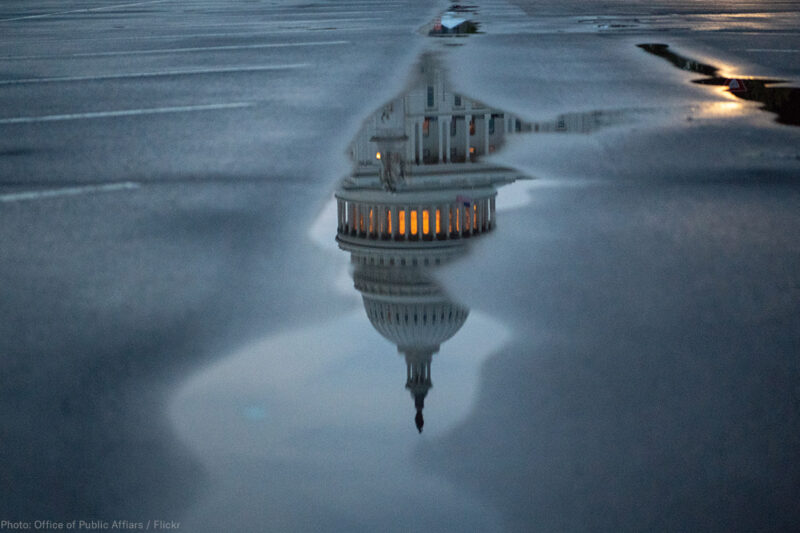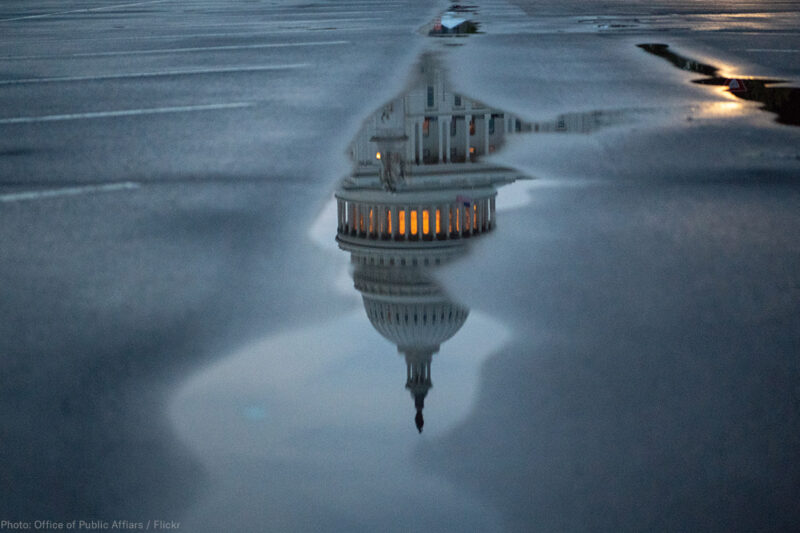 It's been nearly one year since the #MeToo movement came into public consciousness and months since the Senate and House of Representatives each passed legislation to reform the way Congress handles claims of harassment in its own workplace. But further action on the bills has stalled, and even after sitting members had to resign over their own misconduct, our elected officials have still not moved to effectively protect the safety of their employees.
On Thursday, seven former congressional staffers sent a letter to congressional leaders in both the House and Senate, calling for meaningful reform of the Congressional Accountability Act of 1995, a law that applies civil rights and workplace safety laws to Congress. Each of the letter's signatories experienced harassment or abuse while working for members of Congress. They describe in the letter the trauma and pain exacerbated by the current system that has failed to ensure their safety and hold wrongdoers to account.
The stories these brave survivors share in their letter are harrowing. Anna Kain, Rebecca Weir, Ally Coll Steele, Katherine Cichy, Winsome Packer, Melanie Sloan, and Lauren Greene — all of whom worked for members of Congress — write of being sexually harassed, verbally berated, and publicly humiliated. They were grabbed and threatened — and they were not protected by the powerful people they served.
They write:
In every building, down every hallway, and behind every door in Congress are good, honest people – often young people – working long hours for little pay in hopes of making our country and the world fairer and more just… But for too many of us, the work was tainted by harassment and abuse nurtured by a culture of secrecy and an unforgiving, flawed system that protects those in power rather than those who need protection most. And in every instance, our current jobs and future careers in politics were integrally tied to our willingness to stay quiet.
For Anna, going to work every day meant, she recounts, being berated and sexually harassed by Tony Baker, chief of staff to Rep. Elizabeth Esty (D-Conn.). After she left her job, she says, he phoned her more than 50 times, threatening to find and kill her. Even after her story was reported, Esty kept Anna's abuser on the payroll for another three months.
Rebecca, another former staffer, describes being subjected to leering and sexualized comments by Rep. Gary Miller (R-Calif.), the member of Congress she worked for. The congressman would talk about her looks and once asked her to twirl for him — at work, in the office.
But for women like Anna, Rebecca, and others, the current system makes it hard to achieve justice because it puts the onus on the victim to navigate an antiquated and convoluted process without certainty of a fair resolution. This system also does little to address the unequal power dynamics between victims and perpetrators, often re-traumatizing survivors in the process. The current law requires those filing complaints of sexual harassment to go through mandatory arbitration, and endure a 30-day "cooling off" period before filing a claim. Mediation requiring victims of harassment to relive the abuse with their abuser in the room, is the current go-to for resolving claims. The current law also does not guarantee legal counsel to both congressional staff and members of Congress, forcing survivors of harassment and discrimination to fend for themselves, while those with institutional power are given additional support.
Tell Congress to support survivors and hold itself accountable
Essential accountability measures — like ensuring that members of Congress reimburse the Treasury for settlements they paid for harassment they committed — are conspicuously absent from the current system. Additionally, employees who report harassment and abuse are often retaliated against. Employees considering reporting abuse have reason to fear their livelihoods would be threatened if they move forward.
Both the House and Senate have passed different versions of reform legislation (H.R. 4924 and S. 2952, respectively) but the House bill is superior. It contains important reforms including ensuring that settlement payments come from members' own pockets, and not the U.S. Treasury, and that those payments are made public; extending whistleblower protections to employees of the legislative branch; and creating support measures for victims like legal advice and representation, and the flexibility for remote work or leave.
But the process has stalled, with members of the Senate leadership opposing several provisions that would strengthen accountability and transparency and provide additional support and protections for workers. If both chambers can't agree on a final version of the bill, the people who work for our representatives will be forced to continue maneuvering through a harmful and flawed system that discourages reporting abuse.
The elected leadership of this nation should take responsibility for harassment and abuse in their own workplaces. Everyone should feel safe at work. The legislative workforce, and the people they serve, deserve no less from Congress.
Learn More About the Issues on This Page