Words From Prison: Women's Incarceration and Loss of Parental Rights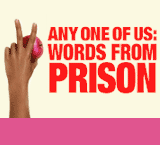 To hear her mother tell it, Angela was a go-getter from the very start. Her take- charge style didn't make her the most popular playmate among her friends, but it paid off well later in life. Being the first person in her family to go to college, Angela eventually enrolled in business school and graduated near the top of her class. While others were satisfied to work in the bowels of corporate America, Angela craved independence. She bought a small car dealership and turned it into a successful distributor of luxury cars and trucks.
Angela's luck with men didn't manifest that golden touch. A short relationship before college produced her first son, Kevin. Angela worried about raising her son without a father figure, but she was careful about the men she brought into her life. Her son took to a particular mentor in an after school program, and after Angela met him, she understood why. Andre was a good, supportive, and loving figure in Kevin's life, and he eventually found a place in Angela's heart as well. Andre was also good for Angela's business. Angela turned over the bookkeeping side of her business to Andre, an accountant by trade. She felt luckier still when Andre came up with a solution to solve her occasional cash flow problems. One of Andre's childhood friends was looking for a good investment and agreed to be a silent partner in Angela's expanding business. Life couldn't be better when she found out that she and Andre were expecting. With no reason to wait, the two married and formed the perfect family.
Angela's life took a dramatic turn for the worse when police arrived at the dealership and arrested Andre. When she was finally able to see Andre in lock-up, Andre told Angela that the arrest was a big mistake that he would work out once he was released. Angela was stunned to find that Andre was being held on a $250,000 bail. Their cash flow was tight and she couldn't come up with the necessary resources. Moreover she had another pressing problem. She was terrified by several angry calls that she received immediately after Andre was arrested. Someone called demanding that she make good on a large sum of money that he claimed she owed and if she failed to do so, Kevin would be made to pay the price. Andre gave Angela the name and number of a client who owed them money, and told her to make a call to demand the money right away and bail him out with it. With the remaining money, he would then be able to squash the beef with the anonymous caller.
Terrified and hoping to save the lives of her husband and son, Angela made the call to a man she didn't recognize. Shortly after the contact wired $100,000 into her account, she was arrested by federal officers as she attempted to withdraw the money to pay for Andre's bail. Angela was shocked not only to find that the man she called was a drug distributor, but also to discover that she was charged with money laundering, constructive possession, and conspiracy to distribute drugs. Thinking it was all an enormous mistake, Angela kept her cool and told the prosecutors all she knew. When she finally did get a lawyer, she was shocked to find that she was facing 24 years, a mandatory minimum for her unwitting role in permitting her business to be used to store drugs and to launder money for a drug network. Yet, Angela never sold drugs, never handled any drug money, and was unaware that her business was being used in the conspiracy. Prosecutors provided Angela with a ray of hope: if she would name her co-conspirators, she might be eligible for a downward departure in her sentence. The only person Angela knew was Andre, and she couldn't believe that he was knowingly part of this disaster. Because she could not provide any useful information, and couldn't imagine imprisoning the father of her unborn child, she was eventually convicted and sentenced to 24 years in federal prison. Angela was stunned when she heard that Andre, who did have some information to share about their new investor, received a far more lenient sentence.
Conspiracy provisions have expanded the range of people ensnared by drug laws and have contributed to the explosion of women's drug convictions. Once a "conspiracy" is established, every participant can be held liable for the actions of every other member, even if the participant did not have any knowledge of the actions or existence of other participants. So, even though women often play minimal or peripheral roles in drug sales, they are held accountable for the amount of drugs attributed to the entire conspiracy. Conspiracy provisions exist under federal and New York state law. Also, under these laws, co-conspirators can often get more lenient sentences for providing information to police and prosecutors. Women often get harsher sentences than their co-conspirators because they play very peripheral roles and have little information to trade.
Although crushed by the reversal of her fortunes, Angela discovered that worse was soon to come. Angela's mother had agreed to move into Angela's home to care for her young son, but months after her incarceration, Angela's home, cars and business were all seized by the federal government under forfeiture laws. With no place to stay, and now no assets, Angela's mother struggled to care for Kevin. Barely able to support Kevin, Angela worried about what would happen to her still unborn child; her mother seemed pushed to the edge as it was and they had few other options.
Today, more than one and a half million children in the United States have a parent behind bars. Approximately seven million American children have a parent under some correctional supervision. African-American children are nine times more likely to have a parent incarcerated than white children. Seventy-five percent of women in New York prisons and jails are mothers, most the primary caretakers of their children before their arrest. About 11,000 children have a mother in a New York state prison.
In the months that followed, Angela's worst fears came true. She became increasingly worried about her baby's health as her due date neared because there was no gynecological or prenatal care available in the prison. When Angela began to go into labor she notified the prison guards, who transported her in handcuffs to a nearby hospital. As soon as she was admitted, the guards insisted that Angela be shackled to the bed using leg irons to prevent her from escaping. Escaping was the last thing on Angelas's mind; as her labor pains intensified and she grew more and more terrified at not being able to move because of the restraints and the harm her baby might suffer as a result.
Shackling of all prisoners, including pregnant prisoners, is policy in federal prisons and the US Marshall Service and exists in almost all state prisons. Only two states have legislation regulating the use of restraints (belly chain, leg irons and handcuffs). Shackling during labor may cause complications during delivery such as hemorrhage or decreased fetal heart rate. If a caesarian section is needed, a delay of even 5 minutes may result in permanent brain damage to the baby.
Fortunately, Angela's newborn baby girl was healthy; however, she was only allowed to hold her for a few hours. Angela's baby was taken from her and she was transported back to prison. She was told that her baby would be given to her mother to care for along with Kevin. Angela's mother occasionally brought the children to visit, but the five-hour ride to the Danbury took a toll on her fragile health. When they were able to come, Angela met her children in the dingy, fluorescent-lit room, holding onto them for several minutes when they arrived. The visits were tearful reunions, but Angela tried to get down to the business of catching up on their lives. Soon the visits stopped altogether. Angela's mother, already in poor health, was hospitalized with dangerously high blood pressure.
A 2000 government study found that more than half of mothers in state prison nationwide have never had a visit with their children.
In the absence of visits, telephone communication became Angela's lifeline. It was a way for Angela to stay in touch with her children and her mother. But the prison's exorbitant rates for collect calls from prisoners – the only way Angela could call anyone – made even this second-best means of playing a role in her family's lives almost impossible. Over time, there were fewer phone calls, and it became harder and harder for Angela to stay a part of her children's lives.
In New York, the Department of Correctional Services (DOCS) has an exclusive contract with Verizon-MCI, which charges very high fees for prison calls – $3.00 to initiate a call and then 16¢ per minute, even though Verizon-MCI rates for the general public are as low as 5¢ per minute for long-distance. In other words, prices for prison calls are 630% higher than a similar non-prison call. In exchange for this contract, DOCS receives substantial kickbacks from Verizon-MCI: $175 million since the contract was initiated in 1996. Most families of prisoners cannot afford the rates, so this vital lifeline is cut off.
The tragedy deepened when Angela's mother died. Angela requested special permission to attend the funeral and to support her children but her request was denied. Profound grief sent Angela into a tailspin of despair, but even that sadness could not prepare Angela for what was in store next. After her mother's death, a few friends and family attempted to watch over the children, but child services was called to take the children, and they were placed in foster care with strangers. Proceeding under state law, the child welfare agency filed a petition to terminate Angela's parental rights 15 months after her children entered foster care. Angela was devastated, never having dreamt that losing her children would be part of her sentence.
Under a federal law called the Adoption and Safe Families Act (ASFA) and its New York state corollary, whenever a child has lived in foster care for 15 of the most recent 22 months, the foster care agency is required to file a petition to terminate parental rights. Although the median minimum sentence for a female offender is 36 months, ASFA makes no exceptions for incarcerated parents.
Angela's harsh sentence also destroyed her children's lives. For Kevin especially, it robbed him both of his mother and of his childhood. He would hardly get to know his little sister since she had been placed with another family.
Kevin is now 25, and has himself been caught up in the criminal justice system. Neither he nor his sister have much contact with Angela. Angela had hopes that she might be pardoned by the President after a few high profile cases, but President Clinton left office without having addressed the sentences of scores of women just like Angela. Angela remains in Danbury Federal prison.
IMAGINE A WORLD WHERE FAMILIES STAY UNITED