Words From Prison: Violence Against Women, Homelessness and Incarceration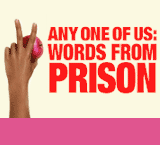 Rosa immigrated to Rochester, New York from Guatemala to marry Rafael, a family acquaintance who had moved to the United States as a teenager. Rosa had met Rafael when he returned home to their small town on a long awaited visit. Finding a quiet moment during his homecoming party to share with Rosa, Rafael told her that he had worked hard in the US and had become a successful restaurant owner and United States citizen. An earlier marriage to another woman failed, but left him with one son. Rafael told Rosa he was looking for a good woman from his home country to be the kind of wife with whom he could share his values and his success. Rosa was impressed with Rafael's hard work, sincerity, and traditional values. They each promised to continue their relationship through phone calls and letters and eventually Rosa was persuaded to move to Rochester to marry Rafael.
When Rosa moved to New York, she began to help Rafael in his restaurant by greeting customers and occasionally working her special magic in the kitchen. She was popular among Rafael's Guatemalan customers who were eager to hear about life back home and to enjoy authentic home-style cooking. Rosa was delighted that she fit in so effortlessly; yet surprisingly, Rafael became jealous and resentful of the attention Rosa was getting. Rafael watched her constantly, and often accused her of flirting with the customers and giving extra attention to the younger men. Rosa's movements were increasingly monitored by Rafael. Shopping for supplies became an ordeal for Rosa; any delay in returning to the restaurant would prompt an argument that sometimes ended in a threat, a slap or even a black eye. Rafael's 12 year old son Roberto sometimes attempted to protect his stepmother Rosa, but he too received his father's wrath. Violence for Roberto was not new; he had witnessed his father beating his mother and had become a target of his father's rage himself after his mother left the family home. Rosa became even more frightened when she learned that Rafael's first wife had been hospitalized for many months after an "accident" in the kitchen that left her with third and forth degree burns all over her body. Also an immigrant, she too had faced years of abuse but was reluctant to call the authorities for fear of deportation. Now incapacitated, she was unable to care for Roberto. Lacking medical care, she lived in destitution.
Women who immigrate to the United States must remain "properly married" to a United States citizen or permanent resident for two years before they can apply for permanent resident status. The couple must live together to be considered properly married. Although a waiver is possible under some circumstances, the process is challenging for socially marginalized women, many of whom risk severe injury or even death at the hands of abusive husbands due to fear of deportation.
Rosa worried that Rafael might one day kill both his son and her, but she couldn't see a way out. A turning point in the relationship came when the restaurant was preparing to celebrate a special Guatemalan holiday. Rosa prepared a special menu for the day and dressed nicely to greet their customers. Convinced however that Rosa was attempting to garner the attention of younger men, Rafael began to berate Rosa, accusing her of selling herself to the highest bidder. Rosa argued back, pointing out that she was pulling her own weight in the restaurant and did not need to sell her body to anyone. Enraged, Rafael wrestled Rosa to the ground, choking her and punching her in the face. Only the sound of arriving customers stopped Rafael's beating; he locked Rosa into the refrigeration room for her to "cool down."
Although she feared deportation because she had not stayed properly married for two years, Rosa decided that she had had enough. When Rafael finally released her from the refrigeration room, she apologized for her actions earlier that day, and encouraged Rafael to relax while she closed up. As Rafael retired to the back room, Rosa took the checkbook and a few bills from the cash register, snuck upstairs to gather Roberto, and disappeared into the night. Desperate with no place to go, she called a Spanish-speaking hotline to seek shelter. The crisis counselor on the other end was very understanding and supportive, but was unable to find a shelter that offered Spanish-speaking services and accepted women with teenage sons. She told Rosa to call back shortly, but when Rosa did, she was told that the one shelter that would permit her to come in with her son refused to admit anyone who could not benefit from their "empowerment" counseling because it was given only in English. Rosa indicated that Roberto could translate for her, but the shelter refused this resolution because in their view her dependency on him would further her victimization. Rosa gave up on the shelter, and wandered the streets with Roberto looking for an inexpensive hotel room. She had enough money for two nights at a cheap hotel, but wound up in a homeless shelter after she failed to pay the bill on the third night.
Domestic violence is a primary cause of women's homelessness. Between one quarter and one half of homeless women are homeless because of domestic violence and over 90 percent of homeless women have experienced severe violence or sexual assault at some point in their lives.
The homeless shelter provided a decent room for Rosa to share with Roberto, but one of the staff members immediately began harassing Rosa, telling her she was the sexiest woman in the shelter and asking her out on dates. Rosa kept having flashbacks of Rafael's beatings, and the sexual harassment she experienced in the shelter made the flashbacks worse. Worse still, she overheard someone telling two other men that the owner of a local restaurant was looking for his wife who had stolen money to run off with another man. He was going to kill her when she was found. Rosa knew that she was that woman. She was paralyzed with fear; she was terrified that Rafael would make good on his promise, and she was equally afraid that the authorities would deport her if she sought their help. She spent her last dollars on train tickets to New York City, but as her mental health deteriorated, she found it harder and harder to take the steps she needed to look for a job and permanent housing.
The homeless shelter in the Bronx wasn't any better or safer than the one upstate. It didn't provide any specialized services or counseling to help her address the after-effects of the violence. Nor did it provide support services for children. Rosa worried that Roberto was missing school and falling in with a bad crowd. Desperate to find a way to get out of the shelter, she started passing bad checks, buying merchandise in stores that she then resold on the street for cash that she was saving so she could afford her own place. One day, the police picked her up for selling items on the sidewalk without a peddler's license. It turned out she had a string of outstanding warrants for the bad checks as well as one for kidnapping.
Homeless women are very visible to law enforcement and are often swept up in campaigns to crack down on high crime neighborhoods.
Rosa's kidnapping charges were dropped in a plea bargain; she pled guilty to grand larceny and was sentenced to five years in prison. Roberto was returned to Rafael, but within months of his return he had taken to the streets again, this time on his own.
In prison, most of the women Rosa met had been the victims of violence, either as children or as adults. Although several suffered from depression or post traumatic stress disorder, very few had received counseling or any other kind of treatment pertaining to the after-effects of traumatic violence in their lives.
Government statistics show that 79% of women in federal and state prisons have reported past physical abuse, and over 60% have reported past sexual abuse.
When she was released from prison, as part of her efforts to begin her life again, Rosa sought public housing. However, the public housing authority told her she was ineligible for housing assistance due to her prior conviction. Because of her conviction, Rosa was also unable to find an employer who would hire her; as a result, she wasn't able to afford housing in the private market.
Under federal law, public housing authorities (PHAs) have the right to adopt policies that exclude individuals with criminal records from eligibility for housing and many do so for as long as a decade or more post-conviction. The situation is even bleaker for individuals with drug convictions. Under federal law, PHAs must reject applicants who they believe to be current drug users. In practice, this means that individuals with drug convictions who cannot demonstrate sufficient proof of rehabilitation are assumed to be drug users and denied housing.
Because of her inability to obtain housing or employment, Rosa found herself living on the streets again. Out of desperation and without a legal source of income, she occasionally supported herself through prostitution though she knew she risked re-imprisonment or even deportation for this. With no place to live, she was physically and sexually assaulted on multiple occasions. She never reported these crimes to law enforcement as she believed she would likely be arrested if she did so.
Homelessness exposes women to violence. A substantial proportion of homeless women experience sexual or physical violence while living on the streets or in shelters.
Eventually, Rosa was rounded up in a police crackdown initiated by the mayor to make the streets safer for the general public. Because Rosa was deemed a repeat offender and had not received permanent resident status, she was held for nearly 18 months after her conviction by Immigration and Customs Enforcement and was eventually deported back to Guatemala.
IMAGINE A WORLD WITHOUT VIOLENCE
Volunteer with or donate to your local domestic violence shelter. Domestic violence shelters provide counseling and programs specifically designed to help victims of abuse move past their trauma and away from abusive relationships. Help ensure that these services are broadly accessible to underserved communities. Visit www.aclu.org/womensrights/violence/25832res20060612.html for a list of shelters you can volunteer with or make donations to.
Call your representative in Congress today and tell him or her to fully fund the Family Violence Prevention and Services Act, which provides financial support for battered women's shelters, crisis lines, counseling, victim assistance, and programs for underserved communities.
Every year, public housing authorities (PHAs) must go through an annual planning process that includes an opportunity for public comment on the PHA's policies. Write to your local PHA to urge it to adopt admission policies that do not discriminate against individuals on the basis of past criminal convictions and accommodate women of all ethnicities. Visit www.aclu.org/wordsfromprison to download a sample letter to a PHA, and a list of contact information for PHAs in New York.
Donate to the Women's Prison Association's short-term emergency housing program for women leaving prison who do not have a safe place to go. Learn more at WPA's website, www.wpaonline.org.
Donate to local chapter organizations that address the needs of particular communities of domestic violence victims such as Sakhi for South Asian Women, www.sakhi.com, and the New York Asian Women's Center, www.nyawc.org.
Donate your old business suits to the Osborne Association's Clothing Bank. The Osborne Association works with ex-offenders to help them find employment and obtain self-sufficiency. For more information visit: www.osborneny.org/south_forty_clothes.htm.