Watcha Freedom Files shorton the conditions at the Hutto immigration detention center in Taylor,Texas >>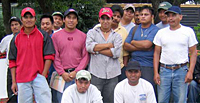 Day laborers in Riverside, N.J.
Seethe full itinerary >>
Dr.Jorge A.Bustamante
Special Rapporteur on the Human Rights of Migrants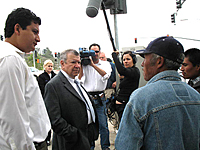 ChristianRamirez of the American Friends Service Committee (left) and Dr.Bustamante speak with day laborers in Rancho Penasquitos in San Diego.
Seemore pictures from the Special Rapporteur's visit >>
United Nations SpecialRapporteur on the Human Rights of Migrants Visits U.S.
The UnitedNations Special Rapporteur on the Human Rights of Migrants, Dr. JorgeBustamante, visitedthe United States to review the conditions of migrants and immigrantsfrom April 30 through May 18.
The American Civil Liberties Union was among the select organizationsand individuals that met with the Special Rapporteur totestify about human rights violations of immigrants living in theUnited States. The Special Rapporteur's officialvisit included tours of the U.S.-Mexico border and an immigrantdetentionfacility in Arizona.
Together with its affiliate officesand other organizations, the ACLU organized and facilitated publichearings and meetings for the Special Rapporteur with affectedcommunities, victims and national and local authorities. The ACLU hasworked recently on several issues pertaining to immigrants, includingefforts around local anti-immigrant ordinances, immigrant detentionfacilities, undocumented migrant workers, and trafficking of women andchildren.
Dr. Bustamante is an independent expertappointed by the U.N. Human RightsCouncil with the mandate to monitor, advise and publicly report onhuman rights situations in specific countries, including the UnitedStates, and on human rights violations worldwide. The SpecialRapporteur can only carry out a fact-finding mission at the request ofthe country concerned.
Read Dr. Bustamante's press statement at the conclusion of the visit>>
Tosubscribe to all ACLU podcasts, copy and paste this link into yourpodcast application or feed reader:
/podcast/feed