We're Not Stupid: The Strategy (and Truth) Behind the War on Women 2013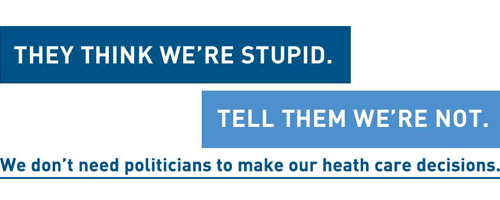 Based on investigative reporting, it seems the financial ties between conservative funders Charles and David Koch and anti-choice organizations may run deep. This week, national press has reported that Freedom Partners, a nonprofit with strong Koch ties, released a draft IRS report detailing millions of dollars in grants awarded to groups that fund anti-choice organizations such as Americans United for Life and the Susan B. Anthony List. The official document is scheduled to be released soon, so check back here for updates.
The Anti-Choice Movement's Hidden Agenda
In the 2013 legislative session, extremist politicians in statehouses across the country introduced more than 300 measures that could cut off access to reproductive health care. Seventeen states passed one or more of these draconian measures, potentially affecting the more than 22 million women of childbearing age who live in these states. This legislative onslaught is just the latest in a broad and coordinated national campaign to outlaw clinics that provide abortion care and limit access to other critical reproductive health services, including birth control.
While politicians have been chipping away at a woman's ability to access abortion care for years, in this latest round, they've pushed through some of the most severe measures that could make it virtually impossible for women to obtain safe, legal care no matter what their circumstances. Extremist politicians may say they want to protect women's health; in reality, the restrictions put up medically unnecessary roadblocks aimed at shutting down women's health centers, outlawing abortions, and interfering in a woman's private decision-making about her health and family.
While the end goal of the anti-choice campaign remains overturning Roe v. Wade and making abortion illegal, extremists have figured out that, short of accomplishing this goal, they can effectively take away access one law, one clinic, one state at a time. They may think we are too stupid to see what they are up to, but we aren't stupid, we're paying attention, and we're ready to fight back.
A complete list of Major Restrictions on Abortion Access Passed in 2013
An interactive map of Major Restrictions on Abortion Access Passed in 2013
What follows is a set of statements made by a number of anti-choice groups and their leaders that reveal the movement's true intentions and strategies.
The Stealth Approach: One Bill, One State at a Time
While banning all abortions is not (yet) politically viable–efforts to do so in recent years have failed in legislatures, in the courts, or at the ballot box— the opposition has a strategy: Pass laws that make it harder and harder for women's health clinics to stay open and make it more difficult for women to obtain the care they need no matter what their circumstances. If they succeed, they could end legal abortion without having to overturn Roe v. Wade.
Their End Goal: Stop All Abortions for All Women in All Circumstances