At Liberty Podcast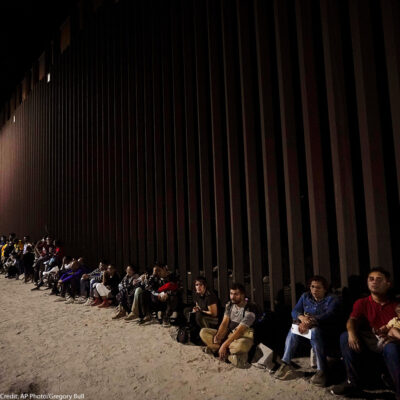 At Liberty Podcast
Biden's Asylum Policy is From Trump's Playbook
May 4, 2023
All episodes
As soon as a week from today, the Biden administration could implement a policy that would force people to seek asylum and wait for an answer in Mexico, or another country they passed through, with limited exceptions. The proposed change is based off of a Trump-era policy that the ACLU fought in court, and which President Biden previously condemned. It also stands in direct violation of United States asylum laws and will lead people fleeing violence and persecution to face avoidable harm.
President Biden campaigned on promises to restore and strengthen the asylum process. Instead of re-committing the United States to its promise of upholding international humanitarian practices, his administration plans to replace the inhumane Title 42 policy enacted under the Trump administration with a similarly dangerous one, taken straight from the Trump administration's playbook.
Baine Bookey, legal director of the Center for Gender and Refugee Studies, and Katrina Eiland, managing attorney for the ACLU's Immigrants' Rights Project, join us today to unpack this rule, the harm it will cause thousands of people, and to explain what the asylum process should look like.
Blaine Bookey
Legal Director , Center for Gender and Refugee Studies
Blaine Bookey is Legal Director at the Center for Gender and Refugee Studies where she has worked for more than a decade to advance protections for those seeking refuge in the United States and beyond. In this role, Blaine oversees the Center's litigation, policy and advocacy and technical assistance and training programs, having served as…
Blaine Bookey
Kendall Ciesemier
Host of At Liberty and Senior Executive Producer of Multimedia, American Civil Liberties Union
she/her/hers
Kendall Ciesemier (@kendallciese) is the Host of At Liberty and the Senior Executive Producer of Multimedia at the ACLU. Previously, Kendall worked as a producer and reporter for The New York Times' Opinion section and Mic, a digital media company. Most notably at Mic, Kendall's interview with Alice Marie Johnson, a woman serving a life…
Kendall Ciesemier
Katrina Eiland
Deputy Director, ACLU Immigrants' Rights Project
Katrina Eiland is a deputy director of the ACLU's Immigrants' Rights Project (IRP), based in the San Francisco office. Katrina engages in high impact litigation and advocacy to protect the civil rights of immigrant communities. She has litigated numerous cases at IRP, including several suits to preserve access to asylum for people fleeing persecution. She…
Katrina Eiland
---
This episode, Biden's Asylum Policy is From Trump's Playbook, covers the following issues we work on –