At Liberty Podcast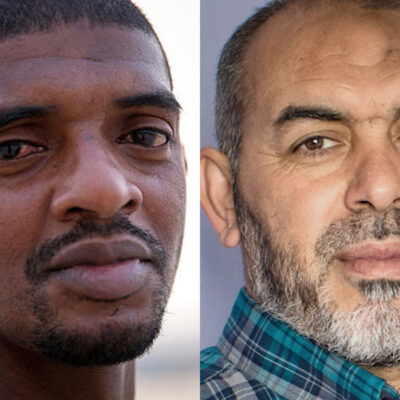 At Liberty Podcast
Survivors of the CIA Torture Program Almost 20 Years Later
September 9, 2021
All episodes
As we approach the 20-year mark since September 11th, we are following up with the clients and the attorney of one seminal ACLU lawsuit on the CIA's post-9/11 torture program, a program that ended in 2010 but that continues to haunt its survivors and to stain the U.S.'s international human rights record.
The lawsuit Salim v Mitchell was filed in 2015 against James Elmer Mitchell and John "Bruce" Jessen, two psychologists contracted by the CIA to design, implement, and oversee the agency's post-9/11 torture program. The lawsuit was filed on behalf of three of the program's victims. All three were kidnapped by the CIA, and then tortured and experimented on according to Mitchell and Jessen's protocols. One of the men died as a result of his treatment. The other two men continue to endure the effects of their detention.
In 2017, the psychologists agreed to a settlement — a first for a case involving CIA torture.
And today, we'll speak with ACLU Staff Attorney Steven Watt about what the litigation achieved and what still needs to happen to help prevent any future use of torture. We'll also have a chance to listen in on Steven's own recent conversations with our three clients as they rebuild their lives and navigate the continued effects of the torture program.
Molly Kaplan
Former Host of At Liberty, American Civil Liberties Union
Molly Kaplan is an Emmy-winning director who since 2012, has directed, executive produced, filmed, and edited hundreds of videos. Her work – in collaboration with some of the most talented filmmakers and animators in the country – has been screened at the Sundance Film Festival, DOC NYC, Alamo Drafthouse, Museum of the Moving Image and…
Molly Kaplan
Steven M. Watt
Senior Staff Attorney, ACLU Human Rights Program
Steven Watt is a senior staff attorney with the ACLU Human Rights Program. Watt specializes in civil and human rights litigation before domestic courts and international tribunals. Watt is counsel in a host of state and federal court cases involving U.S. rendition, detention, and interrogation programs, trafficking and forced labor, juvenile justice, women's and immigrants' rights,…
Steven M. Watt
---
This episode, Survivors of the CIA Torture Program Almost 20 Years Later, covers the following issues we work on –