At Liberty Podcast
At Liberty Podcast
The Resurgence of Labor Strikes and Union Power
November 16, 2023
All episodes
If you're staying up to date with the news, you may have noticed that unions are having a moment. This summer alone, strikes by members of the WGA, UAW, SAG-AFTRA, UPS, Starbucks, Amazon, and Kaiser Permanente unions, among others, have made headlines and signaled solidarity between workers across the nation. Last year, public support for unions hit a 57-year high, with 71% of Americans expressing a favorable opinion.
However, unions themselves are not a utopia. At the ACLU, we've sided with and against unions to secure worker's rights, specifically those of women and pregnant people. There's still much work to be done to ensure that all workers are treated fairly, but one thing remains clear: unions can be a powerful force for securing civil rights and civil liberties.
Journalist Kim Kelly is a firm believer in the power of organized labor. After years of reporting on the nationwide labor movement, she released "Fight Like Hell: The Untold History of American Labor." The book chronicles historical labor movements across several industries, focusing on the people from marginalized groups who led them, along with their wins and their losses. Kelly joins us today to help us connect our past to our present and deepen our understanding of the ongoing fight for worker's rights.
Kendall Ciesemier
Host of At Liberty and Senior Executive Producer of Multimedia, American Civil Liberties Union
she/her/hers
Kendall Ciesemier (@kendallciese) is the Host of At Liberty and the Senior Executive Producer of Multimedia at the ACLU. Previously, Kendall worked as a producer and reporter for The New York Times' Opinion section and Mic, a digital media company. Most notably at Mic, Kendall's interview with Alice Marie Johnson, a woman serving a life…
Kendall Ciesemier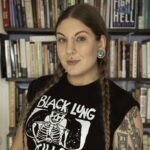 Kim Kelly
Labor journalist
she
Kim Kelly is an independent journalist, author, and organizer based in Philadelphia, PA. She has been a labor columnist for Teen Vogue since 2018, and her writing on labor, class, politics, and culture has appeared in The New Republic, the Washington Post, The New York Times, The Baffler, The Nation, The Columbia Journalism Review, and…
Kim Kelly
Listen to this episode on
Apple Podcasts
Spotify
This Episode Covers the Following Issues