At Liberty Podcast
At Liberty Podcast
The Revolutionary Power of Teenage Girls
March 16, 2023
All episodes
Today we are talking about one of the most revolutionary forces in America — teenage girls. Throughout history, teenage girls have consistently stood on the frontlines for change.
At 16, Sybil Ludington outran Paul Revere in warning American troops of the impending threat of the British. At 15, Barbara Johns staged a school boycott that helped initiate Brown v. Board of Education. At 19, Heather Tobis tried to help herself and other girls around her navigate a pre-Roe world by starting Jane — a clandestine network that connected young women with access to safe abortions.
Never heard of these girls? Yeah, neither had we. The achievements and contributions of girls and young women are often under-recorded and dismissed. A new book, "Young and Restless: the Girls who Sparked America's Revolutions," by Mattie Kahn interrupts this cycle of erasure. Mattie brings to the forefront girls' and young women's trail-blazing activism, from the labor movement of the late 19th century to the fight against climate change now.
Author, writer, and editor Mattie Kahn joins us today to talk about the revolutionary power of girls, the challenges they face, and how they rise up consistently to meet the moment.
Kendall Ciesemier
Host of At Liberty and Senior Executive Producer of Multimedia, American Civil Liberties Union
she/her/hers
Kendall Ciesemier (@kendallciese) is the Host of At Liberty and the Senior Executive Producer of Multimedia at the ACLU. Previously, Kendall worked as a producer and reporter for The New York Times' Opinion section and Mic, a digital media company. Most notably at Mic, Kendall's interview with Alice Marie Johnson, a woman serving a life…
Kendall Ciesemier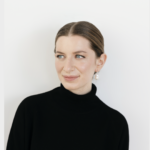 Mattie Kahn
Writer
she/her/hers
Mattie Kahn is an award-winning writer and editor. Her work has been published in The New York Times, The Washington Post, The Atlantic, Harper's Bazaar, Vogue, Vox, and more. She was the culture director at Glamour, where she covered women's issues and politics, and a staff editor at Elle. She lives in New York.
Mattie Kahn
This Episode Covers the Following Issues