ACLU and Civil Society Groups Urge Montana House To Vote "NO" on Unconstitutional Bill Banning TikTok for All Montana Residents
April 11, 2023 7:00 pm
---
WASHINGTON — In a letter sent to the Montana House of Representatives today, the American Civil Liberties Union, ACLU of Montana, and half a dozen free speech and civil liberties organizations implored members to vote no on SB 419, a bill that would ban TikTok in the state of Montana, violating the First Amendment rights of hundreds of thousands of Montanans who use the app to communicate, gather information, and express themselves daily.
As the letter to the Montana House makes clear, passing this legislation would flout the First Amendment and trample on Montanans' constitutional right to freedom of speech. The government cannot impose a total ban on a communications platform like TikTok unless it is necessary to prevent extremely serious, immediate harm to national security. But there's no public evidence of harm that would meet the high bar set by the U.S. and Montana Constitutions, and a total ban would not be the only option for addressing such harm if it did exist.
Signatories include Americans for Prosperity Montana, the Center for Democracy and Technology, Electronic Frontier Foundation, the Foundation for Individual Rights and Expression, and TechFreedom.
The following quotes are attributable to the legal and policy experts who signed on to this letter:
"Montana's TikTok bill is censorship, plain and simple," said Jenna Leventoff, senior policy counsel at ACLU. "Montanans deserve better than to have their representatives violate their free speech rights by cutting them off from a unique platform that allows them to speak their minds, exchange information, and learn new things."
"The bottom line is that this bill is censorship: The government and politicians have no right to control what technology goes on your phone," said David Herbst, state director of Americans for Prosperity – Montana. "National Security does not, nor should it ever, trump Montanan's civil liberties. This bill is a step too far, and we urge lawmakers to reject this blatant government overreach."
"Banning TikTok in Montana would raise serious First Amendment concerns and is not the appropriate way to protect the privacy of user's data or respond to content on the app that lawmakers disapprove of," said Caitlin Vogus, deputy director of the Free Expression Project at the Center for Democracy & Technology. "We urge the Montana legislature not to take this dangerous step toward limiting Montanans' ability to speak freely and receive information online."
"Many Montanans use TikTok to communicate with local and global audiences," said Jason Kelley, interim director of activism at EFF. "The state must not violate their rights by banning this speech platform."
"Montana should abandon this bill, which would restrict the free flow of information and ideas online," said Tyler Coward, senior legislative counsel at FIRE. "Protecting user data from hostile foreign regimes may be a worthy goal, but the government has not shown that a sweeping ban of an entire forum for online speech is necessary to achieve it."
"Government has long appealed to 'national security interests' to justify intrusions on protected First Amendment activity," said Ari Cohn, free speech counsel at TechFreedom. "It is a convenient justification that trades on fear and discourages close scrutiny of the alleged danger and the means by which the government seeks to address it. Legislatures must do the hard work of actually defining the harm and carefully tailoring any proposed resolutions, rather than aiming the flamethrower of moral panic at the First Amendment."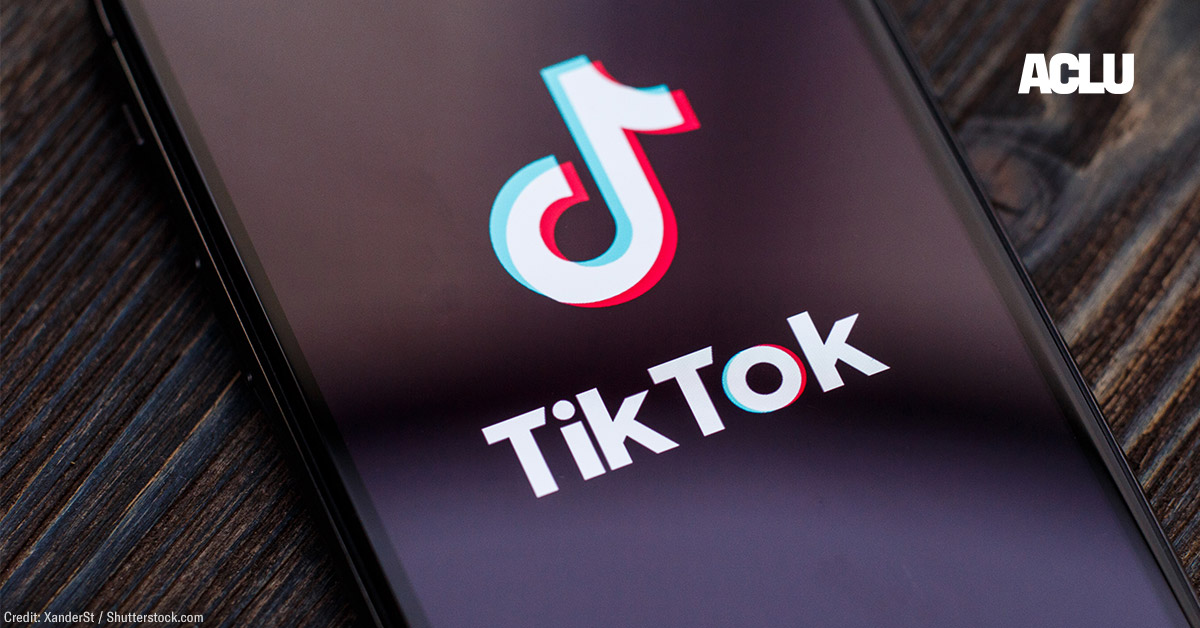 Don't Ban TikTok and WeChat
Selectively banning entire platforms violates the First Amendment and does little to protect our personal data from abuse.
Source: American Civil Liberties Union
Tell Congress: Don't Ban TikTok!
Congress is trying to ban TikTok — and it's more serious than you might think. Tell your members of Congress to fight against censorship and...
Stay Informed
Every month, you'll receive regular roundups of the most important civil rights and civil liberties developments. Remember: a well-informed citizenry is the best defense against tyranny.
Learn More About the Issues in This Press Release