ACLU Announces Rights / Camera / Action
June 6, 2008 12:00 am
---
---
Project Fuses Civil Liberties With Art, Entertainment And Pop Culture
FOR IMMEDIATE RELEASE
CONTACT: (212) 549-2666; media@aclu.org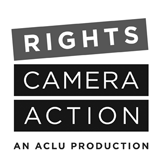 NEW YORK – Rights / Camera / Action, a new program of the American Civil Liberties Union that uses the arts and popular culture as a platform for civil liberties discussions, kicks off this Sunday, June 8 with a panel discussion at the 2008 ACLU Membership Conference in Washington, D.C. Rights / Camera / Action will bring together artists and entertainment professionals, civil liberties experts, activists and public audiences of all ages to talk about the wide range of civil liberties issues addressed in film and the arts historically and currently.
"Democracy is best served when individuals engage each other in well-informed discussion. The discussions encouraged by Rights / Camera / Action aim to inform and excite audiences, as well as empower them with the resources to learn more, change more, and act more," said Anthony D. Romero, Executive Director of the ACLU.
The ACLU has collaborated with artists and entertainers in the past, hosting film screenings and leading discussions across the country around works including "The Visitor," "Standard Operating Procedure," "Taxi to the Dark Side," "At the Death House Door," "Rendition," "Ghosts of Abu Ghraib," "The Trials of Darryl Hunt," "Secrecy," "Shut Up and Sing," "This Film is Not Yet Rated," "The US vs. John Lennon" and "The Road to Guantánamo." For the last three years, the ACLU has joined PEN American Center at their World Voices Festival to present evenings of readings highlighting issues including ideological exclusion, torture, and government surveillance with distinguished participants including Salman Rushdie, Liev Schreiber, Debra Winger, Gloria Reuben, Judy Blume and Dennis Lehane.
In January 2008, the ACLU asked celebrities to wear orange to call for the closing of the prison at Guantánamo Bay, an end to torture, and a return to due process and the rule of law. Artists including Best Actress nominee Julie Christie and Best Documentary winner Alex Gibney wore orange ribbons at this year's Academy Awards.
"Through conversation inspired by film, panels, readings, and written, sung and spoken word, Rights / Camera / Action will tap into core American values that cut across the lines of political ideology, race, ethnicity, age and gender," said Allison Walker, ACLU Entertainment Industry Liaison, who is spearheading the program.
As part of the Rights / Camera / Action program, the ACLU is working with the Norman Lear Center to study how portrayals of government power in popular film and television affect audiences' understanding of civil liberties. The findings will be published and presented to entertainment industry leaders later this year.
"Engaging the entertainment industry and its audiences in an ongoing dialogue about where cinema and civil liberties, art and commerce, expression and activism meet is a goal the Lear Center shares with the ACLU and we are excited about working with them on this project," said Martin Kaplan, Director of the Norman Lear Center. "This collaboration will serve the academic, entertainment, civil liberties and public communities well, individually and together."
At Sunday's panel marking the launch of Rights / Camera / Action, distinguished artists and experts will address what role film, television and the arts play in the national dialogue on civil liberties with an audience of nearly 2,000 activists, ACLU members and leaders and members of the media attending the ACLU Membership Conference. Johanna Blakley, Deputy Director of the Norman Lear Center, will moderate a conversation with actor Kal Penn, 2007 Academy Award-winning filmmaker Alex Gibney, acclaimed poet, playwright and "literary grandmaster" Ariel Dorfman, award-winning filmmakers Peter Gilbert, Robb Moss and Ricki Stern, and ACLU staffer Anjuli Verma.
The ACLU Membership Conference agenda and speaker information are available online at: www.aclu.org/conference
Members of the media can register for the conference at: action.aclu.org/site/Calendar?view=Detail&id=103281
More information about Rights / Camera / Action can be found at: www.aclu.org/rca
Stay Informed
Every month, you'll receive regular roundups of the most important civil rights and civil liberties developments. Remember: a well-informed citizenry is the best defense against tyranny.
ACLU's Vision
The American Civil Liberties Union is a nonprofit organization whose mission is to defend and preserve the individual rights and liberties guaranteed to every person in this country by the Constitution and laws of the United States of America.