ACLU Asks Judge to Stop Ann Arbor Schools' Plan to Charge Students for Classes
August 7, 2013 12:00 am
---
---
FOR IMMEDIATE RELEASE
CONTACT: 212-549-2666, media@aclu.org
ANN ARBOR, Mich. – In a lawsuit filed today, Ann Arbor high school students and the American Civil Liberties Union of Michigan asked a circuit court judge to stop the school district from implementing a new "tuition-based" program that charges students $100 per semester for access to a seventh hour class. The lawsuit contends that this program denies students a free and equal public education as required under the Michigan Constitution.
"Our students should not be forced to pay the price for budget shortfalls. Our Constitution and courts have been clear – public education should be as 'free as the air we breathe,'" said Kary L. Moss, ACLU of Michigan executive director. "Allowing this model to continue will open the floodgates for any district in the state to charge for every conceivable part of their students' education creating a two-tiered system in which students who have money get ahead, while those who do not fall behind."
At issue in the lawsuit is a seventh hour of classroom instruction provided at both Huron and Pioneer High Schools, which have been characterized as "optional" by the district. However, the ACLU contends that while the seventh hour may be outside of the six hours of instruction mandated by law, the period is no different than any other earlier in the day – students are taught by the same teachers, study from the same books and lesson plans and obtain credits toward graduation. The courts have made it clear that any item or program that is an "integral fundamental part" of education must be free to all students. Since students are awarded academic credits for the seventh hour class, the ACLU contends this program clearly falls within this category.
About half of the students at these schools enroll in a seventh hour course during their high school career. The ACLU of Michigan filed the lawsuit on behalf of two music students who, like nearly half of students at Pioneer and Huron, rely on the seventh hour classes to obtain enough credits to graduate while also participating in music, art, foreign language, Advanced Placement courses and alternative career programs. For example, the music department at Pioneer estimates that 43 percent of the students who take music classes take seventh hour classes at some points during the year in order to fulfill their graduation requirements.
Paloma Paez-Coombe, 16, is a junior at Pioneer High School who plans to take a seventh hour course both semesters this year. She is a well-rounded student who is involved in theater and orchestra. In addition, while she is only required to take two years of a foreign language to graduate from high school, she knows most competitive colleges want students who have taken language classes for four years. Paloma will not be able to take Spanish for all four years and participate in the orchestra program without taking a seventh hour course.
Paloma's family has always encouraged her to pursue her passions and her parents have done their best to support all of her curricular and extracurricular activities. However, Paloma's family is not wealthy and paying a $100 fee for courses that should be provided free of charge creates a financial burden. In addition, Paloma and her parents worry that if the Board chooses to increase the fee to $400-$500 in Paloma's senior year, as hinted by Board members, seventh hour courses will be out of reach.
Elliot Polot, 17, is in similar situation. The Pioneer High School senior has always been passionate about music calling Pioneer's band program his "second family. This year he will be leading the band as the school's drum major and hopes to attend college to become a band conductor. It would have been impossible for Elliot to take four years of band and jazz ensemble and still have enough credits for graduation without the opportunity to take seventh period classes. Elliot has already taken additional online courses to ensure he graduates on time. While his family is fortunate to be able to afford the $100 per semester fee, Elliot knows that others are not as fortunate.
"For Elliot, every day at Pioneer is full, and a full day is seven hours. Ann Arbor parents should not have to pay a premium for a full day of high school education," said Barton Polot, Elliot's father. "Pioneer's nationally renowned, award-winning music program has had a major impact on so many students like Elliot. It is the reason music is at the core of Elliot's self-image and of his future plans. Students like Elliot, families like mine, should not be asked to choose whether they can afford the cost of a core educational experience."
Like many school districts in Michigan, AAPS has a budget shortfall – $18 million – that must be made up during the 2013-2014 school year.
Despite the budgetary concerns facing many districts, the ACLU of Michigan believes that Ann Arbor Public Schools is the first school district in the State to implement a "tuition-based" learning model at one of the state's free public schools and warned of the dangerous precedent such a program could set across the state if left intact.
Even Ann Arbor school board members believe this is only the beginning of such programs. While approving the measure, Board Member Glen Nelson was quoted by annarbor.com: "A year from now, we may need to be taking much more drastic steps (with the budget) and if we had the institutional arrangements and the structure in place, the legal settlings' established precedent, then we could go to a more robust tuition-based model."
In addition to violating the Free Schools Clause of the Michigan Constitution requiring free and equal education for all, the ACLU contends that AAPS is also violating a 1968 court order preventing the district from ever charging fees for programs that are necessary elements of the educational process. The permanent injunction followed a class action lawsuit against AAPS challenging the districts $5 and $7 registration fees.
The proposal was passed by the board of education during budget negotiations in June and is expected to save the school $100,000. Prior to the Board passing the proposal, the ACLU of Michigan sent a letter to the district explaining that a system of free public elementary and secondary education means "without cost or charge."
In addition to Moss, the students are represented by Michael J. Steinberg, Shana Schoem and Brooke Tucker of the ACLU of Michigan and ACLU of Michigan Cooperating Attorney Matthew E. Krichbaum of the law firm Soble Rowe Krichbaum LLP.
Stay Informed
Every month, you'll receive regular roundups of the most important civil rights and civil liberties developments. Remember: a well-informed citizenry is the best defense against tyranny.
By completing this form, I agree to receive occasional emails per the terms of the ACLU's privacy policy.
The Latest in Racial Justice
ACLU's Vision
The American Civil Liberties Union is a nonprofit organization whose mission is to defend and preserve the individual rights and liberties guaranteed to every person in this country by the Constitution and laws of the United States of America.
Learn More About Racial Justice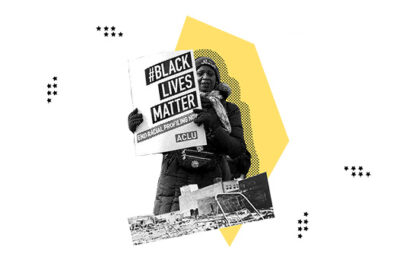 The ACLU Racial Justice Program aims to preserve and extend constitutionally guaranteed rights to people who have historically been denied their rights on the basis of race.