ACLU Asks Stafford School Board to Adopt Prayer Policy that Protects Religious Liberty at Meetings
January 15, 2010 12:00 am
---
---
Silence is recommended but if prayers are offered they must be nonsectarian.
Stafford County, VA – The ACLU of Virginia today asked the Stafford County School Board to adopt a policy allowing a moment of silence or nonsectarian prayers before opening its meetings, but not to permit sectarian prayers.
In a letter written by ACLU of Virginia Legal Director Rebecca K. Glenberg and faxed earlier today to the Stafford County School Board, the ACLU says that sectarian prayers violate both U.S. Supreme Court and Fourth Circuit Court of Appeals cases requiring prayers that open government meetings to be nonsectarian.
"We are not saying the school board can't open its meetings with a prayer," said ACLU of Virginia Executive Director Kent Willis, "only that the prayer must be inclusive and not indicate a preference for any particular religion. The Supreme Court views this as the only fair way for the government to address matters of faith in a society that demands religious equality."
Glenberg specifically references Turner v. Fredericksburg, a 2008 Fourth Circuit decision holding that Fredericksburg City Councilman Hashmel Turner could not overturn the city's policy mandating that meeting-opening prayers be nonsectarian.
Last spring, after a parent complained about a sectarian prayer at one of its meetings, the Stafford School Board suspended all prayers. But in September the Board voted to reinstate prayers, and earlier this week it brought in First Amendment expert Charles Hayes of the First Amendment Center to provide advice on school prayer issues. Haynes recommended a moment of silence as the best way of solemnizing meetings since it allows everyone to do it in their own way, but acknowledged that nonsectarian prayers are permissible.
According to Fredericksburg's Free Lance-Star, the last two Stafford School Board meetings have been opened with sectarian prayers. According to Glenberg, the Board should have a "clear policy mandating nonsectarian prayers and should ensure that those who are invited to give invocations understand this policy."
A copy of Glenberg's letter follows.
January 15, 2010
Via Facsimile (540-658-5963)
Stafford County School Board
Alvin York Bandy Administrative Complex
31 Stafford Avenue
Stafford, Virginia 22554
Re: Prayer at School Board Meetings
Dear School Board Members:
I understand that you recently had a legal training with Charles Haynes of the First Amendment Center to address the issue of opening prayers at school board meetings. I commend you for taking the time to learn about the legal issues involved, and would like to provide you with the ACLU of Virginia's position on the matter. Specifically, the ACLU of Virginia urges you to adopt either a moment of silence in lieu of prayer, or a policy ensuring that prayers be nonsectarian.
As Mr. Haynes noted, a moment of silence is a good option because it allows every individual to pray, or not pray, as he chooses. It allows the widest freedom of choice for participants, and ensures that the Board is not seen to take sides on religious issues.
If the School Board does have an opening prayer, it must be nonsectarian. Obviously, when people pray as individuals, they may do so in any fashion they choose; government may not censor individual prayers. But opening prayers at legislative meetings are not expressions of individual religious belief; they are official governmental speech. Turner v. City Council of City of Fredericksburg, 534 F.3d 352, 355 (4th Cir. 2008); Simpson v. Chesterfield County Board of Supervisors, 404 F.3d 276, 279 (4th Cir. 2005). And when the government speaks, it cannot play favorites among religions: "The clearest command of the Establishment Clause is that one religious denomination cannot be officially preferred over another." Larson v. Valente, 456 U.S. 228, 244 (1982).
This basic principle – that government may not prefer one religious faith over another – holds true in the case of legislative prayer. In Marsh v. Chambers, 463 U.S. 783 (1983), the Supreme Court upheld the practice of opening legislative meetings with prayer, but cautioned that the government must not "exploit" the prayer opportunity to "advance any one, or . . . disparage any other, faith or belief." 463 U.S. at 794-95. In a later case, the Court further explained that "not even 'the unique history' of legislative prayer can justify contemporary legislative prayers that have the effect of affiliating the government with any one specific faith or belief." County of Allegheny v. ACLU Greater Pittsburgh Chapter, 492 U.S. 573, 603 (1989). "The legislative prayers involved in Marsh did not violate this principle because the particular chaplain had 'removed all references to Christ.'" Id. at 603.
If this were not clear enough, the Fourth Circuit has expressly held that a town council's practice of opening meetings with explicitly Christian prayers violated the First Amendment. Wynne v. Town Council of Great Falls, 376 F.3d 292 (4th Cir. 2004):
The invocations at issue, which specifically call upon Jesus Christ, are simply not constitutionally acceptable legislative prayer like that approved in Marsh. Rather, they embody the precise kind of "advancement" of one particular religion that Marsh cautioned against.
Id. at 301-02. The court explained that "[w]hereas the prayers approved of in Marsh had been 'nonsectarian' and 'civil,'" the prayers at issue in Wynne "contained references to 'Jesus Christ,' and thus promoted one religion over all others, dividing the Town's citizens along denominational lines." Id. at 298-99.
In sum, prayers at school board meetings must be nonsectarian. The prayers at the last two school board meetings, which, according to the Free Lance-Star, were said "in Jesus Christ's name," violate that principle. The School Board should therefore have a clear policy mandating nonsectarian prayers, and should ensure that those who are invited to give invocations understand the policy. Of course, all of this could be avoiding by returning to the moment of silence option.
I hope this information is helpful. Please feel free to contact me at (804) 644-8080 should you have any questions.
Sincerely,
Rebecca K. Glenberg
Legal Director
Stay Informed
Every month, you'll receive regular roundups of the most important civil rights and civil liberties developments. Remember: a well-informed citizenry is the best defense against tyranny.
By completing this form, I agree to receive occasional emails per the terms of the ACLU's privacy policy.
The Latest in Religious Liberty
ACLU's Vision
The American Civil Liberties Union is a nonprofit organization whose mission is to defend and preserve the individual rights and liberties guaranteed to every person in this country by the Constitution and laws of the United States of America.
Learn More About Religious Liberty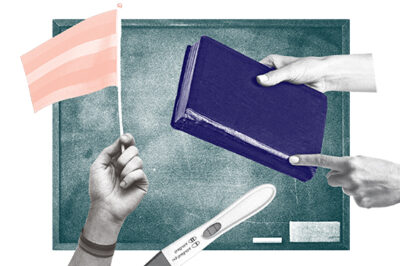 The ACLU strives to safeguard the First Amendment's guarantee of religious liberty by ensuring that laws and governmental practices neither promote religion nor interfere with its free exercise.