ACLU: Black Motorists in Florida Cited for Seatbelt Violations Nearly Twice as Often as White Motorists
New Report Raises Red Flag Over Racial Profiling
January 27, 2016 10:00 am
---
---
MIAMI — Black motorists in Florida are stopped and ticketed for seatbelt violations in far greater numbers than white motorists — nearly twice as often statewide and up to four times as often in certain counties — according to a new report from the American Civil Liberties Union. The ACLU is calling on the Florida Attorney General's Office of Civil Rights to investigate.
"The numbers are shocking. These racial disparities raise serious concerns that officers are engaging in racial profiling when enforcing the state's safety belt law," said Nusrat Choudhury, an attorney with the ACLU's Racial Justice Program and co-author of Racial Disparities in Florida Safety Belt Law Enforcement. "It raises a red flag when seatbelt enforcement by specific agencies leads to racial disparities that exceed even the dramatic statewide gap. These agencies must take steps to address the disparities and promote fair and impartial policing."
The ACLU's analysis is based on publicly available data reported by law enforcement agencies across Florida. The law requires each agency to annually report the race and ethnicity of anyone ticketed for failure to wear a seatbelt to the Florida Department of Highway Safety and Motor Vehicles. Analysis of the most recent seatbelt citation data shows the law has been applied much more often to black motorists than to white motorists.
In 2014, black motorists were stopped and ticketed for seatbelt violations at nearly twice the rate as white motorists overall. Specific counties saw even greater disparities. Black motorists were stopped and cited:
4 times more often than white motorists by the Escambia County Sheriff's Office in 2011 (the most recent year that this agency reported seatbelt citation data)
3 times more often than white motorists by the Palm Beach County Sheriff's Office in 2014
2.8 times more often than white motorists by the Orange County Sheriff's Office in 2014
The report notes that the differences in seatbelt-wearing behavior between black and white people, as documented by statewide and national studies, do not explain the racial disparities in seatbelt citation rates identified in this report.
"Florida law enforcement agencies need to study these findings and ensure that the law is being applied without bias and is not being used as a tool to target some drivers based on race," said Howard Simon, executive director of the ACLU of Florida. "What is also troubling is the failure to comply with the reporting requirements. We cannot have a law that requires the reporting of the race of ticket recipients and has no consequences for the agencies that fail to comply. Agencies, such as the Miami Police and the Tampa Police, which have failed to report seatbelt citation data to state authorities in violation of the Florida Safety Belt Law should promptly do so."
The ACLU is urging the Florida Attorney General's Office of Civil Rights and local commissions charged with oversight responsibility to investigate agencies whose implementation of the law has met or exceeded the already large statewide racial disparity. Among those agencies are the sheriff's offices for Escambia, Palm Beach, Orange, and Broward counties.
The ACLU also wants the Florida Legislature to pass a measure penalizing law enforcement agencies that fail to comply with the statute's reporting requirement. These agencies include the Miami Police Department, the Tampa Police Department, the Jacksonville Sheriff's Office, and the Escambia County Sheriff's Office.
In addition, the report recommends that law enforcement collect and analyze data for all traffic and pedestrian stops; provide testing on implicit bias and training on bias-free policing to all officers; and retrain officers whose stop-and-citation practices result in large racial disparities.
Read the full report here: https://www.aclu.org/report/racial-disparities-florida-safety-belt-law-e…
Stay Informed
Every month, you'll receive regular roundups of the most important civil rights and civil liberties developments. Remember: a well-informed citizenry is the best defense against tyranny.
The Latest in Racial Justice
ACLU's Vision
The American Civil Liberties Union is a nonprofit organization whose mission is to defend and preserve the individual rights and liberties guaranteed to every person in this country by the Constitution and laws of the United States of America.
Learn More About Racial Justice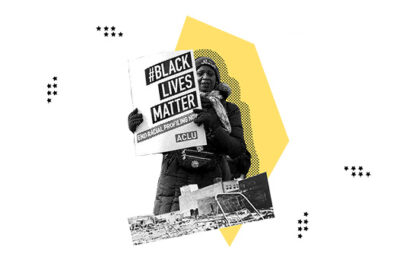 The Racial Justice Program (RJP) fights to eradicate racial injustice in the U.S. and works to foster a society in which people of color and communities of color have full access to the rights and benefits of American society. Working with affected communities, RJP litigates, advocates, and educates to strike at the roots of racial injustice.