ACLU Calls on Patriot Act Negotiators to Protect Privacy and Freedom, Reject White House Pressure
November 10, 2005 12:00 am
---
FOR IMMEDIATE RELEASE
Contact: Media@dcaclu.org
WASHINGTON – Following a move by the House Wednesday that rebuked the White House's position on the Patriot Act, key members of the House and Senate are meeting today to reconcile differences between Patriot Act reauthorization bills. The American Civil Liberties Union called on the conferees to use the Senate version as their guide and put checks and balances on the controversial law.
LATEST NEWS
> House Vote Rebukes White House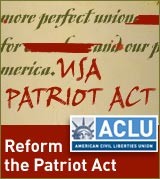 In particular, the ACLU called on Congress to require a factual connection between records sought and a suspected terrorist, for both Sections 215 and 505 of the Patriot Act, as well as remove the extraneous provisions in the House bill changing federal death penalty provisions and take steps to better protect against abuses of data-mining.
The House adopted a "motion to instruct" on voice vote Wednesday that calls on the conferees to defer to the Senate bill, which provides more Congressional and judicial oversight on some of the most egregious Patriot Act powers. The move came despite calls from the administration that lawmakers should reject such moderate restrictions.
The following can be attributed to Lisa Graves, ACLU Senior Counsel for Legislative Strategy:
"Conservatives, business groups, progressives, nearly 400 communities, and lawmakers across the political spectrum have called for Patriot Act reforms. And now all eyes are on the conferees. As these negotiations proceed, lawmakers must remain steadfast in their convictions, no matter how much pressure the administration puts on them. These modest reforms are an important first step in putting better checks and balances on some of the act's most egregious powers."
For more on the ACLU's concerns with the Patriot Act, go to:
http://www.reformthepatriotact.org
Stay Informed
Every month, you'll receive regular roundups of the most important civil rights and civil liberties developments. Remember: a well-informed citizenry is the best defense against tyranny.
Learn More About the Issues in This Press Release