ACLU Calls on President Bush to Keep Politics Out of Katrina Relief Legislation
September 15, 2005 12:00 am
---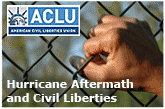 Speech: Anthony D. Romero on Civil Liberties in the Wake of Katrina >> NEWS
ACLU Seeks Information on New Orleans Prisoners (9/28/05)
WASHINGTON – In anticipation of President Bush's address to the nation tonight to unveil a new federal aid package for those affected by Hurricane Katrina, the American Civil Liberties Union cautioned that any government relief action must be mindful of the privacy and civil liberties of those affected. The president is expected to call for legislation that would provide job training and housing, but also controversial measures like school vouchers, faith-based initiatives and attacks on medical privacy.
The following can be attributed to Caroline Fredrickson, Director of the ACLU Washington Legislative Office:
"Our hearts go out to those so deeply affected by Hurricane Katrina. In the weeks and months to come, we hope that the government will help rebuild and mend that which was destroyed – both the physical structures and the human lives. However, this tragedy should not be used as an opportunity to push a partisan political agenda. Whatever course the government takes, we must ensure that the victims of this horrible tragedy are not made victims again because of political games in Washington and faulty policies. The government also must ensure that aid is not only distributed in a timely manner, but in a manner that is fair to all, regardless of their race.
"We strongly urge the president to call for government action that protects and preserves the civil liberties, civil rights and privacy of the victims of Katrina and all Americans."
Stay Informed
Every month, you'll receive regular roundups of the most important civil rights and civil liberties developments. Remember: a well-informed citizenry is the best defense against tyranny.
Learn More About the Issues in This Press Release