FOR IMMEDIATE RELEASE
Contact: Media@dcaclu.org
WASHINGTON - Following reports by the National Journal that Attorney General Alberto Gonzales advised President Bush to shut down an internal review of the National Security Agency's warrantless surveillance program due to the possibility that his own actions would be scrutinized, the American Civil Liberties Union today renewed its call for a special prosecutor to be appointed to investigate the program.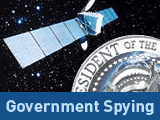 The following may be attributed to Caroline Fredrickson, Director of the ACLU Washington Legislative Office:
"If these reports are true, they raise serious questions about the attorney general's willingness to place himself and his actions above the law and above rebuke. In America, no one is above the law. And, no one - certainly not the attorney general - should interfere with an investigation into whether laws have been broken and the Constitution subverted.
"The decision to suspend the investigation was unprecedented. The Office of Professional Responsibility's top lawyer said that office has never before been prevented from investigating, even when dealing with highly classified information. This latest revelation shows again why the attorney general must appoint a special prosecutor to investigate the program. The American people and the Constitution deserve an independent investigator who can, and will, get to the truth.
"We applaud Senators Durbin, Kennedy, Feingold and Schumer for immediately asking the attorney general to clarify his actions regarding the OPR investigation. We urge Congress to stand for the Constitution and conduct vigorous oversight on this issue."
For more on the ACLU's concerns with the NSA warrantless surveillance program, go to: www.aclu.org/nsaspying