ACLU Demands Prince George's State's Attorney Allow Women to Reunite with Family Members in Misuse of "Nuisance Abatement" Law
December 18, 2013 12:00 am
---
---
Group Asks that Families be Allowed to Spend the Holidays Together
December 18, 2013
FOR IMMEDIATE RELEASE
CONTACT: 212-549-2666, media@aclu.org
HYATTSVILLE, Md – The American Civil Liberties Union (ACLU) of Maryland is calling on Prince George's County State's Attorney Angela Alsobrooks to act immediately to undo the damage done to two families earlier this year when prosecutors wrongfully forced two women to sign "nuisance abatement" orders banishing their family members from their own homes and the neighborhood in which they had grown up. The ACLU is urging Alsobrooks to dissolve the orders and call off longstanding harassment by police claiming to enforce the orders so the families can be reunited for the Christmas holidays without fear that they will be arrested or that they could lose the homes they own.
"We are asking the Prince George's State's Attorney to have a heart this holiday season, and to act now to dissolve these baseless orders," said Deborah Jeon, Legal Director for the ACLU of Maryland. "These two innocent women should never have been pressured into signing illegal orders banishing their closest family members by claims that otherwise, law enforcement officials would take their homes."
Maryland's nuisance abatement statute was intended to help communities work with law enforcement to reclaim properties that are used solely or primarily for drug activity. But, in this case, prosecutors, in conjunction with police, went far beyond their authority, needlessly tearing apart two different families by coercing homeowners into submitting to orders that would never have stood up in court – one, on the basis of less than two grams of marijuana, and the other on the basis of a used pipe – the only drug paraphernalia that police turned up after aggressive raids of the two homes.
Using the statute and the full authority of their police powers, prosecutors, working with the Hyattsville and the Prince George's County Police Departments, took the two unrepresented women and their families behind closed doors and threatened the women that they would lose their homes if they didn't ban their family members from the homes and the whole neighborhood – even for visits. In one case this caused an ill, elderly woman to lose the help and support of her caregiver grandson and great-grandson, and in the other case it not only has kept family members from seeing and supporting each other, but has also actually caused a family member to lose his job and incur significant debt as a result of contracts he is unable to fulfill.
Cleo Brewer, who is in her 80s and very ill with cancer, not only was separated from her grandson and great-grandson, both of whom she raised from childhood, but also lost their help as daily caregivers. "I told the State's Attorney that she hurt me more than she hurt my boys," said Cleo Brewer. "The boys did everything for me; they lifted me up, they cooked for me. And if one left, the other was here, one of them was always here with me."
Across the street, Dollie Upchurch's brother had been overseeing significant renovations to her home, where he had grown up, and had decades-long landscaping contracts with neighbors in the area. The order banishing him from their home rendered him homeless. He lost his job and could not fulfill his longstanding contracts, resulting in significant debt. In fact, prosecutors refused his request for an exception that would allow him to take care of these contracts rather than incur additional debts.
Dollie Upchurch says she cannot understand why police and prosecutors are trying to tear families and the community apart when they need each other the most. "My family has been in this neighborhood for 40 years, and we always felt safe," she said. "But the constant police harassment now makes me feel afraid. It's not right to be forced to choose between your family, who are trying to do right and get their lives together, and your home."
Both women describe a longstanding pattern of harassment that has cut them off from their families, friends and neighbors. "It got to the point where I asked the preachers who were coming to see me not to come," said Brewer. "I don't want the police pulling the preachers over because they were in my house because that's very embarrassing."
"We have lost all perspective when we treat the very real suffering that law-abiding citizens like Mrs. Brewer and Ms. Upchurch have experienced at the hands of the police and the State's Attorney's office in their pursuit of the 'war on drugs,' as if it's merely collateral damage," said ACLU Staff Attorney Sonia Kumar. "The stories of these women and their families should be a wake-up call for all of us."
The ACLU letter details doubts about the existence of any nuisance in these cases, the validity of the draconian measures the families were coerced into accepting, and the propriety of the prosecutors' actions in seeking and obtaining the consent of the families under threat of losing their homes. The ACLU is urging State's Attorney Alsobrooks to take steps to dissolve the consent orders so that the Brewer and Upchurch families may gather for the Christmas holidays. Time is of the essence, especially because Cleo Brewer's health has recently deteriorated.
"I hope the kids can come if it's no more than say 'Merry Christmas Grandma' and kiss me on my jaw, that would mean a lot," said Brewer.
Attorneys representing the families include James Arden Barnett, Jr., Esq., Rear Admiral USN (Ret), Keir X. Bancroft, Esq., and Michael A. Splete, Esq. of Venable LLP, as well as Deborah Jeon and Sonia Kumar of the ACLU of Maryland.
Stay Informed
Every month, you'll receive regular roundups of the most important civil rights and civil liberties developments. Remember: a well-informed citizenry is the best defense against tyranny.
By completing this form, I agree to receive occasional emails per the terms of the ACLU's privacy policy.
The Latest in National Security
ACLU's Vision
The American Civil Liberties Union is a nonprofit organization whose mission is to defend and preserve the individual rights and liberties guaranteed to every person in this country by the Constitution and laws of the United States of America.
Learn More About National Security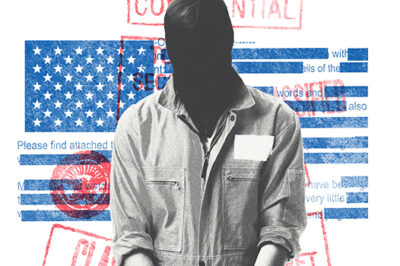 The ACLU's National Security Project is dedicated to ensuring that U.S. national security policies and practices are consistent with the Constitution, civil liberties, and human rights.