ACLU Endorses Improvements to Pennsylvania's Election Laws
March 15, 2001 12:00 am
---
---
FOR IMMEDIATE RELEASE
PHILADELPHIA–Furthering its commitment to protecting the fundamental right to vote and the right to have one's voted counted fairly and accurately, the American Civil Liberties Union today endorsed significant changes to Pennsylvania's election law.
"These changes, if fully implemented, would help insure that the right to vote is a meaningful right in Pennsylvania," said Larry Frankel, Executive Director of the ACLU of Pennsylvania in testimony today at a hearing of the Pennsylvania House of Representatives State Government Committee in Doylestown.
In his testimony, Frankel described how Pennsylvania could improve its voter registration system and its procedures for insuring that registered voters are permitted to exercise their rights on election day.
The ACLU called on the General Assembly to support Governor Thomas Ridge's proposal to create a centralized voting registration system. Frankel indicated that such a system should greatly enhance the implementation of Pennsylvania's Motor Voter law by making it easier for new voters and mobile voters to be registered.
"Such a system would enhance the ability of all registered voters to exercise their franchise on election day," Frankel said in his testimony. "We urge the General Assembly to include funding for the Governor's initiative in the upcoming budget."
To complement a centralized registration system, the ACLU suggested that Pennsylvania follow the lead of several other states and enact provisional balloting procedures. Such procedures permit voters, whose names have been mistakenly omitted from the voting lists sent to a polling place, to cast their votes. After the polls are closed, election officials determine whether these voters were eligible. If so, their votes are then counted. Provisional ballots would prevent the disenfranchising of voters whose registrations have not been properly recorded due to bureaucratic inefficiencies.
Addressing the problems encountered by voters with disabilities was another recommendation of the ACLU. "Many polling places are not accessible to people in wheel chairs," Frankel noted. "Even those places that are accessible may have machines that are difficult to use by people with physical limitations. Little consideration is given to those with impaired eyesight who may have trouble seeing the information on a ballot or clicking in the correct place to cast a vote."
Today's public hearing is one in a series being held throughout Pennsylvania to investigate what changes should be made to the state's election law in light of last year's election. While Pennsylvania does not appear to have suffered from the extensive problems encountered in Florida, both Governor Ridge and the General Assembly have committed to reviewing and updating Pennsylvania's laws and procedures.
Frankel's testimony follows.
TESTIMONY ON ELECTION AND VOTER REGISTRATION ISSUES PRESENTED BY LARRY FRANKEL, EXECUTIVE DIRECTOR AMERICAN CIVIL LIBERTIES UNION OF PENNSYLVANIA TO THE PENNSYLVANIA HOUSE OF REPRESENTATIVES STATE GOVERNMENT COMMITTEE
MARCH 15, 2001 DOYLESTOWN, PENNSYLVANIA
Good afternoon Chairman Clymer and other members of the State Government Committee. My name is Larry Frankel and I am the Executive Director of the American Civil Liberties Union of Pennsylvania. I want to thank you for inviting me to testify on election and voter registration issues.
The ACLU is fully committed to protecting the fundamental right to vote and to have all votes counted fairly and accurately. We are a nonpartisan organization and do not support or oppose candidates for elected offices. Rather, the ACLU seeks to uphold the rights of citizens to register to vote, to exercise their franchise and to have their votes correctly recorded and accurately counted.
Since last November's election, the ACLU has acted on this commitment. The ACLU has filed three lawsuits on behalf of voters who were prevented from having their votes counted due to irregularities in the voting process. In one case, the ACLU alleges that voters in certain counties in Georgia were ten times more likely to have their votes not counted due to flawed systems. We believe that there is ample evidence that shows a much higher rate of uncounted votes in predominantly African-American counties in Georgia.
In Florida we have joined with the NAACP and the Lawyers' Committee for Civil Rights, to file a federal lawsuit challenging discriminatory and unequal voting practices in that state. Among the questionable practices being challenged are the adverse impact of varying voting systems, the wrongful purging of voters, the failure to timely and correctly process voter registration applications and changes of address and disparity in the administration of election law and procedures.
Our voting rights litigation is not limited to the South. The ACLU is also involved in a lawsuit in Illinois that focuses on the use of punch-card systems that result in an extraordinarily large number of uncounted votes in areas with high minority populations. Each of these lawsuits seeks significant remedies that will remove barriers to full participation in our most democratic activity.
At present we are not contemplating bringing litigation here in Pennsylvania. That is because, to date, we have not learned about election day snafus in Pennsylvania similar in nature, or scope, to those that occurred in these three states. But, you can rest assured; we are following the proceedings of the various entities that are reviewing Pennsylvania's statutes and procedures. If these proceedings uncover problems similar to those encountered in Georgia, Florida or Illinois, then we will undoubtedly consider filing a lawsuit here.
We are aware, however, that voters have encountered a variety of significant problems in Pennsylvania and we think that those problems should be addressed. Implementation of Pennsylvania's Motor-Voter law has not been as smooth as most had hoped. Bureaucratic errors and inefficiencies have resulted in many voters not being listed as registered voters at their polling place on election day. There are reports of duplicate registrations and the deceased can and do appear on the voting rolls.
The ACLU believes that the problems associated with implementation of the Motor-Voter law can be remedied, in large part, by the creation of a centralized voter-registration system like the one Governor Ridge proposed in his budget address. A centralized system will make it easier to record changes of address. Because such a system can more readily integrate information from various agencies, it should make it more likely for voters' names to appear on the records sent to polling places. This, in turn will lead to fewer voters discovering that they are not on the rolls come election day. The centralized system will make it easier to eliminate duplicate registrations and remove the names of dead voters.
The ACLU commends Governor Ridge for proposing to spend significant funds to establish a centralized system that should, if properly established and maintained, make it far easier for new voters and mobile voters to be registered. Such a system would enhance the ability of all registered voters to exercise their franchise on election day. We urge the General Assembly to include funding for the Governor's initiative in the upcoming budget.
Even with a centralized registration system, there will still be voters whose names are not on the lists at polling places on election day. We have heard about voters who were not on the rolls and were required to take extraordinary steps in order to cast a ballot on election day. In fact, this is the most common problem we have heard about in Pennsylvania since last November.
We have not seen any evidence that this was the fault of the voter. The ACLU thinks the state should make it easier for those individuals to cast a vote. We recommend that the General Assembly enact a law allowing Pennsylvania voters to cast a "provisional" or "affidavit" ballot. At least seven other states have such provisional balloting procedures that establish a process by which "doubtful" ballots can be cast and then evaluated following the election. Such laws represent a solution to the problem raised when someone tries to vote at a polling place where he or she is not on the list of registered voters.
For example, in New York, a voter whose name does not appear on the list of voters at a polling place is permitted to swear out an affidavit that states: that he has duly registered to vote, the address in such election district from which he is registered, that he remains a duly qualified voter in such election district, that his registration poll record appears to be lost or misplaced or that his name and/or signature was omitted from the computer generated registration list or that he moved within the county or city since he last registered, the address from which he was previously registered and the address at which he currently resides, and at a primary election, the party in which he is enrolled. NY CLS Elec Section 8-302(e)(ii). The statute also requires that the voter acknowledge that false statements in the affidavit are considered to be perjury punishable according to New York law.
The voter completes the affidavit and an election ballot. Those documents are placed in an envelope and returned to the board of elections. It is then determined whether the voter was eligible, and if so, the ballot is counted.
Provisional ballots will enable voters who do not appear on the list of voters to proceed to vote. Their choices will be counted upon verification, hopefully though a centralized registration system, that they are eligible to vote. This can be particularly important in a hotly contested election with a late influx of a large number of newly registered voters. An individual's ability to vote will not be frustrated by the failure to have his or her registration information forwarded to the county and then to the appropriate polling place. Provisional ballots, along with a well-functioning centralized registration system, should reduce the number of voters who are turned away on election day.
Voters with disabilities encounter a range of problems in Pennsylvania. Many polling places are not accessible to people in wheel chairs. Even those places that are accessible may have machines that are difficult to use by people with physical limitations. Little consideration is given to those with impaired eyesight who may have trouble seeing the information on a ballot or clicking in the correct place to cast a vote. The ACLU thinks that attention should be given to insuring that people with disabilities can participate fully and equally in our democratic process. If nothing else, consideration must be given to making sure that any and all new voting systems are fully accessible. We congratulate the Governor for recognizing this as an area to be addressed and we look forward to hearing more about this issue.
Lastly, it is our understanding that there is no mechanism in Pennsylvania for determining and analyzing the "over vote" and "under vote" in any election. In order for someone to meaningfully evaluate whether Pennsylvania's election procedures are functioning so that all votes are recorded and counted accurately, he or she must know to what extent these "errors" occur. One cannot tell whether the over vote or under vote is an isolated problem related to inexperienced voters or a systemic problem attributable to old machines, confusing ballots or illegal activity. The ACLU suggests that the Secretary of State be required to calculate and certify the number of over votes and under votes in each election. By creating that kind of a record, problems with Pennsylvania's voting processes, laws and policies can be discovered and mistakes corrected before they further undermine the confidence of the citizens in our democracy.
Thank you again for inviting me here to testify today. I will be happy to try to answer any questions you may have.
Stay Informed
Every month, you'll receive regular roundups of the most important civil rights and civil liberties developments. Remember: a well-informed citizenry is the best defense against tyranny.
By completing this form, I agree to receive occasional emails per the terms of the ACLU's privacy policy.
The Latest in Voting Rights
ACLU's Vision
The American Civil Liberties Union is a nonprofit organization whose mission is to defend and preserve the individual rights and liberties guaranteed to every person in this country by the Constitution and laws of the United States of America.
Learn More About Voting Rights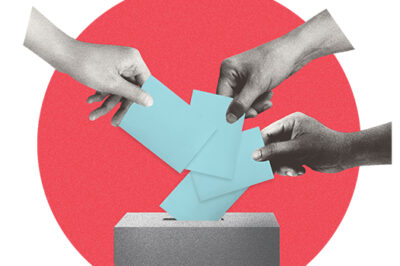 Voting is the cornerstone of our democracy and the fundamental right upon which all our civil liberties rest. The ACLU works to protect and expand Americans' freedom to vote.