ACLU of Michigan Defends Catholic Man Coerced to Convert to Pentecostal Faith in Drug Rehab Program
December 6, 2005 12:00 am
---
---
FOR IMMEDIATE RELEASE
CONTACT: media@aclu.org
DETROIT – After exhausting all avenues in the Michigan courts, the American Civil Liberties Union of Michigan today filed a federal lawsuit on behalf of a Catholic man who was criminally punished for not completing a Pentecostal drug rehabilitation program.
"This man was punished for insisting on the right to practice Catholicism and refusing conversion to the Pentecostal faith," said Kary Moss, ACLU of Michigan Executive Director. "The Michigan courts would not acknowledge his First Amendment rights, but we're confident that the federal court will."
Twenty-three-year-old Joseph Hanas of Genesee County pled guilty in the Genesee Circuit Court to a charge of marijuana possession in February 2001. He was placed in a "drug court" for non-violent offenders, allowing for a deferred sentence and dismissal of the charges if he successfully completed the Inner City Christian Outreach Residential Program.
Unbeknownst to Hanas when he entered the program, one of the goals of Christian Outreach was to convert him from Catholicism to the Pentecostal faith. He was forced to read the bible for seven hours a day and was tested on Pentecostal principles. The staff also told him that Catholicism was a form of witchcraft and they confiscated both his rosary and Holy Communion prayer book. At one point, the program director told his aunt that he "gave up his right of freedom of religion when he was placed into this program." Hanas was told that in order to complete the program successfully he would have to proclaim his salvation at the altar and was threatened that if he did not do what the pastor told him to do, he would be "washed of the program and go to prison."
After seven weeks of receiving no drug treatment whatsoever and being prohibited from attending Alcoholics Anonymous (AA) meetings, Hanas requested placement in a secular drug treatment program. Although a judge acknowledged that Hanas was not being allowed to practice his own religion, and was pressured to convert to the Pentecostal faith, his request was denied.
The judge also acknowledged that Christian Outreach was a religious program rather than a treatment program because there were no drug or alcohol counselors on staff. Nonetheless, the judge determined that Hanas did not satisfactorily complete the program, removed him from the drug court, convicted him and sentenced him to jail for three months and then to boot camp. It was only after his release from boot camp that he finally received drug treatment at a secular residential rehabilitation program.
"I needed help," said Hanas. "Instead I was forced to practice someone else's religion and I'm still being punished for that."
Hanas has sought review for a reversal of his conviction in the Michigan Court of Appeals, the Michigan Supreme Court and the U.S. Supreme Court. These courts chose not to review the case. However, the federal court will have to address the merits of the ACLU lawsuit filed today, lawyers said. The lawsuit, referred to as a "habeas corpus petition," seeks a reversal of Hanas' conviction. Hanas remains on probation in Flint until March 13, 2007.
The ACLU frequently defends the rights of free religious expression for all people. In Michigan, high school officials agreed to stop censoring religious yearbook entries after the ACLU intervened on behalf of a Christian student. In other states, the ACLU has supported the rights of students to distribute Christian literature at school. Recently, the ACLU of Indiana defended the First Amendment rights of a Baptist minister to preach his message on public streets.
Along with Moss, cooperating attorneys Andrew Nickelhoff, Glenn Simmington, Greg Gibbs and ACLU of Michigan Legal Director Michael J. Steinberg are representing Hanas.
To read the Habeas brief, go to: www.aclumich.org/pdf/briefs/Hanashabeasbrief.pdf
To read the Habeas petition, go to: www.aclumich.org/pdf/briefs/Hanashabeaspetition.pdf
Stay Informed
Every month, you'll receive regular roundups of the most important civil rights and civil liberties developments. Remember: a well-informed citizenry is the best defense against tyranny.
The Latest in Religious Liberty
ACLU's Vision
The American Civil Liberties Union is a nonprofit organization whose mission is to defend and preserve the individual rights and liberties guaranteed to every person in this country by the Constitution and laws of the United States of America.
Learn More About Religious Liberty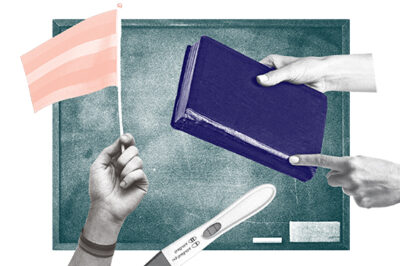 The ACLU strives to safeguard the First Amendment's guarantee of religious liberty by ensuring that laws and governmental practices neither promote religion nor interfere with its free exercise.