ACLU of North Carolina Announces Successful Settlement of Lawsuit Against Johnston County Schools on Behalf of Student Banned for Religious Nose Stud
June 6, 2011 12:00 am
---
---
FOR IMMEDIATE RELEASE
CONTACT: (212) 549-2666; media@aclu.org
RALEIGH – The ACLU of North Carolina Legal Foundation (ACLU-NCLF) today successfully settled a federal lawsuit against the Johnston County Schools on behalf of Clayton High School freshman Ariana Iacono and her mother, Nikki Iacono. The ACLU-NCLF sued the school district on October 6, 2010, after Ariana was repeatedly suspended and then banned from Clayton High School for wearing a nose stud, a tiny gem piercing no bigger than the average freckle, as a fundamental expression of the religion which both she and her mother practice. The lawsuit alleged that the school's refusal to grant a religious exemption to their dress code policy violated the Iaconos' constitutional rights to religious freedom, due process and equal protection of the laws. U.S. District Judge Malcolm J. Howard issued an emergency court order on October 8th, allowing Ariana to return to school and wear her nose stud while the litigation was pending. Today, Judge Howard signed off on the settlement agreed to by both sides.
Under the terms of the settlement, the dress code policy for Johnston County Schools will be amended so that school officials won't be determining which practices are "central to religious doctrine" and which are not, and students will be given more leeway in demonstrating that their religious beliefs are sincere. Moreover, Ariana will be allowed to continue to wear her nose stud as long as this remains part of her religious practice, her disciplinary record will be wiped clean with respect to her wearing this nose stud, and she will be allowed to retake a science class that she was unable to complete this year due to the length of time she was suspended over her nose stud early last fall.
"Today's settlement is a big victory for the religious freedom rights of all students in Johnston County Schools," said Jon Sasser, Cooperating Attorney for the ACLU-NCLF. "The United States Supreme Court has firmly held that schools have no business getting in between parents and their children when it comes to religion."
The Iaconos are represented by Katy Parker, Legal Director for the ACLU-NCLF, and Jon Sasser and Mary Kristen Kelly of Ellis & Winters in Raleigh, as Cooperating Attorneys for the ACLU-NCLF. Today's consent order as well as other court papers filed in this case will be posted on the ACLU-NCLF's website at www.acluofnorthcarolina.org.
BACKGROUND INFORMATION:
Ariana Iacono wears a nose stud, a tiny gem piercing no bigger than the average freckle, as a fundamental expression of the religion which both she and her mother practice. The Johnston County dress code policy prohibits facial piercings but allows for exemptions to the policy for religious reasons. Ariana and her mother followed the rules and requested that the school district grant them a religious exemption, and Nikki explained that the nose stud was Ariana's way of following in the religious tradition in which Nikki wanted to raise her. Nikki offered evidence to support her claim that this was a sincerely held religious belief, but her efforts were rebuffed and her religion dismissed by every school official to whom she turned for help.
Despite the fact that she had been an honor roll student in middle school, Clayton High School principal Clint Eaves has suspended Ariana four (4) times this school year for no other reason than the fact that her left nostril is pierced with a tiny gem. The fourth suspension was for ten days, finally giving Ariana the right to file an administrative appeal. Her appeal was heard on October 4, 2010, with Deputy Superintendent Shelly Marsh serving as the Hearing Officer. On October 5, 2010, Mr. Marsh informed Ariana that her appeal was denied, she would not be allowed to attend Clayton High School for the remainder of the academic school year, and she was being sent to an "alternative school" (South Campus Community High School) instead. However, if Ariana wore her nose stud at South Campus, she would have been disciplined for violating the Johnston County Schools dress code policy, so Mr. Marsh's ruling merely perpetuated the violations of the Iaconos' civil rights.
The ACLU-NCLF filed a lawsuit on behalf of Nikki and Ariana Iacono in the U.S. District Court for the Eastern District of North Carolina on Wednesday, October 6, 2010, alleging repeated violations of the family's constitutional rights under the First and Fourteenth Amendments to the U.S. Constitution. She has been back in school wearing her nose stud since October 8th, when Judge Howard ordered the school to let her attend classes while the litigation was ongoing.
Stay Informed
Every month, you'll receive regular roundups of the most important civil rights and civil liberties developments. Remember: a well-informed citizenry is the best defense against tyranny.
By completing this form, I agree to receive occasional emails per the terms of the ACLU's privacy policy.
The Latest in Religious Liberty
ACLU's Vision
The American Civil Liberties Union is a nonprofit organization whose mission is to defend and preserve the individual rights and liberties guaranteed to every person in this country by the Constitution and laws of the United States of America.
Learn More About Religious Liberty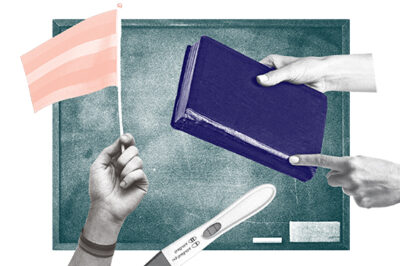 The ACLU strives to safeguard the First Amendment's guarantee of religious liberty by ensuring that laws and governmental practices neither promote religion nor interfere with its free exercise.