ACLU Praises Protection of Freedom of Information Act, Says OPEN Government Act A Step in the Right Direction
March 13, 2007 12:00 am
---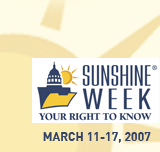 ACLU EVENT
> Briefing: The State of the First Amendment (3/13/2007)
<!–
REPORT
> Report: Publish and Perish: The Need for a Federal Reporters' Shield Law
–>
LEARN MORE
Calendar of Events >>
About Sunshine Week from the Organizers >>
WASHINGTON – The American Civil Liberties Union today applauded the Senate introduction of the OPEN Government Act of 2007. Senate Judiciary Committee Chairman Patrick Leahy (D-VT) and Senator John Cornyn (R-TX) introduced the legislation, which will both protect and strengthen the Freedom of Information Act.
The following can be attributed to Caroline Fredrickson, Director of the ACLU Washington Legislative Office:
"Government oversight can't always be left to government. This has been the most secretive administration since the Nixon years. It has refused to release even the most benign government documents. We need a stronger Freedom of Information Act – it is too easy for the government to defy requests for information it is obligated to turn over.
"A vibrant democracy depends upon concerned and active people who use tools like FOIA. We need FOIA to shine light into the darkened corners of government agencies. FOIA was created as a tool for citizens to become government watchdogs – it allows us to play a pivotal role in our democracy. In the spirit of Sunshine Week, we applaud Senators Leahy and Cornyn and their effort to reinvigorate the Freedom of Information Act."
To read more about the ACLU's work with FOIA, go to:
www.aclu.org/foia
Stay Informed
Every month, you'll receive regular roundups of the most important civil rights and civil liberties developments. Remember: a well-informed citizenry is the best defense against tyranny.
Learn More About the Issues in This Press Release