ACLU Says Vouchers Are Not Education Reform
June 6, 2005 12:00 am
---
---
Statement of Howard L. Simon,
Executive Director of the ACLU of Florida
FOR IMMEDIATE RELEASE
MIAMI, FL — Ever since Jeb Bush became governor of Florida, he has championed programs that undermine the state's public school system by transferring tax dollars from public to private and church-run schools.
The Governor's Opportunity Scholarship Program (a.k.a. vouchers) was sold to the public as a way to help children trapped in "failing" schools, despite the Florida Constitution's clear language barring aid to religious institutions. Relying on this clever strategy, Bush and supporters of taxpayer financing of religious schools have now created four voucher programs, three of which have little to do with "failing" schools.
And now, finally, the showdown at the Florida Supreme Court: It is one of the most important cases in our state's history. For 137 years, the following words have appeared in the Florida Constitution: "No revenue of the state shall ever be taken from the public treasury directly or indirectly in aid of any sectarian institution." Three courts have reviewed the governor's voucher program. All have declared it unconstitutional. Because the Constitution is so clear, the voucher program is being defended by scare tactics and by calling defenders of public schools enemies of education reform.
The first tactic is to spread fear that if aid to church-run schools is not permitted, then the work of religious charities (e.g., Lutheran refugee resettlement programs, Catholic adoption agencies, Jewish Vocational Services, etc.) are also vulnerable to legal challenge. Our nation has been dependent on the wonderful work of religious charities since the birth of the Republic. But when religiously affiliated charities choose to contract with the government to deliver social services, they commit to serving the needs of the community — without proselytizing and without regard to the religious affiliation of who is served, and who is hired to serve.
A second scare tactic warns that if the court upholds our constitutional tradition of no aid to religious institutions, the education of hundreds of children will be disrupted. But this rewards the governor's exploitation of the prolonged legal process in order to create "new facts." He has pressed forward with a scheme that was unconstitutional at its inception — and now claims foul that he might be thwarted. Claiming that defenders of public schools are enemies of education reform is just silly in light of the experimentation taking place throughout the country. There are magnet schools, charter schools and schools within schools. There are also reforms that could and should be adopted, such as parental choice to send children to any public school within a district and reorganizing "failing" schools. All these offer choices and increased opportunities for the involvement of parents in the education of their children.
Of course, the most effective reform involves putting kids in smaller classes that allow for more individualized attention. Research documents that this leads to higher achievement, especially in the early years, and particularly for poor and minority students. But Bush has resisted this reform and, even after adoption by the voters, has worked to undermine it. Vouchers for church-run schools are part of a political and ideological crusade, not a plan for education reform. True education reform would not include programs aimed at facilitating the abandonment of the public schools. Nor would true reforms exhibit such blind faith in the private sector as does Florida's voucher program — one that does not require certified teachers, that permits vouchers to be used at schools having no track record and exempts students attending private and church-run schools from state testing.
Private and parochial schools have made great contributions to America. But neighborhood public schools have been an engine of opportunity and a vehicle for advancement for generations of Americans, especially the poor and middle class.
Forget vouchers; work for the improvement of neighborhood public schools. The children of Florida and our democracy depend upon that.
Note: The ACLU is co-counsel in Bush vs. Holmes, the lawsuit challenging the voucher program. The Florida Supreme Court will hear the case at 9 a.m. Tuesday, June 7.
Stay Informed
Every month, you'll receive regular roundups of the most important civil rights and civil liberties developments. Remember: a well-informed citizenry is the best defense against tyranny.
By completing this form, I agree to receive occasional emails per the terms of the ACLU's privacy policy.
The Latest in Religious Liberty
ACLU's Vision
The American Civil Liberties Union is a nonprofit organization whose mission is to defend and preserve the individual rights and liberties guaranteed to every person in this country by the Constitution and laws of the United States of America.
Learn More About Religious Liberty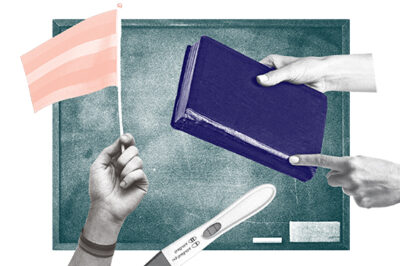 The ACLU strives to safeguard the First Amendment's guarantee of religious liberty by ensuring that laws and governmental practices neither promote religion nor interfere with its free exercise.