ACLU of Southern California Sues School District Over Use of Religious Textbooks in Public School
August 24, 1999 12:00 am
---
---
FOR IMMEDIATE RELEASE
LOS ANGELES — Citing violations of religious liberty, the American Civil Liberties Union of Southern California today filed a legal challenge to a Kern County school district's use of textbooks filled with biblical passages and prayers and a banner displaying the text of a Psalm.
The lawsuit was filed on behalf of Veronica Van Ry, her twelve-year-old daughter, Rita Elliott, and a retired Methodist minister, who say they believe public schools should not attempt to impose a particular religious viewpoint.
The textbooks, provided by a company that identifies itself as "unashamedly Christian," and whose stated mission is to "build the content of every textbook on the foundation of God's Word," became part of the kindergarten through 8th grade curriculum at Belridge School this year when school opened on Monday, August 23.
But after learning that the school planned to adopt a religion-based curriculum, Van Ry withdrew her daughter before the first day of classes. The decision was difficult, she said, because Rita, an 8th-grader, had been a student at Belridge since 4th grade and had hoped to graduate along with her friends this year.
"It is not the place for public schools to teach religious tenets to students," Van Ry said. "The Constitution leaves that job to parents and children together, in their homes and in their houses of worship."
The mission of the Belridge School District, according to its Web site, is based on the principle of "honor[ing] God" — which, it says, "can only be accomplished through a unified effort between families, school, and God."
The district's effort is evident at the Belridge School, where the cafeteria displays a banner quoting a Biblical psalm, "This Is The Day That The Lord Has Made;" significantly, no other banners, posters, or signs hang on the cafeteria walls.
The ACLU's complaint argues that the school district's use of the textbooks and its display of a religious banner reflect an impermissible religious purpose, in plain violation of the religious freedoms that are guaranteed by the Establishment Clause of the First Amendment to the U.S. Constitution. Further, the district's actions have the impermissible effect of advancing religion generally and endorsing one religious sect over all others.
"Nothing in the Constitution prevents a public school from integrating the Bible into its curriculum in an objective manner as part of the study of history, literature, comparative religions, or ethics and moral values," said Michael Small, lead attorney in the case for the ACLU of Southern California.
"But the school district is not teaching about religion, it is, instead, teaching religion," he said. "It has embarked on a frightening crusade in which it seeks to indoctrinate behind the schoolhouse gates impressionable students — as young as five years old — into accepting a prescribed religious orthodoxy."
That orthodoxy is — quite literally — spelled out in the textbooks published by A. Beka Inc. For example, the introduction to its third-grade American history textbooks states:
Throughout the history of America, God has heard the prayers of those who love Him and their country. The names of many of these praying Christians are not written in history books, but their prayers were heard by God.
Likewise, in an exercise that lists ten sentences or sentence fragments, the third-grade English textbook includes the following:
(2) Noah built an ark for God;
(7) Jesus loves children.
Similar themes resonate in A. Beka's 8th-grade history text. According to the publisher's Web site, "[T]hrough the story of America's rise to greatness, students will learn to recognize the hand of God in history and to appreciate the influence of Christianity in the government, economics, and society."
The Web site also states that "biblical principles" are employed to teach mathematics to 7th-graders, and that "[u]nlike secular grammar books," A Beka's 8th-grade grammar text emphasizes "Christian" principles.
The third plaintiff in the lawsuit, Milton Andrews, is a retired Methodist minister with university degrees in divinity studies. As a taxpayer in Kern County and California, he said he strongly objects to the use of public money for religious-oriented textbooks in public school classrooms and the display of a religious banner on public school walls.
The ACLU's lawsuit is asking a federal court to issue a temporary restraining order that would compel the school district immediately to cease using religious-oriented textbooks for classroom instruction and to take down the religious banner now displayed on the walls of the school.
"This is a case about a public school that inculcates students with its own proscribed version of what God is, who God chooses to listen to, and how one gets on God's good side," said Peter Eliasberg, a staff attorney with the ACLU of Southern California.
"It is shocking that public school officials would trample on religious freedom in that way, and turn a blind eye to four decades worth of fundamental constitutional principles that flatly forbid public schools from converting classrooms into pulpits in which school officials conduct what amount to religious exercises and rituals."
Stay Informed
Every month, you'll receive regular roundups of the most important civil rights and civil liberties developments. Remember: a well-informed citizenry is the best defense against tyranny.
By completing this form, I agree to receive occasional emails per the terms of the ACLU's privacy policy.
The Latest in Religious Liberty
ACLU's Vision
The American Civil Liberties Union is a nonprofit organization whose mission is to defend and preserve the individual rights and liberties guaranteed to every person in this country by the Constitution and laws of the United States of America.
Learn More About Religious Liberty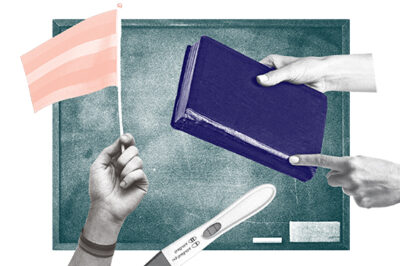 The ACLU strives to safeguard the First Amendment's guarantee of religious liberty by ensuring that laws and governmental practices neither promote religion nor interfere with its free exercise.