ACLU-TN Lawsuit Charges Widespread Religious Activities In Sumner County Schools
May 2, 2011 5:58 pm
---
---
Excessive Religious Entanglement Threatens Religious Liberty For All Students
FOR IMMEDIATE RELEASE
CONTACT: (212) 549-2666; media@aclu.org
NASHVILLE – In an effort to stem the widespread, unconstitutional pattern and practice of religious activities in the Sumner County school system, the American Civil Liberties Union of Tennessee (ACLU-TN) today filed a lawsuit in federal court.
Filed on behalf of nine students from four families, the lawsuit alleges a pattern and practice of the promotion and endorsement of religious activity dating back as early as 2006. This pattern and practice includes teachers leading students in prayer and Bible study sessions; the opening of one school to a youth minister who proselytizes frequently at student lunch tables; the distribution of Bibles during instructional time; prayer over the loudspeaker; the display of a cross on a classroom wall; preferential treatment of religious organizations in their ability to distribute materials to students; songs at school musical performances being predominantly religious; graduation and other school events being held at churches; and the opening of school board meetings with prayer.
"Public schools should seek to create an environment conducive to learning by all students and not act as vehicles proselytizing for religious or anti-religious beliefs," said Tricia Herzfeld, ACLU-TN Legal Director. "Religious discussions belong in the realm of families and faith communities, not government bodies such as the local schools. They are, in fact, public schools and not Sunday schools."
ACLU-TN notified the school district in December 2010 of the numerous complaints the organization had received from Sumner County school parents detailing violations of the Establishment Clause in Sumner County Schools. Despite being put on notice of their unlawful policies and practices, defendants have persisted in their conduct, leading to today's lawsuit.
"The Constitution does not endorse any religious creed, and it does not recognize any power of government to decide theological questions," said ACLU-TN Cooperating Attorney George Barrett of Barrett Johnston LLC. "It is unfortunate that the School Board remained indifferent to the constitutional violations occurring in Sumner County classrooms."
The lawsuit, American Civil Liberties Union of Tennessee et. al., v. The Sumner County Board of Education et. al., was filed in the United States District Court for the Middle District of Tennessee today. Five schools are named in the complaint: Beech High School, T.W. Hunter Middle School, Robert E. Ellis Middle School, Madison Creek Elementary School and Indian Lake Elementary School.
"The pattern and practice of school-sponsored religious activities in Sumner County is so egregious that we had no choice but to file this lawsuit," said Hedy Weinberg, ACLU-TN Executive Director.
The plaintiffs in the lawsuit are seeking a temporary restraining order, a preliminary and permanent injunction, an order from the court declaring these practices unconstitutional and preventing them from reoccurring in the future, and nominal damages.
Stay Informed
Every month, you'll receive regular roundups of the most important civil rights and civil liberties developments. Remember: a well-informed citizenry is the best defense against tyranny.
The Latest in Religious Liberty
ACLU's Vision
The American Civil Liberties Union is a nonprofit organization whose mission is to defend and preserve the individual rights and liberties guaranteed to every person in this country by the Constitution and laws of the United States of America.
Learn More About Religious Liberty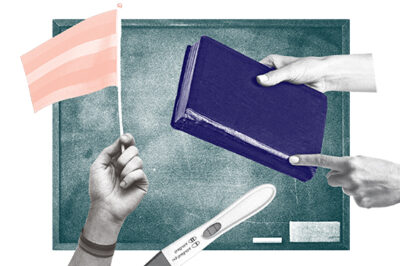 The ACLU strives to safeguard the First Amendment's guarantee of religious liberty by ensuring that laws and governmental practices neither promote religion nor interfere with its free exercise.