Advocates Call for Immediate and Long-term Juvenile Justice Reforms
As Task Force Meets Today, Experts Say Existing Legislation Addresses Pressing Problems
January 28, 2020 11:15 am
---
---
AUGUSTA, Maine – In advance of this afternoon's meeting of the Maine Juvenile Justice System Assessment and Reinvestment Task Force, advocates from around the state called on Maine's leaders to take immediate action to reduce the harm done by incarcerating children.
The Task Force is charged with studying the state's juvenile justice system and "ways Maine can develop a comprehensive, coordinated continuum of care that more effectively targets resources to meet individual needs in ways that support families and strengthen communities." At its meeting today, the Task Force will hear the findings of the Center for Children's Law and Policy, which is conducting a review of the system. Ultimately, the Task Force will make recommendations to Maine's legislative, executive and administrative leaders for reforming the system.
Several members of the Task Force called for immediate reforms to reduce the number of children coming in contact with the corrections system. They called on Maine's leaders to fund a continuum of community-based care so that the state can move away from incarcerating youth. And they urged support for a bill currently in the legislature that they say would address some of the most pressing issues.
LD 1684, "An Act To Clarify the Right to Counsel for Juveniles and Improve Due Process for Juveniles," (Rep. Victoria Morales, South Portland) would, among other things, set a minimum age for prosecution and incarceration, remove the mandatory minimum one year sentence at Long Creek, provide lawyers to committed children so that they have legal representation while they are incarcerated, and require periodic 90-day reviews before a judge to determine whether commitment of a child is still in the best interest of the child and the community.
The following quotes can be attributed as noted:
Rep. Victoria Morales, South Portland:
"This past year, the Task Force has learned that Maine incarcerates our youngest most vulnerable children simply because there are no other services available. This is unacceptable. We now know from experts and best practices across the nation that incarceration at these young ages is extremely harmful from a child development standpoint. My bill, LD 1684, is an important step to take to memorialize these best practices by focusing on the best interest of the children in the system. It is time that we put our children first."
Alison Beyea, Executive Director, ACLU of Maine:
"We look forward to building on the findings and recommendations that come out today. But we already know enough to say there are crucial changes that should be made immediately. Right now, the legislature has a bill before it that would fix several major problems in the broken juvenile justice system, including ending mandatory one-year minimum sentences. LD 1684 will address the harm that is done when we lock up kids and take them away from their families. It will help us become a state where children can stay in their homes, with their families, while getting the support they need."
Mary Bonauto, Civil Rights Project Director, GLBTQ Legal Advocates & Defenders (GLAD):
"We appreciate the Task Force's commitment to doing better by our young people. We also appreciate the Children's Center for Law and Policy for examining our State's practices and data in light of the national best practices for creating safe communities and positive youth outcomes. We must continue creatively collaborating to address the challenges described in the Report. The legislature can now pass LD 1684 and end the lengthy confinements imposed on young people for low-level offenses, and instead focus on connecting them with their families and wider communities to get the supports, education, life experiences and job opportunities they need to thrive as adults."
Margot Fine, Co-founder, Maine Inside Out:
"We are glad there is a spotlight on juvenile justice in Maine and appreciate the efforts of the Task Force. In Maine Inside Out's work around the state, we hear young people sharing stories everyday of the struggles and challenges they face. They're calling for real system change. They also want resources to be invested in their communities to get families the support they need and keep kids out of the system. As we work towards becoming a state that doesn't incarcerate children, LD 1684 will get us closer to keeping young people in their communities so they can have access to the resources, support and opportunities that they need to thrive."
Joseph Jackson, Executive Director, Maine Prisoner Advocacy Coalition:
"MPAC really appreciates the thorough examination of youth justice conducted by Mark Soler and his team, along with Maine Juvenile Justice System Assessment and Reinvestment Task Force. Mark Soler made clear in his December presentation before the Task Force that the average length of stay for youth in Long Creek is well over that which research has determined is harmful for incarcerated youth. He also found that those youth who had engaged in nonviolent acts had served more time than those who had engaged in acts of violence. MPAC has concluded that Maine's juvenile justice system is in need of serious reform. Maine currently has no minimum age for which a youth can be incarcerated. Youth are also not guaranteed legal counsel after having been adjudicated. We can do better for our young people and we don't have to wait to start making the necessary changes. Representative Morales' bill, LD 1684, sets a minimum age for detention, and ensures qualified legal representation for our youth. We can begin by enacting LD 1684, to start reforming our juvenile justice system immediately. Mainers can no longer accept the status quo and must demand our representatives do better for Maine's young people."
Atlee Reilly, Managing Attorney, Disability Rights Maine:
"We expect today's presentation will quantify what we already know – the majority of children who end up in the deep end of Maine's juvenile justice system shouldn't be there at all. And we expect we will hear that Maine is failing to meet the behavioral health needs of children in the community, leading to harmful detention, commitment, and the criminalization of disability. While we all continue to engage in the difficult work of system reform and reinvestment, we must also take action to end harmful practices. LD 1684 would be an excellent first step."
The Task Force meets today, January 28 at 12:00 p.m. at the Capitol Judicial Center in Augusta.
Stay Informed
Every month, you'll receive regular roundups of the most important civil rights and civil liberties developments. Remember: a well-informed citizenry is the best defense against tyranny.
By completing this form, I agree to receive occasional emails per the terms of the ACLU's privacy policy.
The Latest in Juvenile Justice
ACLU's Vision
The American Civil Liberties Union is a nonprofit organization whose mission is to defend and preserve the individual rights and liberties guaranteed to every person in this country by the Constitution and laws of the United States of America.
Learn More About Juvenile Justice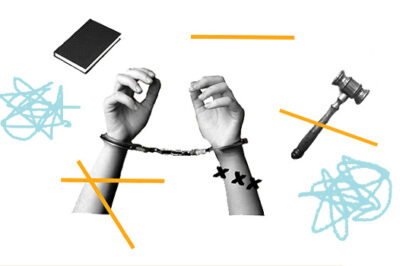 Youth are still developing, so as a result society treats kids and adults differently in several contexts, such as driving and serving in the military. Yet in the criminal justice system, we treat youth as adults.