Ashcroft Holds Prayer Meetings at White House
May 14, 2001 12:00 am
---
---
WASHINGTON, DC — The Bible study begins each day at 8 a.m. sharp, with Attorney General John D. Ashcroft presiding, The Washington Post reported.
According to the Post, a group of employees gathers at the Main Justice building in Washington, either in his personal office or a conference room, to study Scripture and join Ashcroft in prayer.
Ashcroft held similar meetings each morning as a United States senator from Missouri and sees the devotionals as a personal matter that has no bearing on his job as attorney general, according to aides.
Spokeswoman Mindy Tucker said Ashcroft wants to "continue to exercise his constitutional right to express his religious faith."
Any employee is welcome, but not required, to attend, his aides said.
But within the massive Justice Department, with about 135,000 employees worldwide, some who do not share Ashcroft's Pentecostal Christian beliefs are discomfited by the daily prayer sessions — particularly because they are conducted by the nation's chief law enforcement officer, entrusted with enforcing a Constitution that calls for the separation of church and state.
"The purpose of the Department of Justice is to do the business of the government, not to establish a religion," said a Justice attorney, who like other critics was unwilling to be identified by name. "It strikes me and a lot of others as offensive, disrespectful and unconstitutional. . . . It at least blurs the line, and it probably crosses it."
Several aides said many of Ashcroft's top staffers — including the chief of staff, the deputy chief of staff and the communications director — have never attended the devotional meetings, nor have they been pressured to do so.
They say that the sessions are open to all Justice employees, Christians or otherwise, and that one of the regular participants is an Orthodox Jew.
The federal government's "Guidelines on Religious Exercise and Religious Expression in the Federal Workplace," issued in 1997 after bipartisan negotiations, say supervisors and department heads must be especially careful with religious activities or statements.
Ashcroft, who is the son and grandson of Assemblies of God ministers, considered a run for the presidency with support from leading Christian conservatives, and has regularly cited God and Scripture in speeches and policy statements. In 1998, Ashcroft said at a Christian Coalition event that "a robed elite have taken the wall of separation designed to protect the church and they have made it a wall of religious oppression."
The next year, he told Bob Jones University graduates that America was founded on religious principles, and "we have no king but Jesus." That statement became the subject of some controversy at his confirmation hearings.
Under Ashcroft, the Justice Department issued new style guidelines for correspondence carrying Ashcroft's signature. They forbid, among other things, the use of "pride," which the Bible calls a sin, and the phrase "no higher calling than public service."
"He's running the department like a church, complete with rituals and forbidden words," said Barry W. Lynn, executive director of Americans United for Separation of Church and State. "That is deeply troubling."
Ashcroft refers to his daily devotionals as RAMP meetings — Read, Argue, Memorize and Pray.
Ashcroft hands each participant a devotional book from a stack he has used for years, Tucker said. The book highlights a Bible verse or passage for each date of the year, and the group spends the first minutes discussing its meaning, according to a participant.
The group then moves on to a memorization, with the goal of committing to memory a psalm or Bible story through repeated readings.
The session ends with a prayer, often including a reference to a relative or acquaintance who is ill or in need.
Many members of Congress and their employees participate in Bible studies, prayer meetings and other religious gatherings. A Christian magazine, Charisma, recently estimated that about 30 Bible study and prayer groups regularly meet on Capitol Hill.
Laura W. Murphy, director of the American Civil Liberties Union's Washington office, said Ashcroft is at least violating the spirit of the federal rules on workplace prayer.
"Ashcroft has a right to pray in office, but he does not have a right to implicitly or explicitly force others into praying with him," she said.
"Ashcroft is the chief defender of the nation's civil liberties. He can't pretend to be just another citizen leading prayers," she added.
A career Justice lawyer agrees, calling the devotionals "totally outrageous."
"It feels extremely exclusive, that if you don't participate in that kind of religion, that your career could be affected by it," the attorney said. "If I had some political aspirations and wanted to work for the front office and didn't have the same religious feelings as he does, my non-participation could adversely affect me."
Stay Informed
Every month, you'll receive regular roundups of the most important civil rights and civil liberties developments. Remember: a well-informed citizenry is the best defense against tyranny.
By completing this form, I agree to receive occasional emails per the terms of the ACLU's privacy policy.
The Latest in Religious Liberty
ACLU's Vision
The American Civil Liberties Union is a nonprofit organization whose mission is to defend and preserve the individual rights and liberties guaranteed to every person in this country by the Constitution and laws of the United States of America.
Learn More About Religious Liberty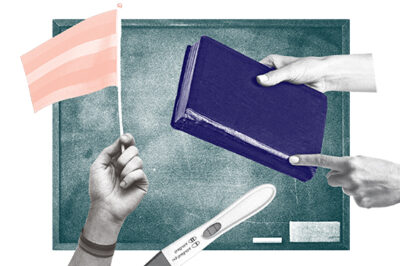 The ACLU strives to safeguard the First Amendment's guarantee of religious liberty by ensuring that laws and governmental practices neither promote religion nor interfere with its free exercise.