Bereaved Spouse Challenges "Defense Of Marriage Act" As Unconstitutional
November 8, 2010 10:00 pm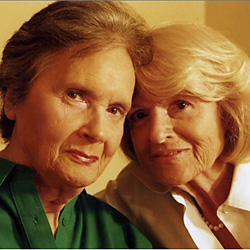 ---
Surviving Spouse Of Same-Sex Couple Challenges Federal Government's Failure To Recognize Their Marriage
FOR IMMEDIATE RELEASE
CONTACT: (212) 549-2666; media@aclu.org
NEW YORK – Edith "Edie" Windsor, who shared her life with her late spouse, Thea Spyer, for 44 years, will file a lawsuit against the federal government tomorrow for refusing to recognize their marriage. The lawsuit challenges the constitutionality of the "Defense of Marriage Act" (DOMA), a federal statute that defines marriage for all federal purposes as a legal union between one man and one woman as husband and wife. Windsor and Spyer were married in Canada in 2007, and were considered married by their home state of New York.
Spyer died in 2009. Due to DOMA's discriminatory policies, Windsor was not able to claim the estate tax marital deduction that is available when the surviving spouse is of the opposite sex. In her lawsuit, Windsor is seeking to have DOMA declared unconstitutional and to obtain a refund of the federal estate tax that she was forced to pay following Spyer's death. The lawsuit will be filed with the assistance of the American Civil Liberties Union, the law firm of Paul, Weiss, Rifkind, Wharton & Garrison LLP and the New York Civil Liberties Union.
"After Thea died, the fact that the federal government refused to recognize our marriage was devastating," said Windsor. "In the midst of my grief at the loss of the love of my life, I had to deal with my own government saying that we weren't a family."
Windsor, a senior computer systems programmer, and Spyer, a clinical psychologist, met in the early 1960s, and lived together for decades in an apartment in Greenwich Village. Despite not being able to get legally married, they got engaged in 1967. Over 30 years ago, Spyer was diagnosed with multiple sclerosis, and Windsor helped her through her long battle with the disease. After building a life together for more than 40 years, they were finally married in Toronto in May 2007. Their relationship is the subject of a documentary entitled, "Edie & Thea: A Very Long Engagement."
"We treasured every moment of our 44 years together and were thrilled to be able to finally have the chance to spend our last years together as a legally married couple," said Windsor. "It meant so much to us that our commitment to each other had finally been recognized."
Windsor was the sole beneficiary of Spyer's estate. Because they were married, Spyer's estate normally would have passed to her spouse without any tax. But because DOMA refuses to recognize otherwise valid marriages of same-sex couples, Spyer's estate had to pay more than $350,000 in federal estate taxes. Earlier this year, Windsor requested a full refund from the government. The IRS rejected that claim, citing DOMA.
"Edie and Thea were together for 44 years, the last two of which they were lucky enough to spend as a married couple," said James Esseks, Director of the ACLU Lesbian, Gay, Bisexual and Transgender Project. "All Edie is seeking is the same treatment for her marriage that the federal government appropriately gives to married straight couples. It is completely unfair for the federal government to pretend that Edie and Thea were strangers, and to tax them that way."
In the lawsuit, Windsor alleges that DOMA violates the equal protection guarantee of the U.S. Constitution because it recognizes marriages of heterosexual couples, but not of same-sex couples, despite the fact that New York State treats all marriages the same.
"If Thea were 'Theo' instead of 'Thea,' then Edie, as Thea's spouse, would have inherited Thea's estate tax-free," said Roberta Kaplan of Paul, Weiss. "Edie and Thea were denied equal treatment, and it is obviously unjust that there should be a tax simply for being gay."
"No one should have to fight with the government after losing the person she's loved for more than four decades," said NYCLU Executive Director Donna Lieberman. "Edie and Thea made the same life-long commitment that other married couples make, and their marriage deserves the same dignity, respect and protection afforded other families."
Another lawsuit raising the same legal challenge to DOMA is being filed tomorrow in federal court in Hartford, CT. Brought by Gay & Lesbian Advocates & Defenders, that case includes five married couples and one widower from three states who are harmed by DOMA in a variety of significant ways, including denial of health care coverage and social security benefits.
Both of these cases follow similar litigation in Massachusetts, where a federal district judge ruled last summer that DOMA violates the federal Constitution. That case, Gill v. Office of Personnel Management, challenged the federal government's refusal to recognize the marriages of same-sex couples legally married in Massachusetts and is now on appeal. The case was also brought by GLAD. Windsor's case pursues the same legal theory in the context of federal estate taxes.
Windsor is represented by Kaplan and Andrew Ehrlich of Paul, Weiss, Rifkind, Wharton & Garrison, LLP; Esseks and Rose Saxe of the ACLU LGBT Project; and Arthur Eisenberg and Alexis Karteron of the New York Civil Liberties Union.
For more information on this case, please visit: www.aclu.org/Edie
For more information on GLAD's case, please visit: www.glad.org/doma
Stay Informed
Every month, you'll receive regular roundups of the most important civil rights and civil liberties developments. Remember: a well-informed citizenry is the best defense against tyranny.
Learn More About the Issues in This Press Release