Black State Lawmakers and FL ACLU Challenge State's Failure to Help Ex-Felons Regain Voting Rights
March 14, 2001 12:00 am
---
---
FOR IMMEDIATE RELEASE
MIAMI – The ACLU of Florida's Equal Voting Rights Project today filed a class-action lawsuit on behalf of black lawmakers, several ex-offenders and a number of community groups, challenging the state's failure to assist ex-felons in applying for the restoration of their civil rights, including the right to vote.
This lawsuit is a first step in making Florida's cumbersome civil rights and voting rights restoration system accessible to ex-offenders, said ACLU of Florida Executive Director Howard L. Simon.
There is neither legal or moral justification for Florida to continue to deny civil rights and the right to vote to those who have been released from the custody of the Department of Corrections and have paid their debt to society.
Filed in Leon County Circuit Court in Tallahassee, the class-action lawsuit asks the court to order Michael Moore, Secretary of the Department of Corrections, to comply with provisions of Florida law that require the Department of Corrections to assist ex-felons, prior to their release from supervision, with the lengthy and complicated application process of restoring their civil rights.
The overall results of the disenfranchisement of ex-felons in Florida have been catastrophic. Currently, there are approximately 525,000 ex-felons in Florida who have completed their sentences and supervision requirements, but have been denied the right to vote. That figure represents one-third of all disenfranchised ex-felons in the United States.
One particularly troubling aspect of state laws that disenfranchise ex-felons, the ACLU said, is their impact on black men. In Florida, 31 percent of adult black males cannot vote as a result of felony disenfranchisement, almost three times greater than percentage of black males disenfranchised nationwide.
Although ex-offenders can apply for reinstatement, the process is burdensome, and applications are frequently denied because applicants must pay fines and obtain copies of court judgments, indictments and sentences of all felony convictions both in and out of state.
"The Rules of Executive Clemency established by the Governor for receiving restoration assure that very few ex-offenders, acting on their own, will be successful," said lead counsel Randall Berg, Executive Director of the Florida Justice Institute.
State law requires that the Department of Corrections obtain for each offender the necessary application forms for the restoration of civil rights. The state also is legally required to help inmates fill out those forms and forward them to the Governor before they're discharged from supervision.
Today's lawsuit challenges the state's failure to provide this assistance, and contends that the Department of Corrections is only currently assisting inmates with the completion of a simple screening form intended to determine whether ex-offenders qualify for restoration without a hearing, rather than assisting them in filling out the more complicated forms, which apply to most people leaving prison.
For most ex-offenders, the complexity of the process renders it meaningless," added Simon, of the ACLU of Florida. "As a result, many otherwise eligible ex-offenders lose the right to vote simply because they are unaware of the process, unable to complete the forms or to obtain certified copies of the precise court documents required.
In addition, applicants are randomly asked to respond to a 14-page Clemency Questionnaire, which includes questions about religious preference, record of previous marriages and the previous marriages of their spouse, and whether the former felon has ever adopted a child or parented a child out of wedlock.
Florida is one of only 14 states in which convicted felons are permanently disenfranchised, or disqualified from voting in elections, until they apply for and are granted restoration of their civil rights by the Clemency Board – made up of the Governor and members of the Cabinet.
The other 13 states that do not automatically restore ex-felons' civil rights are: Alabama, Arizona (2nd conviction), Delaware (automatic restoration after five years), Iowa, Kentucky, Maryland (2nd conviction), Mississippi, Nevada, New Mexico, Tennessee, Virginia, Washington and Wisconsin.
Aside from losing their voting rights, Florida's former felons also are unable to obtain meaningful employment, for example, with fire departments or as teachers. Plaintiff Reginald Greenlee, a college-educated community activist who works with public housing residents, has a 10-year-old drug trafficking conviction from Lee County that has prevented him from obtaining a teaching certificate.
"When I was in college trying to finish up my teaching degree in physical education, I couldn't even enroll in my required internship because my civil rights hadn't been restored," said Greenlee, who received his bachelor's degree from Florida Memorial College in Miami.
"And now, if I was living practically anywhere else in the United States, I would be a teacher," he added. "I started the process of restoring my rights last year, but every time I sent them a check with my records from Lee County, they sent it back telling me I need to get copies of my entire file."
Other individual plaintiffs in the lawsuit are Joseph Brown, Milton McCloud and Hollis Horton, all of whom have served their time and have been released from supervision. None have had their voting rights restored. None received any assistance from the Department of Corrections in obtaining a restoration.
This lawsuit is the first court action filed by the Florida Equal Voting Rights Project, a new project of the American Civil Liberties Union Foundation of Florida, in conjunction with the Florida Justice Institute and Florida Legal Services. The project is supported by a grant from the California-based Steven and Michele Kirsch Foundation.
In addition to the Florida Conference of Black State Legislators, plaintiffs also include Brothers of the Same Mind, A New Start (a Liberty-City based grassroots organizations that works to help former ex-felons reenter society), the Inner City Grass Roots Civic Coalition and People United to Lead the Struggle For Equality.
JoNel Newman, also of the Florida Justice Institute, Randall Marshall, ACLU of Florida Legal Director, and Charles F. Elsesser Jr., of Florida Legal Services are also serving as attorneys in this case.
To read an on-line version of the complaint, visit the ACLU of Florida web site at http://www.aclufl.org/ex-felons__voting_rights.html
Stay Informed
Every month, you'll receive regular roundups of the most important civil rights and civil liberties developments. Remember: a well-informed citizenry is the best defense against tyranny.
By completing this form, I agree to receive occasional emails per the terms of the ACLU's privacy policy.
The Latest in Voting Rights
ACLU's Vision
The American Civil Liberties Union is a nonprofit organization whose mission is to defend and preserve the individual rights and liberties guaranteed to every person in this country by the Constitution and laws of the United States of America.
Learn More About Voting Rights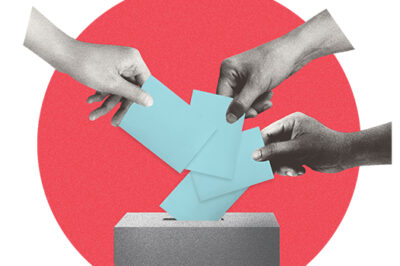 Voting is the cornerstone of our democracy and the fundamental right upon which all our civil liberties rest. The ACLU works to protect and expand Americans' freedom to vote.