Citing Value of Diversity, Federal Court Upholds University of Michigan's Affirmative Action Policy
December 13, 2000 12:00 am
---
---
FOR IMMEDIATE RELEASE

DETROIT–Saying that diversity in higher education is a "compelling government interest," a federal judge today rejected an attempt to dismantle the University of Michigan's affirmative action program.
The ruling in Gratz v. Bollinger was hailed as a total victory by the American Civil Liberties Union (ACLU), NAACP Legal Defense and Educational Fund (LDF), the Mexican American Legal Defense Fund (MALDEF) and the Coalition for Affirmative Action's Preservation (CAP) based in Michigan, who together represented 17 African-American and Latino students as "defendant-intervenors" in the case.
The Gratz case has been closely watched as a harbinger of the fate of affirmative action in higher education. Today's ruling marks the second time in as many weeks that a court has put its stamp of approval on affirmative action policies.
"This is a victory for all those concerned about our progress as a nation in incorporating African- Americans and Latinos into the mainstream of opportunity," said Theodore M. Shaw, Associate Director-Counsel of LDF. "It is a forceful rejection of the broadside attack on affirmative action programs which, when properly structured, are a reasonable, necessary and legal means of ensuring that the doors of higher educational opportunity remain open to all," he added.
In his ruling, Federal District Court Judge Patrick Duggan said that "the University defendants have presented this Court with solid evidence regarding the educational benefits that flow from a racially and ethnically diverse student body."
Significantly, Judge Duggan cited a recent decision from the Ninth Circuit Court of Appeals that the University of Washington Law School acted legally when it considered an applicant's race in admissions decisions.
"Taken together, the decisions in Michigan and Washington show that the pendulum is swinging back in support of maintaining a diverse and integrated student body at our top universities," said Kary Moss, Executive Director of the ACLU of Michigan. "That support came not only from virtually every major education association, but from more than 20 Fortune 500 companies including Microsoft, 3M, Eastman Kodak, General Mills and Kellogg."
Patricia Mendoza, Regional Counsel for MALDEF, added that "the court's decision is entirely consistent with our position that the University of Michigan has properly taken race into account as one of many factors it considers in selecting a diverse group of students from many qualified applicants."
The 17 students, who were granted the right to be represented in the lawsuit, have said that their chances of attending the University of Michigan would inevitably diminish without affirmative action.
Race is one of many factors the University considers in selecting a diverse group of students from many qualified applicants, the groups today noted. Judge Duggan's ruling reinforces the principle followed for decades by hundreds of selective colleges and universities across the nation: a racially and ethnically diverse student body contributes to a quality education.
Stay Informed
Every month, you'll receive regular roundups of the most important civil rights and civil liberties developments. Remember: a well-informed citizenry is the best defense against tyranny.
The Latest in Racial Justice
ACLU's Vision
The American Civil Liberties Union is a nonprofit organization whose mission is to defend and preserve the individual rights and liberties guaranteed to every person in this country by the Constitution and laws of the United States of America.
Learn More About Racial Justice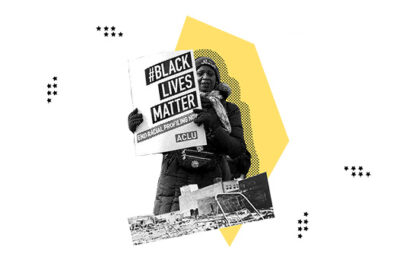 The Racial Justice Program (RJP) fights to eradicate racial injustice in the U.S. and works to foster a society in which people of color and communities of color have full access to the rights and benefits of American society. Working with affected communities, RJP litigates, advocates, and educates to strike at the roots of racial injustice.