Civil Liberties Groups Challenge New Jersey State Funding of Religious Ministries
June 24, 2013 12:00 am
---
---
State's Actions Violate the N.J. Constitution and Law Against Discrimination
June 24, 2013
FOR IMMEDIATE RELEASE
CONTACT: 212-549-2666, media@aclu.org
NEWARK, N.J. – The American Civil Liberties Union of New Jersey, the national ACLU and Americans United for Separation of Church and State filed a lawsuit today to stop the state of New Jersey from awarding more than $11 million in taxpayer funds to two higher education institutions dedicated solely to religious training and instruction.
The groups also filed a petition asking the court to immediately prevent the state from doling out grants to those two institutions, Beth Medrash Govoha and Princeton Theological Seminary.
"We support freedom of religion. However the government has no business funding religious ministries," said Ed Barocas, legal director of the ACLU of New Jersey. "Taxpayers should not foot the bill to train clergy or provide religious instruction, but the state is attempting to do exactly that."
On April 29, Gov. Chris Christie's administration released a list of 176 college construction projects it intends to aid with money from a voter-approved bond. The New Jersey Constitution forbids any such taxpayer funds from supporting ministries or places of worship.
Beth Medrash Govoha, an Orthodox Jewish rabbinical school in Lakewood, is slated to receive $10.6 million from the state to pay for the construction of a new library and academic center. All courses of study at Beth Medrash Govoha are classified as "Theology/Theological Studies" or "Talmudic Studies." The school prepares students to become rabbis and religious educators.
Similarly, Princeton Theological Seminary, a Presbyterian Christian seminary, is slated to receive $645,323 from the state. All courses of study at the seminary either prepare students to serve as ministers or priests in Christian religious traditions or to serve as religious educators. The New Jersey Secretary of Higher Education's website identifies the school as a "theological institution."
"Taxpayers should not be forced to pay for the training of clergy," said Alex J. Luchenitser, associate legal director of Americans United for Separation of Church and State. "These grants plainly violate the separation of church and state enshrined in the New Jersey Constitution."
Giving public money to Beth Medrash Govoha also violates the New Jersey Law Against Discrimination. The school is identified in federal records as a single-sex school with only male students. According to state records, its entire student body of 6,538 students was all-male in 2012, and all 79 members of its faculty were male during 2011.
"The state of New Jersey has an important role to play in providing financial support for institutions of higher learning in our state, but public money should not be used to fund schools that are not open and welcoming to all students in New Jersey," said Udi Ofer, executive director of the ACLU of New Jersey. "State funding of higher education should not be done at the expense of the separation of church and state."
The lawsuit was filed in Superior Court in Trenton. The plaintiffs in the case are the ACLU-NJ, the Unitarian Universalist Legislative Ministry of New Jersey (UULMNJ), and Gloria Schor Andersen, a Voorhees Township resident who has been a public school and a Hebrew School teacher/tutor. Andersen is also speaker-at-large for the Delaware Valley Chapter of Americans United for Separation of Church and State.
"As a member of the clergy, I recognize the important responsibility that faith groups have in training their next generation of leaders," said the Rev. Craig Hirshberg, executive director of UULMNJ. "However, their religious studies should not be funded by taxpayers. When the government financially supports religious groups, it provides privileges to particular religions over others and diverts designated public funds away from programs that should benefit all citizens."
The legislature has until June 28 to reject the grants. Some lawmakers have raised similar concerns about funding religious ministries and pressed the state for more information about its selection process.
In addition to the lawsuit, the ACLU-NJ has filed several open records requests with the state to learn more about the nature of the schools receiving funding and how the grants were awarded. The state failed to release scoring sheets and other records documenting how it determined who should receive the grants.
"These grants fly in the face of important state safeguards that protect the religious liberty of all New Jersey taxpayers," said Daniel Mach, director of the ACLU Program on Freedom of Religion and Belief.
Stay Informed
Every month, you'll receive regular roundups of the most important civil rights and civil liberties developments. Remember: a well-informed citizenry is the best defense against tyranny.
By completing this form, I agree to receive occasional emails per the terms of the ACLU's privacy policy.
The Latest in Religious Liberty
ACLU's Vision
The American Civil Liberties Union is a nonprofit organization whose mission is to defend and preserve the individual rights and liberties guaranteed to every person in this country by the Constitution and laws of the United States of America.
Learn More About Religious Liberty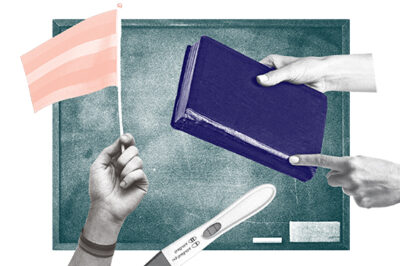 The ACLU strives to safeguard the First Amendment's guarantee of religious liberty by ensuring that laws and governmental practices neither promote religion nor interfere with its free exercise.