Court Blocks WA School from Suspending Student Over Humorous Web Site
February 23, 2000 12:00 am
---
---
FOR IMMEDIATE RELEASE

SEATTLE, WA — In the latest case involving student free speech in cyberspace, a federal judge in Seattle today blocked school administrators from suspending a student because of a web site he had created on his home computer. The American Civil Liberties Union of Washington represented the student in contesting the suspension.
"The court recognized today that school officials do not have authority to punish students for exercising their freedom of speech outside of school," said Aaron Caplan, the ACLU of Washington Staff Attorney who represented the student. "Schools need to learn that they can't discipline students who create satires on the Internet."
Nick Emmett, the high school senior whom officials in the Kent School District sought to discipline, welcomed the news. "I feel good that the judge understood my rights as a student," he said. "I went to court to fight for my rights because I don't think administrators should be able to make punishments that are unfair."
Emmett is a college-bound senior and a co-captain of the Kentlake High School basketball team. On the weekend of February 12 and 13, Nick and a friend posted their own site on the Internet, using the Emmett family computer and AOL account. Nick's father helped set up the graphics.
Titled the "Unofficial Kentlake High Home Page," the site was intended as a light-hearted vehicle to promote discussion among the King County school's students. Nick posted compliments to the school's administration, and the home page included the following disclaimer: "This website is meant for entertainment purposes only. In no way, shape, or form is it intended to offend anybody. And to the KL (Kentlake) Administration, …We love you guys!"
At a friend's suggestion, Nick added a fake obituary to the friend's memory; the idea came, in part, from a creative writing class Nick had taken in which students had been assigned to write mock obituaries. This and another obituary written in jest (with the student's permission) proved so popular that other students began posting requests for parody death notices about themselves to be written. As a humorous touch, a feature was added to the Web site enabling people to vote for the next fake obituary. At school, Nick received praise for the Web site from students and teachers alike.
On February 16, a television reporter interviewed Nick about the Web site, and a television news report that night suggested that the site had a "hit list" threatening to injure people. Concerned by coverage he considered misleading, Nick and his co-creator closed the site. On February 17, Nick learned that the Kentlake principal was placing him on emergency expulsion, pending an investigation. The next day, Nick received a five-day suspension, causing him to miss a basketball playoff game. He and his parents contacted the ACLU of Washington and with the ACLU's help contested the suspension.
"I was surprised they were punishing me and thought it was unfair," Nick said. "I had talked with administrators about the Web site, and they didn't say they had a problem with it. I care about school and want to go to class," he added.
After a hearing this morning, Chief Judge John Coughenour of the United States District issued a temporary restraining order enjoining the school district from enforcing the suspension imposed on Nick Emmett.
In his ruling Judge Coughenour said, "Although the intended audience was undoubtedly connected to Kentlake High School, the speech was entirely outside of the school's supervision or control."
Judge Coughenour cited the Ninth Circuit Court of Appeal's ruling in a 1988 ACLU of Washington case (Burch v. Barker), holding that student distribution of non-school-sponsored material cannot be prohibited "on the basis of undifferentiated fears of possible disturbances or embarrassment to school officials." The judge noted that the school district presented "no evidence that the mock obituaries and voting were intended to threaten anyone, did actually threaten anyone, or manifested any violent tendencies whatsoever."
The court's ruling comes as increasing numbers of students are taking freedom of speech into cyberspace. Earlier this month, the Lake Washington School Board decided not to punish three Eastlake High School students represented by the ACLU over a Web site they had created. In 1995, in a much-publicized case, the ACLU of Washington won an out-of-court settlement for Bellevue student Paul Kim after his principal disciplined him for creating a parody of his high school from a home computer. Still pending in the state is an ACLU lawsuit on behalf of a Thurston County high school student who was expelled for a month in 1999 for creating a Web site on his home computer lampooning his school's vice-principal.
The ACLU has represented students in similar cases across the country, including Ohio, Missouri and Texas.
The pleading filed in the case, as well as the judge's temporary restraining order are available online from the ACLU of Washington at: http://www.aclu-wa.org/ISSUES/students/Kentlake%20TRO/Kentlake%20High%20School%20Index.htm.
Stay Informed
Every month, you'll receive regular roundups of the most important civil rights and civil liberties developments. Remember: a well-informed citizenry is the best defense against tyranny.
By completing this form, I agree to receive occasional emails per the terms of the ACLU's privacy policy.
The Latest in Privacy & Technology
ACLU's Vision
The American Civil Liberties Union is a nonprofit organization whose mission is to defend and preserve the individual rights and liberties guaranteed to every person in this country by the Constitution and laws of the United States of America.
Learn More About Privacy & Technology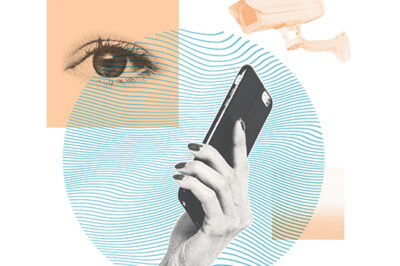 The ACLU works to expand the right to privacy, increase the control individuals have over their personal information, and ensure civil liberties are enhanced rather than compromised by technological innovation.