Federal Judge Orders Georgia School District to Remove Evolution Disclaimers
January 13, 2005 12:00 am
---
---
FOR IMMEDIATE RELEASE
Contact: media@aclu.org
ATLANTA-A federal judge today ruled that placing disclaimer stickers warning that evolution is "a theory, not a fact" in public school science textbooks is an unconstitutional government intrusion on religious liberty.

The ruling comes in response to a lawsuit against the Cobb County School District brought by the American Civil Liberties Union of Georgia on behalf of five local parents. The parents argued that the disclaimer stickers would send the message to their children that they should reject the scientific theory of evolution in favor of religious viewpoints on origin.
"The school district gave evolution second-class status among all scientific theories and, at the same time, gave advantage to a specific religious viewpoint that rejects evolution," said Maggie Garrett, an ACLU of Georgia staff attorney who argued the case.
The Cobb County School District approved the evolution disclaimer in 2002, in response to criticism that the new science textbooks chosen by the administration did not include information about creationism or "intelligent design." District Court Judge Clarence Cooper wrote in today's decision that, "the sticker sends a message to those who oppose evolution for religious reasons that they are favored members of the political community, while the sticker sends a message to those who believe in evolution that they are political outsiders."
Cooper ordered the school district to remove all stickers immediately.
Rabbi Scott Saulson, a board member of the ACLU of Georgia, applauded today's decision and warned that introducing issues of faith into the science curriculum is inappropriate.
"People who wish faith to compete with science are asking faith to be judged by the same standards as theory, which is a standard of reasonable proof," Saulson said. "Faith is unique in that it is not predicated upon proof. To continue to mask religious belief as science will sooner or later besmirch both faith and religion."
Several other states, including Ohio and Tennessee (the site of the ACLU's original Scopes "Monkey Trial" case), have sought to force the teaching of creationism in the classroom. But those efforts have repeatedly been struck down by the U.S. Supreme Court as unconstitutional.
In a similar case, the ACLU of Pennsylvania filed a lawsuit in December challenging a controversial decision by the Dover Area School Board to require biology teachers to present "intelligent design" as an alternative to the scientific theory of evolution. The lawsuit argues that "intelligent design," which is an assertion that life was created suddenly by a supernatural entity, is inherently a religious argument that falls outside the realm of science. The ACLU filed the lawsuit jointly with Americans United for Separation of Church and State and attorneys with Pepper Hamilton LLP on behalf of 11 Dover parents.
A copy of today's decision is available at: /node/35381.
For more information on the Dover case, go to: /node/11292?SubsiteID=42.
Stay Informed
Every month, you'll receive regular roundups of the most important civil rights and civil liberties developments. Remember: a well-informed citizenry is the best defense against tyranny.
By completing this form, I agree to receive occasional emails per the terms of the ACLU's privacy policy.
The Latest in Religious Liberty
ACLU's Vision
The American Civil Liberties Union is a nonprofit organization whose mission is to defend and preserve the individual rights and liberties guaranteed to every person in this country by the Constitution and laws of the United States of America.
Learn More About Religious Liberty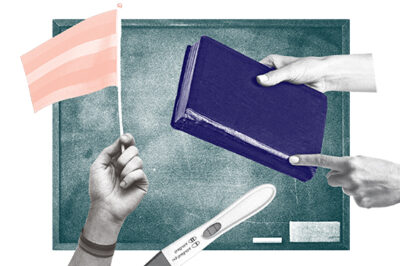 The ACLU strives to safeguard the First Amendment's guarantee of religious liberty by ensuring that laws and governmental practices neither promote religion nor interfere with its free exercise.