Florida Appellate Court Strikes Down Law Barring Gay People From Adopting
September 22, 2010 1:58 pm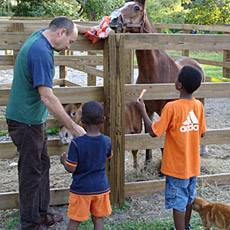 ---
FOR IMMEDIATE RELEASE
CONTACTS: (212) 549-2666; media@aclu.org or media@aclufl.org
MIAMI – A Florida appeals court today struck down a state law barring gay people from adopting. The decision affirms an earlier family court ruling in the case that would allow Martin Gill to adopt two foster children he is raising with his partner. The American Civil Liberties Union and the ACLU of Florida, which represent Gill in the case, called the decision a victory for the thousands of children waiting to be adopted in Florida.
"This is just the news that we have been waiting so anxiously for here," said Gill, who has been a parent to the two boys for more than five years. "This is a giant step toward being able to give our sons the stability and permanency that they are being denied."
"Florida's law unconstitutionally singles out gay people and the children in their care for unequal treatment, denying many children the long-term security that comes with adoption," said Leslie Cooper, a senior staff attorney with the ACLU LGBT Project who argued the case before Florida's Third District Court of Appeal. "We are grateful that the court saw the cruel consequences this law has on children, especially those in foster care who may never know the security of a permanent home."
On November 25, 2008, Miami-Dade Circuit Court Judge Cindy Lederman granted Gill adoptions of the now six- and ten-year-old brothers after a four-day trial that highlighted scientific evidence and recognition by the Florida's Department of Children and Families (DCF) that gay and straight people make equally good parents. As the appeals court recognized in its opinion, the scientific evidence shows that "there are no differences in the parenting of homosexuals or the adjustment of their children. . . [and] the issue is so far beyond dispute that it would be irrational to hold otherwise; the best interests of children are not preserved by prohibiting homosexual adoption."
Today's decision is the first time that an appellate court has ruled that Florida's law barring gay people from adopting is unconstitutional.
"Having raised our boys for nearly five years and seeing them overcome their difficult beginnings to become happy, healthy, outgoing kids, it was especially difficult to listen to the state try to justify a law that not only jeopardizes our children but makes it harder for other foster kids to find permanent families," said Gill. "I am thrilled that the court has recognized what a disservice this law does to the children most in need."
As Judge Vance Salter wrote in a concurring opinion, the steps taken by this family "to address the medical, emotional, and educational needs of the two adoptive children are nothing short of heroic."
Highly respected children's health, welfare and legal advocacy groups filed friend-of-the-court briefs urging the court to strike down the ban. These groups included the Child Welfare League of America, American Psychological Association, North American Council on Adoptable Children, Evan B. Donaldson Adoption Institute, the National Center for Adoption Law and Policy, the Florida Chapter of the American Academy of Pediatrics, the national and Florida chapters of the National Association of Social Workers and Florida's Children First.
"Florida can't afford to give up loving, qualified parents like Martin Gill," said Howard Simon, Executive Director of the ACLU of Florida. "Categorical bans like the Florida law run counter to recommended child welfare policy because they do nothing but diminish the pool of potential parents who can provide homes."
For more information on the case, including a video of Martin Gill explaining how this law has harmed his family, visit www.aclu.org/gill or www.aclufl.org/gill
Martin Gill is represented by Cooper and James Esseks, Director of the ACLU LGBT Project, and Legal Director Randall Marshall and staff attorney Shelbi Day of the ACLU of Florida. The children are represented by Hilarie Bass, Elliot Scherker, Elaine Walter, Brigid Cech Samole and Ricardo Gonzalez of Greenberg Traurig, and Charles Auslander, an attorney and former District Administrator for DCF.
Stay Informed
Every month, you'll receive regular roundups of the most important civil rights and civil liberties developments. Remember: a well-informed citizenry is the best defense against tyranny.
Learn More About the Issues in This Press Release