House Measure Runs Counter to American Tradition of Religious Freedom, Says ACLU
November 2, 1999 12:00 am
---
---
FOR IMMEDIATE RELEASE
WASHINGTON — A resolution to be voted on today by the House of Representatives tramples on the American tradition of religious freedom and tolerance, the American Civil Liberties Union said.
"Supporters of this legislation must have fallen asleep during their American civics and history classes," said Terri Schroeder, a legislative representative for the ACLU. "Our country's founders fled from the religious intolerance and persecution that inevitably results from such a government endorsement of one religion."
The resolution, (HJRes 199) sponsored by Representatives Henry Bonilla (R-TX) and Chuck Stenholm (D-TX), encourages the Supreme Court to allow public schools to lead the fans and players at school athletic events in prayer. The resolution is in response to an ACLU case (Doe v. Santa Fe) in which a Texas court ruled that school sponsored prayers before public high school football games are unconstitutional.
Unfortunately, where government sponsored prayer is found, intolerance is not far behind, the ACLU said, pointing for example to a reverend's response to a Jewish student's complaints about a prayer before a West Virginia school's football game. The reverend remarked that the student should, "go back to his own country," despite the fact the boy was a native of West Virginia.
Though alarmists claim that prayer is banned from school, student religious groups are thriving nationwide, with an estimated 10,000 Christian clubs operating in high schools across the country.
"Religious belief and expression is flourishing in our country precisely because America has avoided the mistakes of other countries and resisted the temptation for the government to endorse religion," Schroeder said.
"The ACLU has never urged that prayer be banned from school or school-sponsored events," Schroeder said. "Students can always pray before athletic events – as long as their prayer groups are not facilitated or sponsored by the school."
The Supreme Court has repeatedly warned against the dangers of school-sponsored prayers in public schools not out of hostility to religion but to protect the religious freedom of each student. Justice Sandra Day O'Connor, a Reagan appointee wrote that state endorsement of religion, "sends a message to non-adherents that they are outsiders, not full members of the political community."
Stay Informed
Every month, you'll receive regular roundups of the most important civil rights and civil liberties developments. Remember: a well-informed citizenry is the best defense against tyranny.
The Latest in Religious Liberty
ACLU's Vision
The American Civil Liberties Union is a nonprofit organization whose mission is to defend and preserve the individual rights and liberties guaranteed to every person in this country by the Constitution and laws of the United States of America.
Learn More About Religious Liberty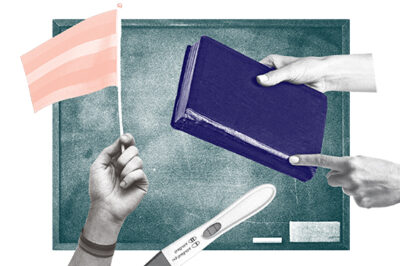 The ACLU strives to safeguard the First Amendment's guarantee of religious liberty by ensuring that laws and governmental practices neither promote religion nor interfere with its free exercise.