Men and Women at Orleans Parish Prison Detail Chaos Following Katrina
November 17, 2005 12:00 am
---
---
FOR IMMEDIATE RELEASE
Contact: media@aclu.org
Eyewitness Accounts Contradict Sheriff's Statements, ACLU Says
NEW ORLEANS — In legal papers filed today by the American Civil Liberties Union, 45 men and women formerly detained at Orleans Parish Prison recount disturbing details of being abandoned without food or water and abused by guards after Hurricane Katrina struck.
The ACLU said that the scores of testimonials it has obtained from prisoners contradict public statements made by Sheriff Marlin N. Gusman that the prisoners had food and water and that the evacuation went as planned.
"The prisoners' accounts are remarkably similar, and raise serious claims that they were abandoned by prison officials and subject to excessive force," said Eric Balaban of the ACLU National Prison Project, which represents the prisoners in an ongoing class-action lawsuit.
Some prisoners claim that deputies forced them into their cells by shooting bean bags, macing and tasering them; once they were returned to their cells, some deputies handcuffed the cell doors to prevent them from escaping. As the locked cells began to flood, prisoners hung signs out of the broken windows for help, and others jumped into the water below. According to the testimonials, deputies and members of the Special Investigation Division shot at some of the prisoners who were attempting to escape the rising water inside the jail, and several prisoners report that they witnessed fellow prisoners getting shot in the back.
When the prisoners were finally evacuated from the jail, many were forced to wade through toxic, waste-filled water to the Broad Street overpass on Interstate 10. Prisoners reported that the armed guards at the overpass had K-9 dogs, which were used to threaten them. Several prisoners said that the dogs bit other prisoners. Many of the prisoners on the overpass said they were maced and beaten, some for nothing more than sitting next to a fellow prisoner who attempted to stand and stretch after being forced to sit on the pavement for hours. Other prisoners recount being maced and beaten for requesting food and water. Female prisoners also report that deputies directed degrading and sexually offensive comments at them.
"It was like we were left to die. No water, no air, no food. We were left with deputies that were out of control," said one woman, who is identified in legal papers as "Inmate #19." Before filing the testimonials with the court, the ACLU redacted the names of the prisoners in order to protect their safety.
"Inmate #19" said she was housed in a dorm with 100 other women because of flooding. The women were left with nothing to eat or drink, and many of them drank water out of trashcans. "I still have recurring nightmares about what I saw and what I went through," she said.
One man, who was housed at Unit F-2, said he and other prisoners saw "a few dead bodies and we were told not to say anything or we were going to be like them." The man, referred to as "Inmate #41," said that when he was evacuated from the building, the water was so high that prisoners had to swim or wade out to safety. He eventually reached the Interstate 10 overpass, where he was denied food and water for two days.
"The evacuation [was] hideous to say the least," said another woman, referred to as "Inmate #6." "So gruesome that we had to wade through standing toxic-contaminated water filled with feces, urine and all kinds of other foreign debris for days on end … [It is] almost impossible to fathom how one can survive it and not be scarred to extremes."
Many prisoners say conditions worsened when they were moved to other facilities, such as Hunt Correctional Facility. "Inmate #7" described Hunt as "pure hell."
"The guards treated us like old nasty dogs. We could asked them nothing… [or] you might get shot at," he said.
Another man, "Inmate #64," described lawlessness at Hunt. "Everywhere you looked there were fights, people getting stabbed, people getting raped… When [deputies] did come with food, they threw it to us from scaffolds like they were at Mardi Gras."
The ACLU said it has received hundreds of responses and plans to release additional testimonials in the coming weeks. The testimonials were obtained through a series of questionnaires sent to prisoners who are now being held at various facilities across Louisiana.
A summary of more than 70 testimonials is online at: www.aclu.org/prison/conditions/21697res20051118.html
Select testimonials are available at: www.aclu.org/prison/conditions/21694res20051118.html
Learn more about the ACLU's efforts in the aftermath of Hurricanes Katrina and Rita.
Stay Informed
Every month, you'll receive regular roundups of the most important civil rights and civil liberties developments. Remember: a well-informed citizenry is the best defense against tyranny.
The Latest in National Security
ACLU's Vision
The American Civil Liberties Union is a nonprofit organization whose mission is to defend and preserve the individual rights and liberties guaranteed to every person in this country by the Constitution and laws of the United States of America.
Learn More About National Security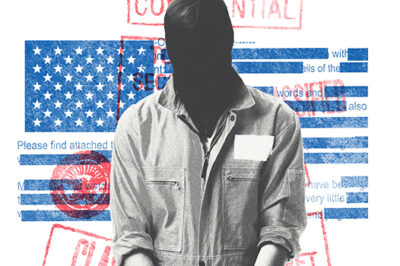 The ACLU's National Security Project is dedicated to ensuring that U.S. national security policies and practices are consistent with the Constitution, civil liberties, and human rights.