More Stores Now Spy on Employees
July 11, 2001 12:00 am
---
---
MIAMI — Retail store owners are increasingly using advanced technology to spy on employees, and civil liberties advocates say that such surveillance is invasive and, in many cases, excessive, The New York Times reported.
According to the Times, a growing number of retailers have upgraded the software they use to monitor cash-register transactions — every sale, voided sale, "no sale" and refund at every store — for unusual activity.
At a Beall's Outlet store, for example, one manager had been identified by monitoring software as the source of an unusually high number of returns and refunds.
Beall's security personnel then pored over earlier transactions the manager had rung up and used surveillance cameras in the store to watch her. Before another week was out, they had enough evidence to confront her.
When they did so, she admitted her wrongdoing. The store also filed charges.
Employee-monitoring systems like the one at Beall's are considered the most significant development in retail security since closed-circuit cameras were installed 20 years ago.
Only a few stores have installed the sales-transaction surveillance software, as it is called, but it has become a hot topic within the industry.
Essentially, the software is a variation of computer scanning technologies that became popular in the 1980's to track of sales and inventory. But instead of tracking only sales, the systems also track the cashiers, looking for unusual patterns even as sales are taking place.
Within minutes of a questionable transaction — say, a $900 refund at a convenience store — the store manager may receive a telephone call from company headquarters.
While Beall's, a chain of 400 stores based in Bradenton, Florida, would not identify the manager except to say that she is in her mid-30's, it did say she was convicted of larceny this year, given three years' probation, fined and forced to make restitution. She also lost her job.
Daniel J. Doyle, Beall's vice president for loss prevention, says that since 1997, the software has identified more than 150 cases of fraud, all of which have led to dismissals and prosecution. Each case is followed up by a team of investigators.
"There is no doubt that this surprises the heck out of some people," said Mr. Doyle, who estimates the system will save Beall's millions of dollars, both in recovered money and in deterring employees from stealing. "When you talk to the employee," he said, "the employee can't do anything except admit it."
Jeffrey Olives, a manager for information systems at a major gasoline-station and convenience-store chain that is going through a merger, said that employees "are spooked by the fact that someone is monitoring the data in real time."
Retailers lose an average of 1.7 percent of their revenue — about $40 billion a year in cash and inventory — to unexplained losses, called shrinkage. Almost 45 percent of the loss comes from employee theft, whether in the warehouse, in the accounting or at the cash register.
Employee theft is a bigger drain than even shoplifting, which accounts for one-third.
"It's probably the largest property crime issue in the United States," said Read Hayes, a senior consultant at Loss Prevention Specialists in Winter Park, Florida, adding that the theft can often be as much as 25 percent of the profit.
Security efforts are concentrated at the registers because so many employees have access to them and because the theft can take many forms.
Employees can pilfer money out of the drawer, bag merchandise for friends but not ring it up, or issue fraudulent cash or credit-card refunds.
Companies say the software packages, which cost $100,000 or more, can pay for themselves within months. Often there is an immediate return as the most obvious thefts, which investigators call low-hanging fruit, are detected.
The new technology is not foolproof. Often, the unusual sales patterns have innocent explanations.
Sometimes it is simply inexperience. The software system that monitors the registers at Sunglass Hut's more than 2,000 stores, for example, singled out several instances that turned out to be nothing more than clumsy use of equipment.
The latest advance in surveillance technology is a software program called Digital Datacatch that matches digital video with cash-register transactions.
The system allows investigators to see what was happening when a sale was rung up, like whether a customer was present when a refund is made. Beall's says that after it installed the software in 1999, it caught two cashiers filling bags with merchandise while punching in sales of less than $10.
The surveillance has its critics, who say it is intrusive. Emily Whitfield, a spokeswoman for the American Civil Liberties Union, said, "I think if employers go too far with this kind of thing, they'll lose good employees because employees don't want to feel like they are looking over their shoulders all the time."
"We always called government Big Brother," Ms. Whitfield said, "but private industry is becoming an even Bigger Brother."
But even civil liberties activists said that as long as employees are told beforehand, the monitoring would be hard to challenge in court, given that it takes place in public and many companies tell employees about the surveillance during orientation.
Stay Informed
Every month, you'll receive regular roundups of the most important civil rights and civil liberties developments. Remember: a well-informed citizenry is the best defense against tyranny.
By completing this form, I agree to receive occasional emails per the terms of the ACLU's privacy policy.
The Latest in National Security
ACLU's Vision
The American Civil Liberties Union is a nonprofit organization whose mission is to defend and preserve the individual rights and liberties guaranteed to every person in this country by the Constitution and laws of the United States of America.
Learn More About National Security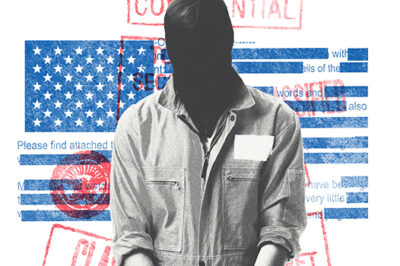 The ACLU's National Security Project is dedicated to ensuring that U.S. national security policies and practices are consistent with the Constitution, civil liberties, and human rights.