New Hampshire Supreme Court Sidesteps Challenge to Tax-Credit Aid to Religious Schools
August 28, 2014 12:00 am
---
---
Civil Liberties Organizations Criticize Ruling Dismissing Lawsuit against 'Neo-Voucher' Program on Technical Grounds
August 28, 2014
FOR IMMEDIATE RELEASE
CONTACT: 212-549-2666, media@aclu.org
Concord, N.H. – The American Civil Liberties Union, ACLU of New Hampshire, and Americans United for Separation of Church and State criticized today's decision by the New Hampshire Supreme Court dismissing a challenge to a tuition tax-credit program on technical grounds.
The state high court dismissed the case, holding that the plaintiffs lack "standing" – the right to sue –despite the fact that the Attorney General's Office had agreed that one of the plaintiffs had standing to challenge the tax-credit program.
The three civil liberties groups sued on behalf of nine plaintiffs, including clergy, public education advocates and parents of public school children. They asserted that the tax-credit program would primarily benefit private religious schools, which are free to use the tax funds for religious instruction and discrimination.
The program allows businesses to receive an 85 percent tax credit for donations made to K-12 "scholarship organizations," which pay for tuition at religious and other private schools. Programs such as this one have often been dubbed "neo-vouchers" because they raise the same kinds of legal and policy concerns that school voucher schemes do.
"Today's decision will have a significant impact on government accountability," noted Gilles Bissonnette, staff attorney for the New Hampshire Civil Liberties Union. "In striking down New Hampshire's taxpayer standing statute, the New Hampshire Supreme Court has made it far more difficult for the people of this state to constrain the actions of New Hampshire government bodies when those actions violate sacred constitutional rights."
"This is a troubling setback for religious liberty. New Hampshire taxpayers should not be forced to finance religious education and discrimination," said Heather L. Weaver, senior staff attorney for the ACLU Program on Freedom of Religion and Belief.
The Rev. Barry W. Lynn, executive director of Americans United for Separation of Church and State, said, "The court's decision is extremely unfortunate. Thanks to this misguided ruling, New Hampshire taxpayers will be forced to prop up a variety of religious schools. This threatens religious freedom and public education in New Hampshire."
Alex J. Luchenitser, associate legal director at Americans United and lead counsel in the case, added: "We're deeply disappointed in the Court's decision. This ruling closes the courthouse door on taxpayers who are having to subsidize religious education and on parents and children whose public schools are losing funding to this program."
The program, passed by the New Hampshire legislature in 2012, took effect on January 1, 2013. It allowed up to $3.4 million in tax credits to be claimed in its first year and up to $5.1 million during its second year. It provides for additional increases in tax credits for subsequent years.
The plaintiffs in Duncan v. State of New Hampshire include public education advocate Bill Duncan, United Church of Christ minister Richard Stuart, retired public school librarian Ruth Stuart, rabbi Joshua Segal, state legislator Rebecca Emerson-Brown and public school teacher Charles Rhoades.
In addition to Luchenitser, Bissonnette and Weaver, the attorneys representing the plaintiffs include Americans United Legal Director Ayesha N. Khan and ACLU Program on Freedom of Religion and Belief Director Daniel Mach.
Stay Informed
Every month, you'll receive regular roundups of the most important civil rights and civil liberties developments. Remember: a well-informed citizenry is the best defense against tyranny.
The Latest in Religious Liberty
ACLU's Vision
The American Civil Liberties Union is a nonprofit organization whose mission is to defend and preserve the individual rights and liberties guaranteed to every person in this country by the Constitution and laws of the United States of America.
Learn More About Religious Liberty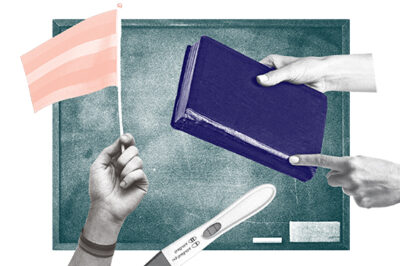 The ACLU strives to safeguard the First Amendment's guarantee of religious liberty by ensuring that laws and governmental practices neither promote religion nor interfere with its free exercise.