New Report Shows Lender Abuses and Feeble Enforcement Cause Minority Homeowners to Lose Homes
February 24, 2015 10:29 am
---
---
FOR IMMEDIATE RELEASE
CONTACT: 212-549-2666, media@aclu.org
NEW YORK — The American Civil Liberties Union and MFY Legal Services today released a report indicating that homeowners in communities of color are at greater risk of losing their homes due to loan servicers' modification failures, with lax response from government regulators.
"Here We Go Again: Communities of Color, the Foreclosure Crisis, and Loan Servicing Failures" is the first study to analyze data from homeowner complaint narratives filed with the Consumer Financial Protection Bureau. It found that mortgage complaints from communities of color are more likely to involve serious issues that place borrowers at immediate risk of losing their homes. These obstacles include denials of mortgage modification applications and months-long delays in modification decisions. The most segregated communities are particularly vulnerable to these harmful loan servicing failures and abuses.
"During the subprime lending boom, communities of color were targeted for the riskiest, most predatory loans. Now these same communities are unduly suffering from mortgage servicers' systemic failures," said Rachel Goodman, staff attorney with the ACLU's Racial Justice Program and co-author of the report.
The ACLU and MFY obtained the data, which focuses on New York state, through a Freedom of Information Act request. Among the findings is that serious complaints about the conduct of Nationstar, Wells Fargo, and Ocwen grew as the minority make-up of a community increased.
"For over four years, I responded to every one of Wells Fargo's repeated document requests. While I finally obtained a modification with the help of legal services, no one should have to experience the stress and nightmare of almost losing your home," said Rhoda Carter, an African-American homeowner in Queens, N.Y., whose story is featured in the report.
"Here We Go Again" also found that government regulators have paid scant attention to these fair lending issues. Regulatory authorities have not only failed to enforce fair lending laws with respect to loan modifications, they have also failed to review their own data on modifications to examine whether communities of color are benefiting equally from the various government modification programs.
"It's as if the government doesn't want to see what is really happening in communities of color. Instead, the government touts the effectiveness of its modification programs and announces that we are in a housing recovery," said Elizabeth M. Lynch, a MFY attorney and report co-author. "But this is simply not true in minority neighborhoods."
The report urges federal, state, and city governments to immediately and publicly review their modification data and bring enforcement actions where appropriate.
The report is at: https://www.aclu.org/racial-justice/here-we-go-again-communities-color-foreclosure-crisis-and-loan-servicing-failures
Stay Informed
Every month, you'll receive regular roundups of the most important civil rights and civil liberties developments. Remember: a well-informed citizenry is the best defense against tyranny.
The Latest in Racial Justice
ACLU's Vision
The American Civil Liberties Union is a nonprofit organization whose mission is to defend and preserve the individual rights and liberties guaranteed to every person in this country by the Constitution and laws of the United States of America.
Learn More About Racial Justice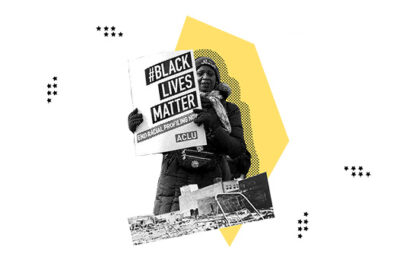 The Racial Justice Program (RJP) fights to eradicate racial injustice in the U.S. and works to foster a society in which people of color and communities of color have full access to the rights and benefits of American society. Working with affected communities, RJP litigates, advocates, and educates to strike at the roots of racial injustice.