Pro-Voucher Ad Targets ACLU
June 30, 1999 12:00 am
---
---
FOR IMMEDIATE RELEASE
TALLAHASSEE, FL — Featuring a photograph of an African American pigtailed girl and her mother, the newspaper advertisement condemning a lawsuit filed against Gov. Jeb Bush's school voucher plan is blunt:
"Florida is giving Jessica Merkman — and every Florida child — a money-back guarantee on their public education," it reads in bold letters. "The ACLU wants to take it away."
What the full-page newspaper ad does not mention, however, is some of the other groups involved in the lawsuit, according to a story in today's St. Petersburg Times.
They include the National Association for the Advancement of Colored People, the Anti-Defamation League, school board members from Pinellas and Miami-Dade counties, the PTA, the American Jewish Congress, teachers unions, the League of Women Voters and parents, to name a few.
The Institute for Justice, the Washington, D.C.-based pro-voucher group that bought the ad, isn't alone in singling out the American Civil Liberties Union: In a speech last week, Bush did the same.
"As Florida's governor, I'm personally committed to defending our state's nation-leading education plan against the ACLU-guardians of the status quo," Bush said.
Proponents of the lawsuit and some Republican strategists say there is a simple reason for trying to make the ACLU the issue: It's a tried and true form of spin-doctoring.
It worked for Bush's father, President George Bush. In his 1988 presidential campaign, he repeatedly accused Democrat Michael Dukakis of being a "card-carrying member" of the civil rights group.
"We're an easy target because we do unpopular things," said Howard Simon, Executive Director of the ACLU of Florida. "People associate us with liberals and our clients are often unpopular — people like Nazis, flag burners and the KKK."
Targeting the ACLU has another advantage, said Joan Peppard, an attorney for the Anti-Defamation League, a group that fights anti-Semitism and is helping to bring the lawsuit because Bush's plan allows public money to be used for tuition at private, religious schools.
"The ACLU is not a religious organization, so they can target them without appearing to be religious bigots," Peppard said. "If they were to target us, it could look as if they were anti-Semitic, conceivably."
The author of the law, former state representative Jim Redman, told the St. Petersburg Times last November that the provision was created specifically to prohibit the use of tax dollars for religious schools.
"We didn't call it vouchers, but that was the sort of thing we were talking about: Catholic schools, or any other kind of religious schools, getting state money," Redman said.
Singling out the NAACP as a plaintiff, said its state president Leon Russell, would also be a problem. "This is a program that has been sold as one that benefits poor people and minorities," he said.
Besides, said Mike Murphy, a Republican consultant who helped shape Bush's campaign message, "the politically correct press would crucify us."
The ACLU opposes vouchers because they siphon much-needed money away from the public schools, where most parents choose to send their children.
A real program to improve the schools, the ACLU said, would address issues like class size, teacher training, student standards, ensuring that every school has access to computers and books, encouraging parental involvement in education, and ensuring that education takes place in a safe environment.
"There is no alternative to improving the neighborhood public school," the ACLU's Simon said. "Vouchers make the situation worse, not better."
The ACLU's news release on the issue, with a link to its legal complaint, can be found at /news/1999/n062199a.html.
Stay Informed
Every month, you'll receive regular roundups of the most important civil rights and civil liberties developments. Remember: a well-informed citizenry is the best defense against tyranny.
By completing this form, I agree to receive occasional emails per the terms of the ACLU's privacy policy.
The Latest in Religious Liberty
ACLU's Vision
The American Civil Liberties Union is a nonprofit organization whose mission is to defend and preserve the individual rights and liberties guaranteed to every person in this country by the Constitution and laws of the United States of America.
Learn More About Religious Liberty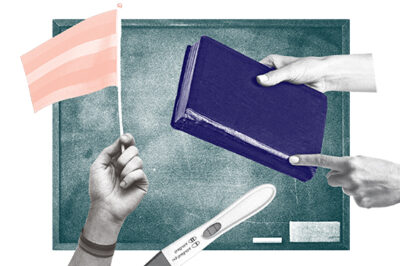 The ACLU strives to safeguard the First Amendment's guarantee of religious liberty by ensuring that laws and governmental practices neither promote religion nor interfere with its free exercise.