San Diego ACLU to Bill Horn: Three Strikes and You're Out!
September 13, 2012 2:55 pm
---
---
Letter to Supervisors Seems to Result in Cancelling Grant to Religious Group
FOR IMMEDIATE RELEASE
CONTACT: (212) 549-2666; media@aclu.org
SAN DIEGO – Upon being alerted by San Diego CityBeat that Supervisor Bill Horn had proposed a $10,000 grant from the supervisor's taxpayer-funded "Neighborhood Reinvestment Fund" to an organization with a professed religious mission, the San Diego ACLU sent a letter to the Board advising supervisors that approval of the grant would violate the Constitution. Shortly before the item was to be voted on at the Tuesday, September 11 Board meeting, the item was removed by Supervisor Horn.
This is the third time the ACLU of San Diego & Imperial Counties has addressed this issue with the San Diego County Board of Supervisors. "Supervisor Horn's intransigence on this issue is difficult to understand," said David Loy, legal director of the San Diego ACLU. "California law could not be clearer in declaring that the government cannot directly give money to religious groups under any circumstances. This is strike three, and Supervisor Horn should stop fighting with the umpire."
Apart from state law, the grant would have violated the Establishment Clause of the First Amendment to the US Constitution because it would almost certainly have diverted secular government aid to religious indoctrination. But however a federal court would decide the issue, the proposed grant definitely would have violated the California Constitution, which prohibits any direct funding of a religious organization, no matter how the money is earmarked or used.
As reported by CityBeat, Horn has given the Pregnancy Resource Center of Vista (PRC) $129,000 in county grants. While his request to the Board was for costs related to the purchase of a new "Image Clear Ultrasound Mobile Clinic," he did not indicate that PRC is a pro-life, Christian organization that boasts on its website about how many women changed their minds about having an abortion and about how many had "accepted Christ into their lives." The goal of the mobile clinic is to enable a woman "to see her unborn child in order to make an informed life-affirming decision and hear the good news of the Gospel of Jesus Christ."
PRC identifies itself as a Christian organization with a Christian mission. Its website states:
"It is our privilege to reveal LIFE in two very special ways. First, we reveal the beating heart of a precious baby so that the eyes and heart of an expectant mother can, often for the first time, connect with their child and begin a lifelong relationship. Second, we get to reveal the loving heart of a great God so that that same person can begin an eternal relationship."
"Know that every time you send in your financial support, you help us give an ultrasound, share the gospel, save a baby, save a soul, provide education and resources to mothers as they prepare to be parents. Most importantly, you help us show our clients love. Your gift of any amount is important to this ministry."
"Through His grace in 2010 … We had 1362 client visits … 317 Ultrasounds … 84 women received Jesus as their personal Savior!!"
A "Mobile Clinic provides many of the services of the Pregnancy Resource Center, including offering free pregnancy tests and ultrasounds as well as counseling services …. Over the last 4 years, our mobile has offered free Life-Affirming services to 913 pregnant women; 323 of them were abortion-minded and chose LIFE for their baby, and 230 of them accepted Christ into their lives."
The Neighborhood Reinvestment program is a controversial fund that critics have labeled a "slush fund," in which supervisors have each had between $250,000 and $500,000 to distribute to support community, social and cultural activities. Supervisor Horn has a history of earmarking his portion of these funds to Christian organizations. In August, 2010, the San Diego ACLU filed a Public Records Act request calling for all documents regarding the County's financial support for Life Perspectives, a self-described "Christian organization that provides pro-life educational materials to K-12 schools," and in the following month, the ACLU explained that Supervisor Horn's request for another $20,000 to the organization violated the No Aid Clause. In 2011, the San Diego ACLU explained that the County violated the No Aid Clause by approving Horn's request to give $21,000 in county funds to Green Oak Ranch Ministries, a self-described church and "healing community under the Lordship of Jesus Christ."
Stay Informed
Every month, you'll receive regular roundups of the most important civil rights and civil liberties developments. Remember: a well-informed citizenry is the best defense against tyranny.
By completing this form, I agree to receive occasional emails per the terms of the ACLU's privacy policy.
The Latest in Religious Liberty
ACLU's Vision
The American Civil Liberties Union is a nonprofit organization whose mission is to defend and preserve the individual rights and liberties guaranteed to every person in this country by the Constitution and laws of the United States of America.
Learn More About Religious Liberty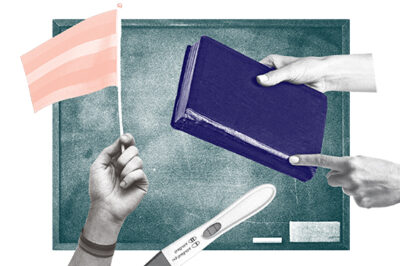 The ACLU strives to safeguard the First Amendment's guarantee of religious liberty by ensuring that laws and governmental practices neither promote religion nor interfere with its free exercise.