State Department Official Indicates U.S. Will Offer Legal Justification For Predator Drone Program
March 17, 2010 4:33 pm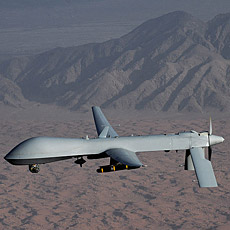 ---
ACLU Seeks Timely Release Of Data On Targeted Killings Of Suspected Terrorists And Civilian Casualties
FOR IMMEDIATE RELEASE
CONTACT: (212) 519-7829 or 549-2666; media@aclu.org
NEW YORK – According to news reports today, State Department official Harold Koh stated that the Obama administration has considered legal objections to its predator drone program and suggested that the administration would release a detailed legal justification for the controversial program at an undetermined date.
The American Civil Liberties Union filed a Freedom of Information Act (FOIA) lawsuit Tuesday against the State Department and other agencies demanding that the government disclose the legal basis for its use of unmanned drones to conduct targeted killings overseas. In particular, the lawsuit asks for information on when, where and against whom drone strikes can be authorized, the number and rate of civilian casualties, and other basic information essential for assessing the wisdom and legality of using armed drones to conduct targeted killings.
The following can be attributed to Jonathan Manes, legal fellow with the ACLU National Security Project:
"We welcome reports that the Obama administration is seriously considering the legality of the drone program, and are encouraged to hear that the rationale behind the program may be made public. We urge the State Department and other agencies to quickly disclose their positions, including on the program's legal justification and the limits on where and against whom drones can be used. We also urge the administration to disclose other basic facts about the program, including information about the program's oversight and the number of civilians that have been killed in drone strikes.
"The use of drones to conduct targeted killings raises complicated legal, moral and policy issues, and the public needs this kind of information in order to engage meaningfully in the debate over these questions."
The ACLU's complaint can be found here: www.aclu.org/national-security/aclu-v-doj-et-al-complaint
The ACLU's FOIA request can be found here: www.aclu.org/national-security/predator-drone-foia-request
Stay Informed
Every month, you'll receive regular roundups of the most important civil rights and civil liberties developments. Remember: a well-informed citizenry is the best defense against tyranny.
Learn More About the Issues in This Press Release