Subpoenaed Missouri Activists Speak Out on FBI Surveillance
August 30, 2004 12:00 am
---
---
FOR IMMEDIATE RELEASE
FBI Prevented Young Activists From Protesting at Democratic Convention
NEW YORK-On the opening day of the Republican National Convention, three young political activists who were subpoenaed as part of an investigation by the FBI's Joint Terrorism Task Force in Kirksville, Missouri revealed their identities today, saying that they can no longer remain silent as the FBI steps up its efforts to spy on and interrogate other political protesters.
Chris Scheets, Ben Garrett and Daniel Coate were among the dozens of political activists in the Midwest who were questioned and trailed by the FBI in the weeks preceding the Democratic National Convention in July. The three young men, who have no history of violent activity, were subpoenaed to appear before a federal grand jury on July 29, which prevented them from traveling to Boston to protest the convention as they had planned.
"These young men were singled out by the Joint Terrorism Task Force because of their involvement in political protest and social dissent," said Denise Lieberman, Legal Director of the American Civil Liberties Union of Eastern Missouri, which is representing the men. "It is unconscionable that the FBI is now using its law enforcement powers to prevent Americans from exercising their right to protest the policies of their government."
Scheets, who is 20, first realized he was under investigation when FBI agents visited the home of his parents in Jacksonville, Illinois. According to Scheets, the agents asked his parents about easily accessible information such as his current address, as well as information about his political affiliations. FBI agents also visited or contacted the parents of Coate, 22, and Garrett, 24.
After speaking with their parents, FBI agents then visited Coate and Scheets at their homes, as well as Garrett, who was already staying at a friend's home in St. Louis in preparation for the trip to Boston. When Coate and Scheets arrived in St. Louis the next day, the house was under obvious surveillance. For the next four days, at least three unmarked cars were parked in front of the house at any given time and the three men, as well as the house's occupants and visitors, all reported being trailed by FBI agents every time they ventured outside.
"We felt trapped in St. Louis because of the FBI's obvious intimidation tactics," said Scheets. "We were afraid to talk to anybody or do anything because we didn't want the FBI to subject our friends and family to the same kind of harassment that we were experiencing."
The men said the surveillance ended after they appeared before the grand jury on July 29. However, neither the FBI nor the state Attorney General, who issued the subpoenas, have indicated to the men or the ACLU that the investigation has ended.
"The FBI's actions have had a chilling effect on free speech not only on these young men but on everyone who has heard about these incidents," said the ACLU's Lieberman. "It is one thing to arrest a protester who engages in civil disobedience, but it is quite another to stop or intimidate people from protesting in the first place."
Although the FBI's tactics have caused the men to question their ability to continue being politically active, Scheets said that he will still travel to New York to participate in protests at the Republican National Convention.
"We strongly feel that what happened to us is another example of the government using fear tactics to stifle political and social dissent, which is totally unacceptable in a democratic society," Scheets said.
In a related story, the ACLU and the New York Civil Liberties Union announced today they are representing Calyx Internet Access and administrators of Indymedia.org in a Secret Service investigation regarding the anonymous posting of publicly available information about delegates to the Republican National Convention. The groups said the investigation is but the latest example of government agencies using law enforcement powers to chill free speech and intimidate protesters. See /node/9114
A statement from the three Missouri activists is attached. For more information on the ACLU's work to protect protest rights, see /FreeSpeech/FreeSpeechlist.cfm?c=86
Joint Statement by Daniel Coate, Ben Garrett and Chris Scheets
For almost two weeks in July, we were targeted by the FBI's Joint Terrorism Task Force for surveillance and a series of visits, which ultimately prevented us from protesting during the Democratic National Convention. The visits and surveillance by the FBI most definitely had a chilling effect not only on our political activity, but on our day-to-day lives as well. Throughout the period of surveillance, we felt trapped and unable to travel anywhere without bringing similar surveillance and harassment to our friends and family. We feared that this stressful situation would affect our relationships with our loved ones, who, though not necessarily planning to attend the convention, were contacted by the FBI and faced similar intimidation.
We first realized we were under surveillance on July 20, when FBI agents visited the home of Chris' parents in Jacksonville, Illinois. Two days later, Chris was then visited in Kirksville by an FBI agent named Keith Kohne, who gave Chris a list of 13 people whom he said needed to contact the FBI for questioning. The same day, another FBI agent from Wichita, Kansas contacted the parents of Daniel via telephone, asking how to contact their son. On July 23, Ben, whose name appeared on Kohne's list, contacted the FBI to set up an appointment for the next day to meet with them. FBI agents then visited the home of Ben's parents and the home of one of his friends, Ashley Sell, with whom he was staying. Ben refused to answer the FBI's questions without first talking to a lawyer. On July 24, Ben and Ashley noticed that they were being followed as they went to go move furniture at Ashley's parent's house.
On July 25, Daniel and Chris arrived in St. Louis at Ashley's house, which was at this time under obvious FBI surveillance. For the next four days we were under constant surveillance by the FBI and were followed wherever we went. Ashley and some of his roommates and guests were also followed.
During this period of surveillance, we received multiple harassing phone calls from the FBI, which only served to heighten the atmosphere of fear and intimidation. On July 26, two agents served us with subpoenas stating that we were to appear before a grand jury on July 29 as targets of an investigation involving mail fraud and identity theft. We were confused by this and contacted a number of lawyers, including the Eastern Missouri chapter of the ACLU, which agreed to provide legal counsel. It was not until the actual day of the grand jury hearing that we were issued new cover letters stating that we were actually under investigation for possible "conspiracy to commit an offense against the United States."
We petitioned to change the grand jury date because of our original plans to travel to Boston to protest the convention, but our requests were denied. Instead of engaging in a peaceful protest, which was our intent from the very beginning, we appeared before the grand jury on July 29. After the hearing, we left St. Louis and were followed to our respective destinations by what we presumed to be FBI agents. Later that evening, the surveillance ceased.
This situation has made us question our ability to stay politically active. We strongly feel what happened to us is another example of the government using fear tactics to stifle political and social dissent, which is totally unacceptable in a democratic society.
Stay Informed
Every month, you'll receive regular roundups of the most important civil rights and civil liberties developments. Remember: a well-informed citizenry is the best defense against tyranny.
By completing this form, I agree to receive occasional emails per the terms of the ACLU's privacy policy.
The Latest in Free Speech
ACLU's Vision
The American Civil Liberties Union is a nonprofit organization whose mission is to defend and preserve the individual rights and liberties guaranteed to every person in this country by the Constitution and laws of the United States of America.
Learn More About Free Speech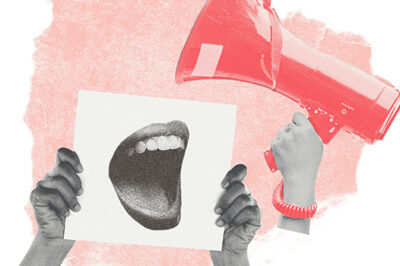 Protecting free speech means protecting a free press, the democratic process, diversity of thought, and so much more. The ACLU has worked since 1920 to ensure that freedom of speech is protected for everyone.