Unsuccessful Bid to Promote Religion Costly for Counties
September 9, 2011 5:42 pm
---
---
Pulaski County Pays More Than $230,000 to the ACLU of Kentucky
FOR IMMEDIATE RELEASE
CONTACT: (212) 549-2666; media@aclu.org
Louisville, KY – Today Pulaski County officials paid more than $230,000 to the ACLU of Kentucky for legal fees incurred by the civil rights organization in challenging the County's posting of three separate Ten Commandments displays in its courthouse.
In addressing today's payment, ACLU of Kentucky attorney William Sharp stated, "It is unfortunate that despite having lost before every court to consider this case, county officials nonetheless prolonged this litigation for more than a decade thereby increasing the financial burden on taxpayers." Sharp added, "This case reaffirms that government officials may not use public office to promote a religious agenda, and failure to abide by that basic constitutional limitation on governmental authority can be costly."
"The ACLU of Ky. recognizes that many people feel strongly about this issue because it touches upon one of the most fundamental facets of one's own identity — their religious beliefs," explained ACLU of Kentucky Executive Director Michael Aldridge, "but ours is a limited form of government that lacks authority to promote a particular religion, even if that religion is shared by most people. When courts reaffirm that principle, even when the decision is unpopular, it is a victory for everyone's religious freedom."
Timeline
The case started in 1999 when county officials in Pulaski and McCreary County posted stand-alone copies of the Ten Commandments in their courthouses explicitly stating that they did so to promote religion. After the ACLU of Kentucky filed suit on behalf of county residents, officials modified the displays to include religious phrases from other selected documents in a transparent attempt to avoid liability. U.S. District Court Judge Coffman then barred the Counties from displaying either their first or second displays, but the Counties then erected a third version entitled the "Foundations of American Law and Government." Judge Coffman found that theses displays, too, were likely unconstitutional because the Counties' past actions showed that their primary purpose was to promote religion, not history or education. The judge therefore enjoined these third displays and the Counties appealed. Both the Sixth Circuit Court of Appeals and the U.S. Supreme Court upheld the preliminary injunction barring the displays.
After the Supreme Court's decision in 2005, the cases returned to district court where, after the Counties failed to establish a valid, non-religious reason for posting the displays, Judge Coffman entered a final judgment declaring the displays unconstitutional. Despite having lost at every stage before, the Counties again appealed, and the Sixth Circuit again found that the evidence showed that the Counties posted their displays primarily to advance a religious viewpoint. Then, earlier this year, the Supreme Court refused to hear the Counties' final bid to overturn the lower court's ruling.
The American Civil Liberties Union (ACLU) of Kentucky is freedom's watchdog, working daily in the courts, legislatures and communities to defend individual rights and personal freedoms. For additional information, visit our Web site at: www.aclu-ky.org.
Stay Informed
Every month, you'll receive regular roundups of the most important civil rights and civil liberties developments. Remember: a well-informed citizenry is the best defense against tyranny.
The Latest in Religious Liberty
ACLU's Vision
The American Civil Liberties Union is a nonprofit organization whose mission is to defend and preserve the individual rights and liberties guaranteed to every person in this country by the Constitution and laws of the United States of America.
Learn More About Religious Liberty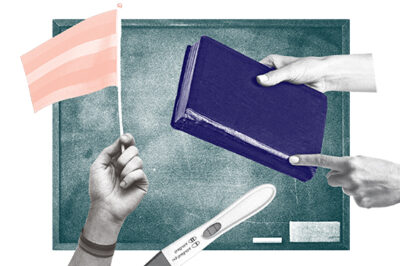 The ACLU strives to safeguard the First Amendment's guarantee of religious liberty by ensuring that laws and governmental practices neither promote religion nor interfere with its free exercise.