Upsetting Checks and Balances: Congressional Hostility to Courts in Times of Crisis, Statement of Laurie Kozuba
November 1, 2001 12:00 am
---
---
Statement of Laurie Kozuba, Executive Director,
Citizens and Immigrants for Equal Justice
FOR IMMEDIATE RELEASE
I'd like to thank the ACLU for inviting me to be a part of this important event. It is an honor to be here.
In April of 1996, many Americans – those known as Legal Permanent Residents — woke up to find that they had become guests in the country many of them had called home for most of their lives. Some became aware in the early morning hours, when armed immigration agents tore them and their family from peaceful slumber. Others found out when they went to their local INS office to start, or continue the process of adjusting status, but were taken into custody instead. Still others found out when they were taken into INS custody while legally reentering the country. Why? Because laws Congress enacted made every legal resident's position in this country unpredictable and precarious. I know about these things first hand.
I am Laurie Kozuba, the American wife of a long-time legal permanent resident, and the founder of Citizens & Immigrants for Equal Justice, a coalition of families who, like my own are facing deportation because of the 1996 Immigration Laws. My husband, Danny, is a Canadian national who has been in the United States as a Legal Resident for 43 of his 48 years. He grew up here, was educated here, served in the U.S. Army during the Vietnam War and was honorably discharged. He has been a working taxpayer for 33 years. His entire family is here. His mother became a U.S. citizen just last year. He is by all rights an American except for one technicality – his status. In 1993, Danny was put into deportation proceedings for a conviction for which he already paid three years of his life. After a two-day hearing he was granted a waiver of deportation. However, the INS appealed, and because that appeal languished for three years, the 1996 acts compelled the Board of Immigration Appeals to rescind our waiver.
I cannot adequately express the devastating emotional, physical and financial impact these laws have had on us. Our country betrayed us. Instead of putting the past behind us, we were forced to continue to wear the guilt and shame of past mistakes like a scarlet C emblazoned across our chests. Never mind his rights as someone who lived in this country for 43 years. None of that mattered anymore. Our government decided that the label of his conviction–despite the fact that he took responsibility for his actions and served the allotted time–defines his character, forcing us to battle removal for years. And we are not alone. Countless American /Legal resident families are finding themselves in this position.
Take Robert and Sheila for example. Robert, a long time Legal Permanent Resident, had a possession conviction 15 years ago for which he received probation. When he applied for citizenship in 1998, he was honest about this on his application. Instead of continuing with the process of naturalization, Robert found himself taken into INS custody and put into removal proceeding. His rights as a longtime permanent resident were ignored. It didn't matter that he had long since paid for his mistake, resumed a law-abiding life, has two minor citizen daughters, or that he is married a US citizen who happens to be serving in active duty in the United States Airforce.
Congress sent a clear and resounding message with the 1996 Acts. We don't want you! The Statue of Liberty, once our symbol of welcome, hope, freedom, and justice, is now a bouncer.
It is extremely easy to dismiss the rights of legal residents with prior run-ins with the law. Any person who has had contact with the criminal justice system carries that badge of shame.
These laws are clearly a slap in the face of our American principles and the very Constitution this country was built upon. INS officers consistently bully, belittle, and brutalize people facing removal. For legal residents, due process is a myth. Mandatory detention and deportation scars America's tradition as a nation of fairness.
IEJ families have been coming to Washington for years to tell our stories to our elected representatives. We've come united, to deliver our resounding response to Congress' action that the '96 laws are wrong. They go too far. A fair process must be restored to our immigration laws. The legal and human rights of all legal residents – even those who have made minor mistakes in their lives — must be a respectable issue among our society. Because this isn't about us and them, it is and has always been about us and us.
Most legal permanent residents are as loyal to the United States as any born citizen. The only difference between most legal residents and US citizens is that little technicality of citizenship. In fact three percent of our enlisted military personnel are non-citizens. And yet our government sees all non-citizens — including long-time legal permanent residents — as a potential threat to our society. So much so that they turned their back on legal resident's rights in 1996, and have done so again in the wake of the tragic September 11th attacks.
Our families grieve with this nation. We have all traversed the gauntlet of emotions from grief to anger to despair over what our nation is suffering right now. But it's only a fraction of the fear all of us now feel, on top of the incredible emotional devastation that deportation proceedings has already heaped upon us. Fear for our loved ones, fear for our futures, fear that we will never see justice restored to our immigration laws.
Before September 11th we had real hope. Hope fed by the promise that many of our lawmakers had made to enact a fair and carefully crafted policy that would restore our rights.
But Congress didn't do what it was supposed to do this fall. They did something worse that compounded the problem for families like ours and betrayed us again.
Now there are more than 1,000 people being detained with no real hope of release. Don't get me wrong, our families want to see those responsible for the havoc that has been wreaked upon our country brought to justice, but not at the expense of innocent people. Some of those 1000 people are our family members.
One in particular comes to mind. I won't use their real names, because of their very real fear of retribution they now live under. She is a U.S. citizen, he is a long-time legal resident. They have two minor children. He is the family's sole income provider. He was put into deportation proceeding three years ago after serving a mandatory minimum sentence for possession with intent to distribute. He was completely rehabilitated, and gone on to become a recognized leader and respected member of his community. Because he didn't qualify for a waiver of deportation, his wife took their story to Capitol Hill. A member of Congress heard about him, investigated his story and decided that he merited a private bill to waive his deportation. He was home, where he belonged, providing for his family and working in and with his community to keep children off the streets and off of drugs. September 10th they anticipated they anticipated introduction of their private bill, as well as the real possibility that legislation would be enacted before the end of the congressional year that would restore his day in court. But oh what a difference a day makes. Days after the attacks the congressional office that had their bill called to inform her that they were not going to introduce it. Just a couple of days later the FBI came to his place of business, spoke with him behind closed doors for 30 minutes, then took him into custody. You see he is of Arab decent. Now the FBI determined he had no involvement in the attacks, but instead of releasing him they turned him over to INS who are now going to hold him until he is deported. Why? He gave them no cause what so ever to hold him. They won't deport him, nor will they release him.
President Bush, Attorney General Ashcroft, and Congress have vowed to eradicate terrorism no matter what. The cost will be, as we see in the enactment of further harmful legislation, the destruction of countless families whose loved ones don't happen to be citizens of the U.S., but are still loyal dedicated Americans in their hearts.
It is our job as advocates to stand up and cry foul at the top of our lungs when Congress seeks to enact legislation that dismisses American principals regardless of ones status. We must stand up, shoulder to shoulder and speak out against injustice, educating the general public as to why it's wrong and stay the course until the issue is solved.
We must never forget that when we defend the inalienable rights of others, we are defending ourselves.
I came here today to let all of you know just how badly our families feel about the state of our nation since September 11, but how terribly terrified we are about what is to become of us. It is vital that every organization, every person continue with the effort to fight for those who cannot fight for themselves. Our families' struggles must not be in vain – they must not be forgotten. My country and my countrymen must care about their suffering and their rights.
Thank you.
Stay Informed
Every month, you'll receive regular roundups of the most important civil rights and civil liberties developments. Remember: a well-informed citizenry is the best defense against tyranny.
By completing this form, I agree to receive occasional emails per the terms of the ACLU's privacy policy.
The Latest in National Security
ACLU's Vision
The American Civil Liberties Union is a nonprofit organization whose mission is to defend and preserve the individual rights and liberties guaranteed to every person in this country by the Constitution and laws of the United States of America.
Learn More About National Security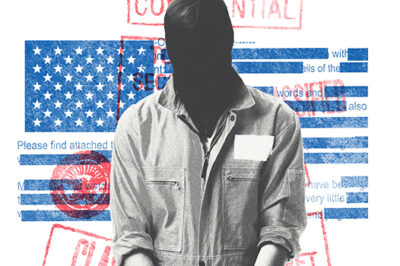 The ACLU's National Security Project is dedicated to ensuring that U.S. national security policies and practices are consistent with the Constitution, civil liberties, and human rights.